Grand Champion Ham Brings Charitable Donation of $1 Million at KFB's 56th Annual Country Ham Breakfast
Posted on Aug 23, 2019


Louisville, KY (August 22, 2019) – This year's 56th annual Kentucky Farm Bureau Country Ham Breakfast brought in an astounding bid of $1 million for charity. The Grand Champion Country Ham auction is a Kentucky Farm Bureau state fair tradition dating back to 1964.

Some of Kentucky's top businesses participated in a lively round of bidding for the ham, which weighed in at 16.18 lbs. and was produced by Penn Country Hams of Mannsville, Kentucky. In the end, Central Bank placed the highest bid and won the ham.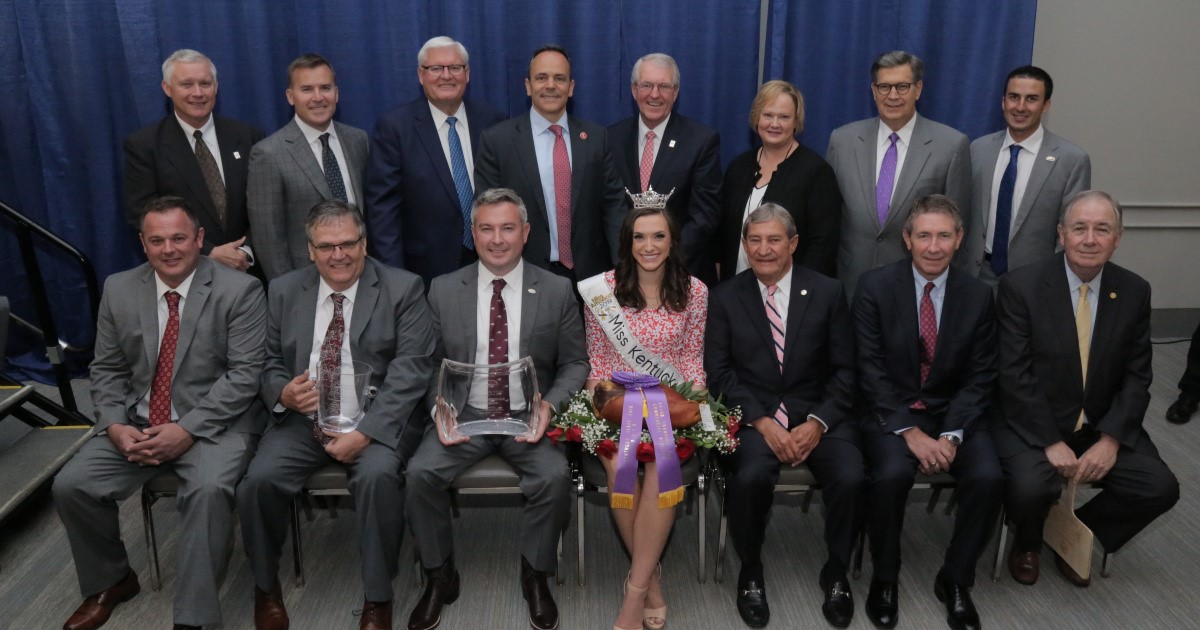 "Central Bank is so proud to be the winning bidder on this year's award-winning country ham. We are grateful to Kentucky Farm Bureau for providing us with this opportunity by hosting the Country Ham Breakfast at the Kentucky State Fair for the 56th year. Providing businesses like ours a chance to attend an event highlighting the best of Kentucky agriculture and its influence on our state, while encouraging charitable giving, is a great way to celebrate all that we stand for as Kentuckians. We are always excited to give back to our communities and are grateful for the chance to do so through this auction today," said Luther Deaton, President and CEO of Central Bank.
Proceeds from today's winning bid will be donated to a variety of non-profit organizations and charities including Transylvania University, the University of Kentucky Gatton College of Business, the University of Kentucky Markey Cancer Center, St. Elizabeth's Hospital in Northern Kentucky, the University of Kentucky Athletics Progam and UK HealthCare.
In addition to the auction, attendees of the breakfast – a sellout crowd of more than 1,500 people – were served a Kentucky Proud breakfast as they listened to speeches from some of Kentucky's top officials, including Governor Matt Bevin, Kentucky Agriculture Commissioner Ryan Quarles, and Louisville Mayor Greg Fischer. Miss Kentucky 2019, Alex Francke, displayed the award-winning ham for breakfast attendees.
Mark Haney, President of Kentucky Farm Bureau, hosted the morning's ceremonies, where he highlighted the work of Kentucky Farm Bureau throughout the state. The organization is celebrating their 100th anniversary this year. "I am humbled for the opportunity to be part of this organization and to host this wonderful event and charitable auction. Kentucky Farm Bureau is a member-driven organization and it is an honor for KFB to serve member families and people across Kentucky, especially as we celebrate our centennial year," said Mr. Haney.
Since 1964, the Kentucky Farm Bureau Country Ham Breakfast has raised nearly $14 million for nonprofit organizations and charities.