Grain Crops Update: Exponential Production Increases Seen Over Past Four Decades
Posted on Sep 10, 2019


There is no doubt that Kentucky's agricultural industry has changed dramatically over the past several years going from a tobacco-dominant ag economy to one of the most diverse agricultural environments in the country.

One area that has seen exponential growth is grain production. According to information from the UDSA National Agricultural Statistics Service, Kentucky corn production has gone from 119,850,000 bushels in 1978 to 215,250,000 bushels produced last year.

But perhaps most impressive is the fact that in 1978, producers averaged 85 bushels per acre while the 2018 average was 175.

The same is true for soybean and wheat production. In 1978, 40,800,000 bushels of soybeans were harvested with an average of 30 bushels per acre. Last year, 103,480,000 bushels were produced with an average of 52 bushels per acre.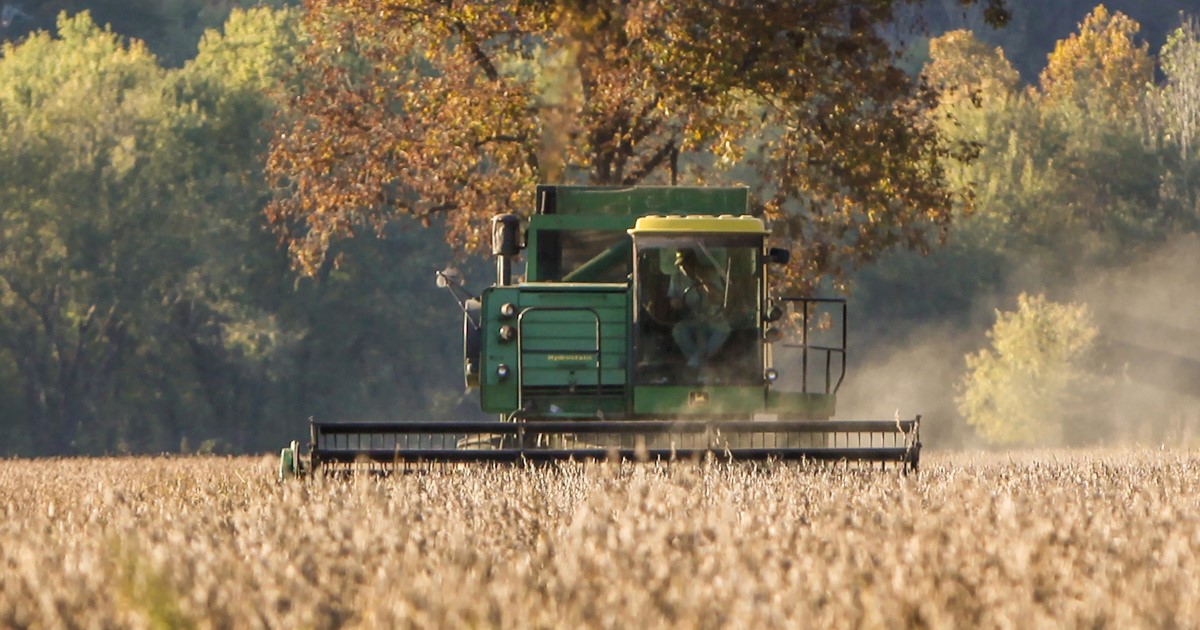 Wheat producers harvested 6,480,000 in 1978 and 24,320,000 last year. During that same period, wheat bushels per acre went from 36 to 76.
University of Kentucky (UK) College of Agriculture, Food and Environment Extension Professor for Grain Crops and Director of the UK Grain and Forage Center of Excellence Chad Lee said research efforts made in this state have certainly helped increase production, but good farming techniques have also played an important role.
"We have really good producers here who have built their soils over time, added some organic matter in some situations and they have made their waters cleaner," he said. "Thirty years of no-till and minimum till in Kentucky grains is a big reason our soils are better now. All these things have helped producers increase their productivity."
But, as efficient as producers have become, they are still at the mercy of the weather elements around them. And this season has presented its share of challenges. Lee said, however, in looking at changing weather patterns over a period of time, better planting decisions can be made by producers as they continue to keep yields at optimum levels.
"We certainly pay attention to weather patterns and, in fact, we have moved our soybean planting dates a little bit earlier if you compare that to 30 years ago," he said. "We have found that we can plant soybeans today a little bit earlier than we used to, and we have expanded the corn maturities we grow in the state."
From a producer's perspective
Ray Allan Mackey, a producer from Hardin County serves as a KFB State Director, Chair of KFB's Feed Grains Committee and current Chair of the Kentucky Corn Promotion Council. He said advanced technology has played an important role in upping the game when it comes to grain crops production enabling farmers to pay very close attention to their crops in hopes of achieving top yields at the end of the growing season.
"Technology and mechanization have added a lot to grain production and it's all about getting that crop planted in a limited amount of time and harvesting and putting it away as efficiently as possible," he said. "Farmers have always taken care of the soil and managed fertility, but in recent years, we've done it to the point that we are putting in the nutrients when and where they need to be, and we are managing better than ever before for higher yields. At the same time, we are doing a lot to protect that crop with different varieties that are resistant to weeds and disease. Ultimately, we are micromanaging that crop these days to expect those top yields."
From a challenge standpoint, Mackey said his biggest concerns are related to input cycles as it relates to what kinds of yields are needed to remain profitable.
"In terms of profitability, my concerns are input costs, in that we have gotten ourselves used to or locked in managing a particular crop for better yields, which makes it a fairly expensive crop to grow," he said. "Input prices have continued to escalate, but we have been in a pretty stagnant grain market over the past three or four years. With a few exceptions, we are just not covering our cost of production anymore unless we get these super yields."
Mackey added that in being "locked in" to this cycle, producers are having to invest in the crop to ensure it is a good crop, but they must have a good crop in order to pay for the inputs.
"This being the case, if something turns the wrong direction or if anything hiccups along the way, farmers at my house, in Kentucky, and across the nation are going to experience some measure of financial crisis," he said.
Avoiding such a crisis is important to farm families across the state, and one advantage Kentucky producers have, comes from the research being conducted at the UK Grain and Forage Center of Excellence, noted Mackey.
"While it is often difficult to make investment decisions at a time when farm income is down, and trade issues are affecting farm families, it is the exact time we need to invest in the kinds of research being conducted at the UK Grain and Forage Center of Excellence," he said. "That research has allowed producers here to be on an even playing field with other producers around the country and gives our growers a competitive edge now, and in the future as we continue to reach for increased yield with every crop we plant."
Navigating the marketplace
The numbers don't lie; Kentucky farm families can produce more now than ever before. But in today's market environment, growing the crop is half the battle. Maintaining and finding new markets, especially on the soybean front, has had its share of challenges of late.
Keith Tapp, a producer from Webster County and Chair of the United Soybean Board (USB) said while there may be challenges, U.S. producers have a distinct advantage.
"There are certainly short-term challenges facing the industry, however, the future remains bright, due in part to soy checkoff investments funded by U.S. soybean farmers," he said. "Soy checkoff investments are the cornerstones of the U.S. Soy Advantage: exceptional composition, consistent supply, sustainable farming and innovation beyond the bushel. When you bring these pieces of the puzzle together, it differentiates U.S. soybean farmers from our competitors in the marketplace, in terms of sustainability and quality, and provides us with a competitive advantage."
Tapp also pointed out initiatives the USB is working on to help increase markets for producers.
"As a part of these efforts to expand our markets, we launched the 'What It Takes' initiative in July 2018," he said. "This strategy aims to grow U.S. soybean demand worldwide and reduce our reliance on sales to China. This means building on existing relationships abroad and investing in new ones to evolve emerging markets. While I am confident that China will once again become a major market for us in the coming years, we are also focusing a lot of our work on building new markets for U.S. soybeans in countries with large population bases, such as other nations in Southeast Asia."
Continuing to advocate
There are opportunities for today's producers both internationally and at home, which were not available or not widely utilized four decades ago including the ethanol and biodiesel markets. Kentucky's livestock industry has grown considerably, as well. And because of that, both soybean and corn producers send a large portion of their crop to that industry especially to cattle, poultry and swine producers.
KFB President Mark Haney said because grain producers, along with most other farm families in this state, walk such a fine profit-and-loss line, maintaining free and open markets is critical to the success of the industry.
"We must continue to advocate at all levels for new and existing markets to keep our farms sustainable," he said. "There's no doubt that we can grow outstanding crops. But we can't eat it all. Finding and keeping markets both here, at home, and internationally, is a necessity in order to maintain our farms and our rural communities."