Forestry industry is on an upswing
Posted on May 1, 2014


It's mid-April, and sawmill owner Susan Glasscock is expressing the same concern as a Kentucky farmer: The ground needs to dry up.
An incredibly wet 2014 has stifled the timber harvest for Glasscock Sawmill Inc., sticking the 49-year-old family operation in Spencer County with a shortage of sawlogs. With springtime in bloom, Susan and her husband, Carl Glasscock, are anxious to get some logging done in the forests they work in Spencer and surrounding counties. The market price is up for cedar, their primary product, and prospects look good in the export market, she explained.
And on this day, as landscaping season was gearing up, they sold the last pile of mulch they had on hand.
"The weather has really slowed things," Susan lamented. "We are anxious to get going."
A recently-released University of Kentucky survey of the state's forestry industry offers plenty of encouragement, concluding that the industry has rebounded from some tough times to enjoy modest growth over the past two years, with prospects even better for this year. A survey report from UK forestry experts and economists was released at the annual meeting of the Kentucky Forest Industries Association. The Louisville Courier-Journal published a front-page article about the survey and the industry's current strength in the state.
The survey affirmed a widespread economic impact of the forest and wood industries in Kentucky. It estimated a total economic impact of $12.8 billion in 2013, with more than 59,000 jobs tied to the industry. Direct jobs was listed as 27,574 with a direct industry economic impact of $7.9 billion.
The forest and wood industry is made up of six subsectors: logging, primary wood manufacturing, pulp and paper manufacturing, secondary wood manufacturing, paper converters and wood residue manufacturing. There are about 700 industry facilities in 109 counties.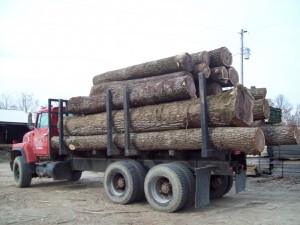 Kentucky is the leading producer of hardwood sawlogs among southern states and ranks in the top five nationally. It is also among national leaders in hardwood forest products and exports, particularly with wooden barrels used by distillers.
Glasscock Sawmill Inc. specializes in cedar fencing, railroad ties, barn lumber and cedar cants and posts. "We sell mulch and sawdust like crazy," Susan said.
The company hasn't seen an effect from a rebounding construction industry, but continues to do good business with railroad ties and cedar cants and posts (4X4 or 6X6) for the export market, primarily to China. But it has been struggling in recent years as operating costs have soared for fuel and insurance, according to Susan.
A conversion from diesel-powered generators to electric "should really be a boost," she said.
The company has five employees.
The UK report says the economic impact from the forestry industry was up 3.3 percent since 2011 while employment grew by more than four percent. Logging and milling have shown the most growth. Kentucky is growing twice as many new trees as are being harvested a year.
Kentucky's wood related exports rose in 2013 with more than $210 million shipped. The leading destinations were Europe, Canada, Mexico and Asia, the report said.
Tagged Post Topics Include: Carl Glasscock, Courier-Journal, Foresty, Glasscock Sawmill, Kentucky Forest Industries Association, Louisville, Spencer County, Susan Glasscock, University of Kentucky