Food fad... There's a growing movement to "Buy Local"
Posted on May 10, 2011

Susan Miller breeds, feeds and milks 36 dairy goats on her Lexington farm. When the farm chores are done, she heads to the kitchen where she turns the milk into three kinds of soft cheese she sells under the farm label, Bleugrass Chevre Then on weekends, she heads to the Lexington Farmers Market to sell her products, offering samples to hundreds of passersby on any given Saturday or Sunday.
"Yeah, I'm pretty much a one-man show," Miller said.
Miller's Bleugrass Chevre goat cheese represents just one of about 75 farmers who choose to sell their products directly to consumers through the Lexington Farmers Market.
As consumer demand for local and fresh food has grown along with a desire to support local farmers, the Lexington market has burgeoned from a few farmers who set up pickup trucks on downtown streets in 1975 to a self-financed and regulated cooperative of farmers from about 20 central Kentucky counties who sell everything from beef, pork, chicken and lamb to cheese to vegetables, eggs, honey, and dozens of value-added products four days a week from three locations. On a good Saturday during the April through December season the Saturday market will attract up to 10,000 customers, said the Lexington Farmers Market Executive Director Jeff Dabbelt.
"We ask consumers to shop us first," Dabbelt said. "Then they can go to the box stores if they can't find what they need here."
Lucinda White and her daughter, Madalyn, said they just recently started coming to the Southland Drive location..
"We're vegetarians and the food here is better, fresher," Madalyn said.
In Louisville, several farmers markets have sprung up in the last decade. The granddaddy of them all, and still the most popular, is the Bardstown Road Farmers Market. This year the market celebrates its 20th anniversary. In the parking lot of the Bardstown Road Presbyterian Church, 25 farmers sell locally grown fruits, vegetables, beef, pork, chicken, plants and flowers.
"When we got married we bought most of our flowers from the (Bardstown Road) farmers market," said Matt Thompson, who is the market's manager.
The market, which is open year-round, will attract as many as 1,000 visitors on a Saturday morning (from 8 a.m. until noon April through December with reduced hours in the winter), Thompson said.
"They come here because they are concerned about the way the food is grown, many want to support local farmers, and some make it a social event," Thompson said. "But the fact is, they wouldn't keep coming back if the food didn't taste good."
While the farmers markets appear to be thriving – and increasing in number both in large cities and small towns across the state – efforts are also underway to open up the traditional food marketing chain – from farmer to distributor to institution and consumer – to Kentucky farmers and farm products. The goal is threefold: to offer city dwellers access to better, fresher, locally-grown food; to support Kentucky farmers; and to increase jobs in the food sector.
KFB contributes to the movement with its Certified Roadside Farm Markets program, which this year includes nearly a hundred markets throughout the state.
Local food initiatives
To identify and propose solutions and policies toward creating a healthy food system that will spur economic growth, Louisville Mayor Greg Fischer recently announced the forming of a Food Policy Advisory Council. He appointed 20 people to the council, who represent the food industry, government, consumers and farmers.
Fischer also announced plans to create one or more special enterprise zones in Louisville to help bring in more locally-grown food from farm to table. Businesses would receive financial incentives to locate in the "Life Zone," which would be tailored to attract food-related businesses and organizations. In addition to businesses, the zones may include backyard gardens, community gardens and farmettes.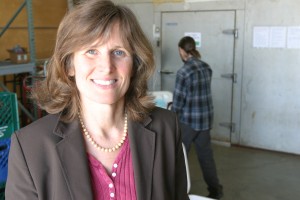 Ellen McGeeney, executive director of Grasshoppers Distribution, is one of Fisher's appointees to the Food Policy Advisory Council. Grasshoppers, founded in 2005, is a sort of hybrid of the Community Supported Agriculture (CSA) model crossed with a food distribution business with a little bit of local grocery store thrown in for good measure.
Grasshoppers contracts with about 60 farmers and producers from 22 counties in Kentucky and southern Indiana who supply everything from meats, produce, eggs, fish and value-added products, including coffee, wine and breads. Grasshoppers has hired a farmer who visits its producers to ensure they are meeting the company's standards of growing food in sustainable, healthy ways, McGeeney said. The company's rules also allow for including producers whose products, such as coffee, may not be grown nearby, but have significant value added locally.
Producers bring the products to Grasshoppers' warehouse on Portland Ave. where it is distributed to 11 drop-off points in Jefferson County to clients who have signed on for the locally-grown products. Grasshoppers' clients are asked to spend at least $18 a week buying from Grasshoppers, McGeeney said. Customers can also buy extra food beyond what they contract for weekly, in effect, use Grasshoppers for their grocery shopping.
"In my own family we've reached 70 percent of consumption of local products," McGeeney said. "I say my goal is to reach consumer consumption of 25 percent locally-grown."
McGeeney said her role on the Food Policy Advisory Council will be to "speak for the farmers and the consumers."
"I can also talk about distribution and the gaps we're going to need to work on," McGeeney said. "The council needs to discuss how to address food access in a way that is sustainable for farmers and folks who don't have access to fresh, local food."
Farm to table
Another Louisville-based effort to bring farmers and city consumers together is Louisville Farm to Table.
The organization grew out of a Local Food Economy workshop involving political leaders from counties in the Louisville region, extension agents and people in the private sector who were looking for ways to bolster the local food economy and help the region's farmers at the same time. Following a study of the food economy, the workshop set up the Louisville Farm to Table organization and charged it with the task of increasing the access of the state's farmers to food distribution networks and local food-consuming institutions and, at the same time, increasing local jobs in the food industry. Funds for the organization come from a U. S. Department of Labor grant, Kentucky Agriculture Development funds and Louisville Metro funds.
Former Courier-Journal food editor Sarah Fritschner, who heads Louisville Farm to Table, said the group has already had some successes. The organization has a verbal commitment from a food distributor who wants locally-grown food to distribute to hospitals and other institutions, Fritschner said. She said another food company that may locate in Louisville is interested in acquiring organic produce.
"Another monumentally wonderful piece of news is that the Jefferson County schools have committed to buying local and have committed to buying seven food items locally," Fritschner said. "Farmers who have the contracts will now know how much they will get paid, similar to the contracts they may have had with tobacco."
While she is working to attract food businesses to the city, Fritschner said she is also working with farmers.
"We're working to help those farmers understand that we want their food," Fritschner said. "And they have to get into the wholesale system. Farmers markets, as worthy as they are, represent only a fraction of food farmers will sell to consumers; 99 percent of food in this country is sold wholesale."
KDAid
The Kentucky Department of Agriculture, through its Kentucky Proud program, is also actively promoting the movement of Kentucky-grown farm products into the food distribution networks, said Mac Stone, executive director of the Office of Agriculture Marketing and Product Promotion.
He cited as an example the Restaurant Rewards program that offers restaurants a 20 percent rebate on foods they buy from local farmers.
"It helps the restaurants because the local food may be more expensive or more of a hassle to deal with," Stone said.
The KDA also has an official who works with commercial growers in the state find ways to tap into the distributorship network, Stone said.
Stone acknowledges there are still barriers to Kentucky farmers getting locally-grown food into the commercial channels that supply grocery stores, hospitals, schools and other institutions.
"Certainly, Kentucky doesn't have the infrastructure – the coolers, for example, and the boxes have to come from somewhere else," Stone said. "And Kentucky farmers have to deal with weather that can be unpredictable and increase disease pressure."
But he said the department has had success overcoming those barriers and bringing producers, consumers, wholesalers and distributors to the table.
"So much of what happens goes on behind the scenes," Stone said. "We spend most of our time bringing people together."
Fritschner, whose job it is to also get growers and institutions to talk, said it is often just a matter of getting people to listen to each other.
"The restaurant people may say 'Oh, it's going to be more expensive,' or 'Oh, it's going to be too much trouble,' but we just say 'Let's start at the beginning and just talk,'" Fritschner said. "They want to use Kentucky produce. We just have to change perceptions and get the discussion started."
Tagged Post Topics Include: Roadside Market Program