First Lady Jane Beshear Dedicates Governor's Garden at Morehead State University
Posted on May 27, 2015


Morehead, KY (May 27, 2015)

–

First Lady Jane Beshear

today joined

Morehead State University

President

Wayne Andrews

and honored guests to dedicate the state's newest

Governor's Garden

at Morehead State University.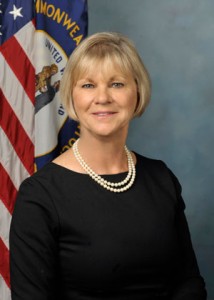 Mrs. Beshear launched the Governor's Garden initiative in 2009 to encourage schools and other community organizations to cultivate their own gardens in an effort to educate Kentuckians about the health and economic benefits of community gardening and utilizing locally grown foods.
"Gardening is an exceptional way to learn about agriculture, healthy eating and the importance of environmental responsibility," said Mrs. Beshear. "I'm so thrilled to have the first state university Governor's Garden at Morehead State University, and I hope the students and faculty will enjoy it for many years to come."
"We are honored to become the first Governor's Garden located on a college or university campus in the Commonwealth," said MSU President Wayne D. Andrews. "This program helps highlight some of the significant efforts of our outstanding Department of Agricultural Sciences as well as the fact that we are part of the Kentucky Proud Farm to Campus initiative."
The 1600 square foot garden is located adjacent to Reed Hall on MSU's campus, and utilizes a highly efficient form of drip irrigation. This year, several crops including corn, peppers, tomatoes, squash, zucchini, gourds, eggplant and beans will be planted and harvested. The majority of produce harvested will go to Gateway Helping Hands Food Bank in Morehead. Horticulture and agriculture science students, as well as MSU staff, will help plant, maintain and harvest the garden.
Currently, there are six Governor's Garden locations and numerous other garden sites across Kentucky that have been inspired by this initiative. All produce harvested from each official Governor's Garden site is donated to local soup kitchens and food pantries or prepared at on-site kitchens. Official locations include the Locust Trace AgriScience Farm in Lexington, the Capitol Education Center in Frankfort, the Center for Courageous Kids in Scottsville, the Kentucky Exposition Center in Louisville, the FFA Leadership Training Center in Hardinsburg and Morehead State University.
The Governor's Office of Agricultural Policy administers the Governor's Garden program with help from its partners: the Kentucky Finance and Administration Cabinet, Future Farmers of America (FFA) and local schools and colleges.
Visit the official Governor's Garden website at http://agpolicy.ky.gov/gardens/.
Tagged Post Topics Include: Capitol Education Center, Center for Courageous Kids, Drip Irrigation, Environment, Farm to Campus, FFA, FFA Leadership Training Center, First Lady, Food Bank, Frankfort, Garden, Gateway Helping Hands Food Bank, Governor's Garden, Hardinsburg, Healthy Eating, Jane Beshear, Kentucky Exposition Center, Kentucky Proud, Lexington, Local Food, Locally grown, Locust Trace AgriScience Farm, Louisville, Morehead, Morehead State University, MSU, Reed Hall, Scottsville, Wayne Andrews