Farm Bureau Advocacy Efforts More Important than Ever
Posted on Aug 30, 2021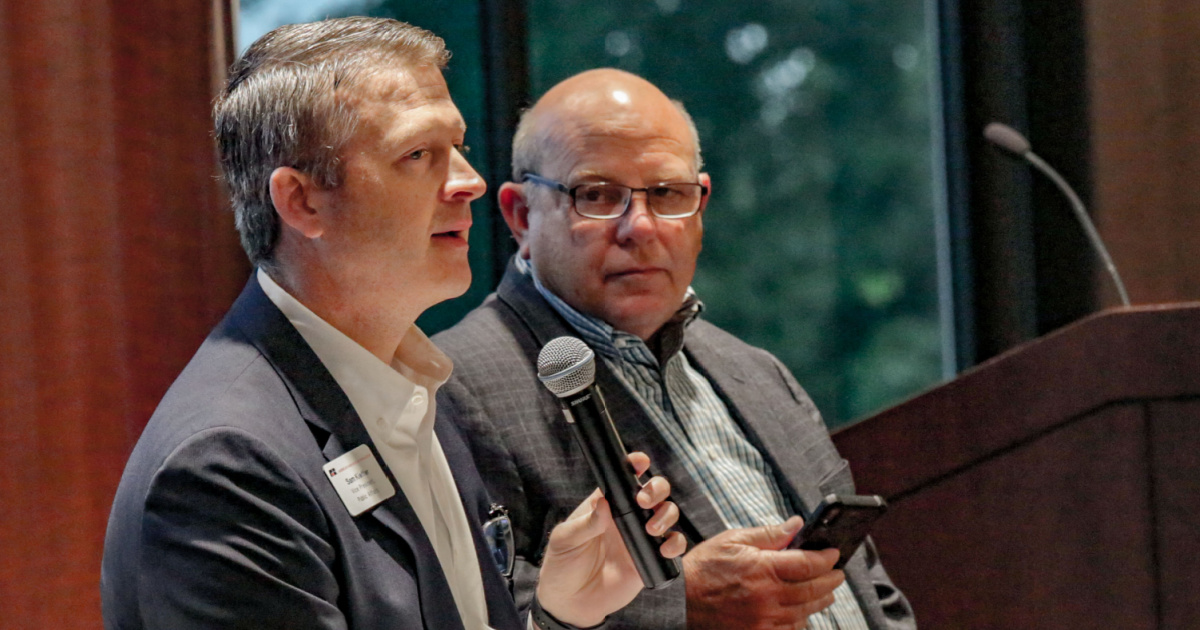 As proposed federal rules and legislation related to agriculture pop up in Washington, the industry stands ready to take issue on several fronts.
From a reversal of the Waters of the U.S. rule to tax related issues, the agriculture industry is standing firm on its policies and priorities as it faces proposals that could affect the industry in adverse ways.
Sam Kieffer, Vice President, Public Affairs at American Farm Bureau Federation (AFBF), said with a fairly new administration, and in many ways, a new Congress, as well, the AFBF's focus has been first and foremost on building relationships.
"We're making sure that the folks on the Hill who've been there a while but may be new to a leadership role, particularly in the House with the new majority, that those relationships are solid, and making sure that we are engaging with them on our priority issues," he said.
Kieffer added that AFBF is monitoring many issues, primarily taxes. The President's infrastructure and education proposals seek to increase revenues primarily through taxes which could come by way of corporate tax rates, but there are also discussions of an increase to the capital gains tax, including the removal of the stepped-up basis.
"When someone passes away and that land, that farm, is transitioned to the next generation, there could be a tax imposed, and that tax would be on the appreciation of the value of that land from the time it was purchased, not from the time it was inherited," Kieffer said. "And that would be tremendously impactful in a negative way to our folks on farms and lands that have been owned for generations."
To remove the stepped-up basis provision would be detrimental to the future of many farms and many farm families, noted Kentucky Farm Bureau (KFB) President Mark Haney.
"Even under the most ideal circumstances, passing a farm from one generation to the next can be difficult from a taxation perspective," he said. "But to add the undue burden of capital gains taxes without stepped-up basis could prove to be the end of the family farm for future farming generations. And in all honesty, we just can't afford to lose any more farms simply because a family can't afford to inherit it."
According to information contained in a recent National Affairs update from KFB, current stepped-up basis law allows heirs to step up their cost basis on inherited property to match the value on the date of the previous owner's death, meaning that only capital gains above that point could ever be subject to income taxes. Removing stepped-up basis would require the heir of the property to pay taxable gains based on the original purchase price of the farmland rather than the market value on the date of inheritance.
From a federal advocacy perspective, the tax issues are likely the most urgent of the issues the agriculture industry is facing at this time, Kieffer noted. But there are many more to be reckoned with.
"The discussions about taxes are what's taking up a lot of our conversations, and that's probably the most pressing issue at this time because there is a proposal on the table that would raise revenue, and that'd be most impactful to our folks," he said. "But we're also engaged in a lot of discussions about shaping the conversation on environmental sustainability which have been, first and foremost, focused on telling the story of what farmers and ranchers have been doing, and what we want to continue doing and do better."
AFBF Director of Congressional Relations Andrew Walmsley said from an advocacy standpoint, it's absolutely key for a Farm Bureau member to be engaged right now.
"There are so many different proposals that Congress is looking at and taxes is probably the tip of the iceberg on some of the proposals that are being floated out there that could have a real detrimental impact to American agriculture," he said. "Immigration also continues to be an issue, from the border concerns, to ensuring we have enough labor on our farms, and then there's a lot of questions when it comes to climate change and climate change policy.
In addressing these and other issues, Walmsley said those in the agriculture industry need to continually press forward in their efforts to get information out to consumers, as well as lawmakers.
"As cliché as it may sound, we have an important story to tell and we need to be communicating with consumers because they're voters at the end of the day, and obviously we've got to be working with our partners in Congress," he said. "Thankfully Farm Bureau has got a great working relationship with both the House and Senate agriculture committees and our Secretary of Agriculture has experience and understands agriculture and can help advocate. We might not agree on every issue, but at least we can have that good discussion."
Within those discussions, the topic of food security is a key factor, noted Walmsley.
"It should never be forgotten how important it is to have food security, and food security is national security. You know, a hungry nation is a troubled nation. And so being able to provide the necessities here at home and in the moral imperative that our members face of trying to feed a global population of nearly 10 billion in the next couple of decades, it's important to listen to American agriculture, because we are blessed with an abundant, safe, and affordable food source."
Kieffer said his advice to Farm Bureau members would be to engage in those conversations, and don't hesitate to let their voices be heard.
"We've been able to impact the process, and folks are starting to pay attention to some of these issues that Farm Bureau has some concerns about," he said. "When we see 130 Republicans write a letter to House leadership, that the capital gains tax proposal is a no-go, that says they've been listening to folks back home, including Farm Bureau folks. When we have 13 Democrats write a letter to House leadership saying the President's proposal is a bridge too far for them, that's impactful. And that wouldn't have occurred, in my mind, unless Farm Bureau members and folks back in their legislative districts didn't reach out to them. Their voices are absolutely critical. And telling the story of how any of these proposals would impact them, their families, and the next generation, is what moves the needle."