Drew And Liz White Named Kentucky Farm Bureau's 2018 Outstanding Young Farm Family
Posted on Dec 4, 2018


Drew and Liz White of Union County were honored as Kentucky Farm Bureau's (KFB) "2018 Outstanding Young Farm Family" at the 99th KFB Annual Meeting in Louisville. The award, given yearly, recognizes a couple or individual under 35 that demonstrates the strongest farm management skills, community and KFB involvement, and consistent financial growth through their farm.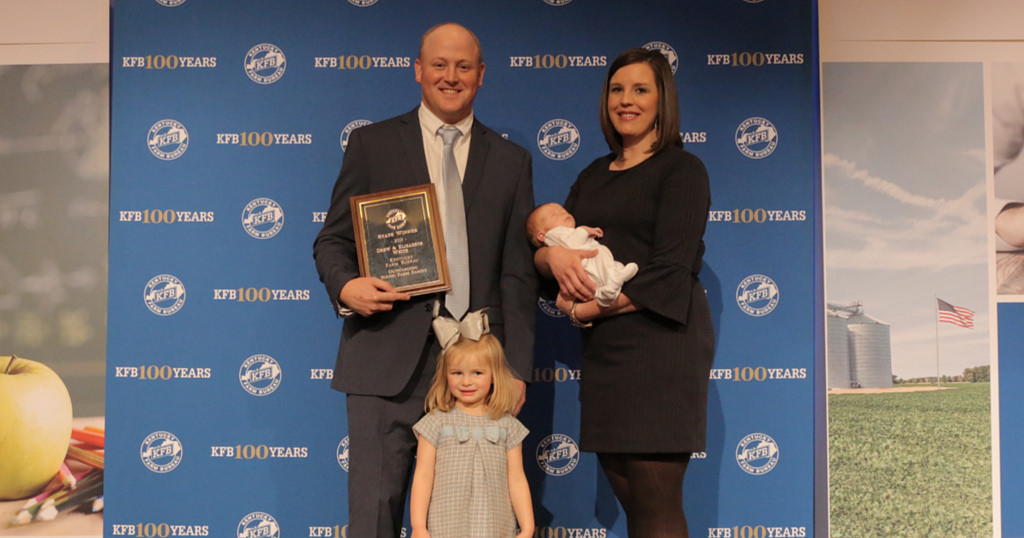 "Kentucky's agriculture future is strong, and we see that every day in our young farm families," said Mark Haney, KFB President. "Liz and Drew are all around great people -- from the way they run their farm to the way they are involved in their community, Kentucky Farm Bureau is proud of all they do and pleased to recognize them as the 2018 Outstanding Young Farm Family. "
The White family has deep farming roots that started during the Great Depression when Drew's grandfather began farming with his brothers. Drew worked on his family's farm his entire life and still works with many members of his family to operate the farm today. In addition to raising cattle and growing hay and straw, major crops on their family's farm include corn, soybeans, and wheat.
Liz also grew up on a family farm. She showed saddlebred horses during her youth and worked at a local farm winery while in high school and college.
The Whites are invested in the future of their family's farming operation. They hope to expand the operation by renting and purchasing more land and by having the ability to hire more employees. Drew and Liz have been involved in various community and agriculture leadership roles over the years, including FFA and 4-H. They enjoy spending time on their farm with their young daughter.
"Farming is in our blood. From the time we were little, our parents instilled in us the importance of hard work and giving back to our community," said Drew White. "Living in rural Kentucky is all we have ever wanted. We plan to keep working hard to make our dreams come true and are proud to join Kentucky Farm Bureau in their mission to make rural Kentucky a great place to live!"
To learn more about the White Family, view their video https://youtu.be/zFjoTiv189k
Kentucky Farm Bureau, with nearly 500,000 member families statewide, is the state's largest general farm organization. Approximately 2,000 members attended KFB's 99th Annual Meeting in Louisville to recognize this year's individual and organizational achievements and adopt policy for 2019.
PHOTO AVAILABLE FOR DOWNLOAD:
To view or download the photograph that accompanies this story (Outstanding Young Farm Family), https://www.flickr.com/photos/kyfb/44358065840/sizes/l