Devine's Corn Maze and Pumpkin Patch Named Best in the Country
Posted on Oct 21, 2021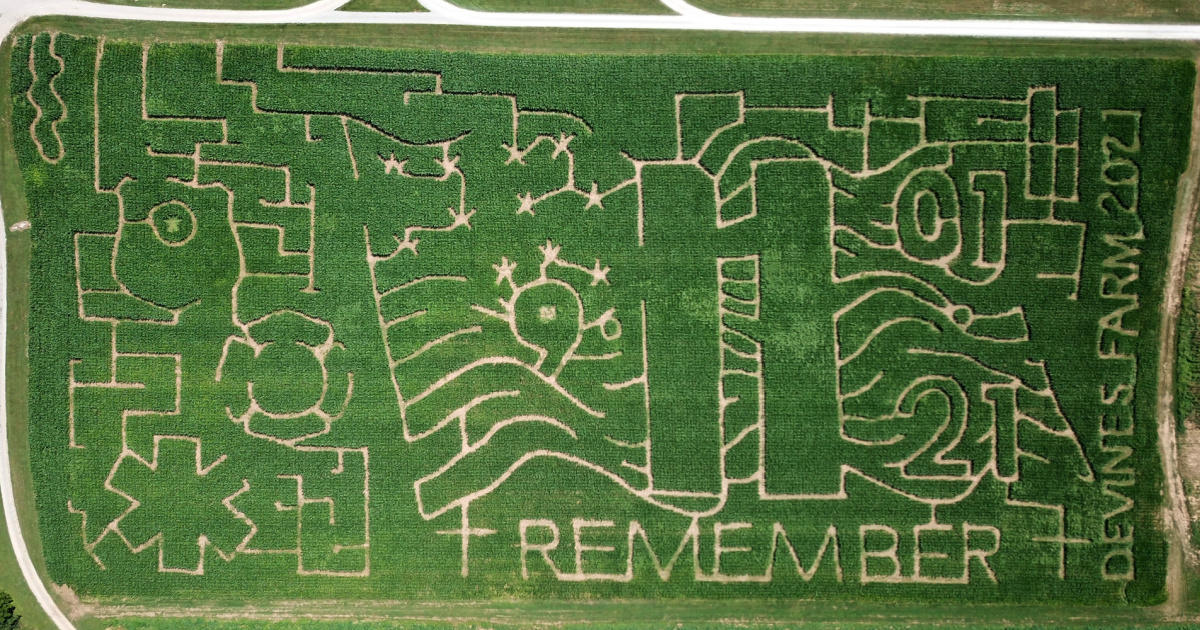 Mercer County farm has become a popular agritourism destination, and is now gaining top national attention.
Just down the Talmage-Mayo Road, in rural Mercer County, the Devine family has been farming for the past 30 years growing sweet corn, tomatoes, green beans, and a variety of other produce crops to sell on their on-farm market.
And while that part of their operation is still a mainstay for the Devines, it is the agritourism operation Glenn and Martina Devine developed 14 years ago, that has been drawing some national recognition.
Devine's Corn Maze and Pumpkin Patch were recently voted the best corn maze in the country by a USA 10-Best Reader's Choice vote. And with more than 500 corn mazes in the country, the family is very honored to win this distinction.
"We've been in this contest the last few years and never dreamed that we'd make the top spot, but we did and it's exciting to be the best in America," Glenn and Martina's son Jason Devine said. "It all got started when Mom and Dad got the idea from friends who had been involved with a corn maze but had decided to go in a different direction. My parents brought the idea back to the family, and the rest is history."
Over the years, the agritourism operation has grown to include a petting zoo, wagon rides, and, of course, pumpkin picking to go along with the 10 acres of corn mazes.
Each year the family goes through the process of picking the right corn maze design which is created with the help of a computer and GPS. This year an aerial view shows the maze is a tribute to first responders and to commemorate the 20th anniversary of 9-11.
Glenn said there are actually three mazes that are created to have something for everyone.
"We have a maze that is for the younger kids, one for first-timers, and the bigger, featured maze that usually takes 25 or 30 minutes to get through," he said. "We also have a haunted maze for Halloween."
The Devine farm destination has become popular for school trips and a multitude of regular customers, as well. But, at this time of year, it is the corn maze that is a big draw for people from all over the region. Last year's corn maze saw about 30,000 people come through and this year will undoubtedly be equally as popular.
Martina said they are fortunate in having good help to get through the busy season.
"We've got such good help, mostly friends and family," she said. "And that is a big deal at this time of year. But this is a working farm so there are lots of other things to do."
Jason said that while the corn maze takes up a lot of time and ends with Halloween, the planning process has become a year-round thing.
"We'll take a little break until the first of the year but usually, right after that, we are planning again," he said. "And we try to make improvements every year."
The number one designation is great for the farm, but Glenn said they don't do this for awards.
"We enjoy this and want others to enjoy it, and that's why we do it," he said.
For more information, go to: https://www.devinescornmaze.com.
KFB Farming Footnote
Devine's Corn Maze and Pumpkin Patch is one of the 110 participants in the KFB Certified Farm Market program, which is a directory of farm market operations that are committed to providing customers with locally grown, quality products, and service. KFB President Mark Haney said it is the dedication of members such as the Devines who make this program such a success.
"We are so fortunate to have such a variety of operations in our Certified Farm Market program, and we are so proud to recognize the Devines as being the top corn maze in the country," he said. "Their commitment to their farm and this program has helped to make our agritourism and farm market sectors so strong. And this type of national recognition is well deserved."