David S. Beck: The Next Chapter
Posted on Jun 29, 2018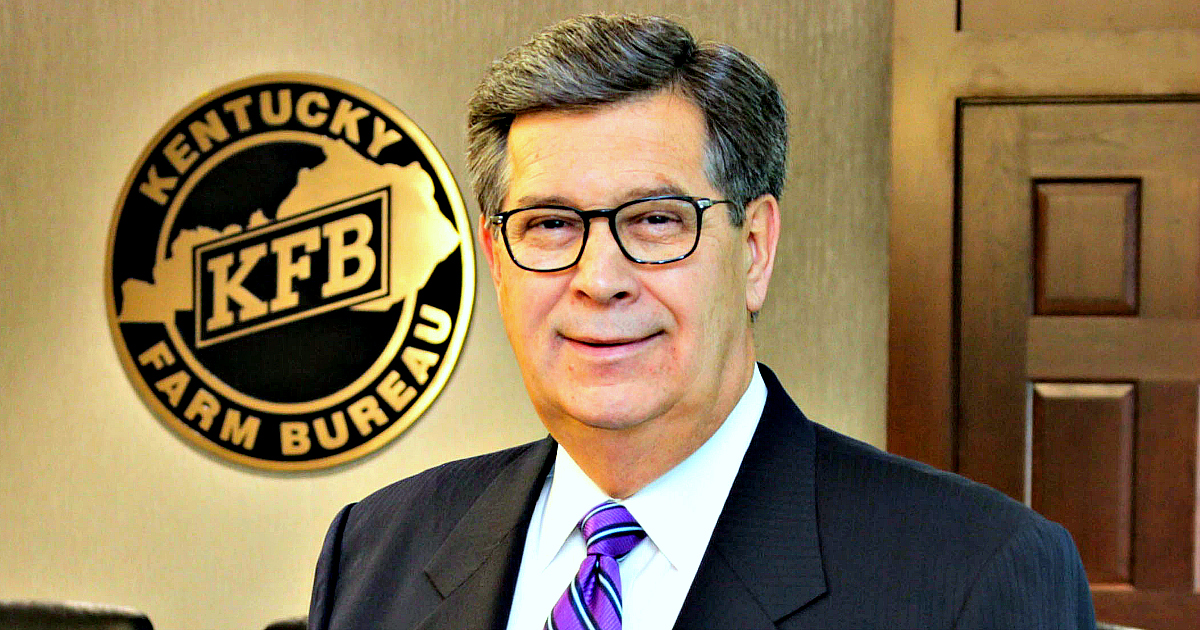 The word "dedicated" is defined by Merriam-Webster as, "devoted to a cause, idea, or purpose." That description fits David S. Beck perfectly. Throughout his life, he has been dedicated to his family, his church, his agricultural way of life, and to the organization which he has been a part of for more than four decades.
During that time, he has undertaken a variety of roles at Kentucky Farm Bureau (KFB) and has seen many changes in the agriculture industry. But his presence at KFB has been a constant since 1977. That tenure will come to an end on June 30, as he retires from the organization and prepares for the next chapter in his professional life; President and CEO of the Kentucky State Fair Board.
"I had originally thought I would retire after the KFB's 100th anniversary next year," he said. "But the time was right and when the opportunity came along at the Fair Board, I saw it as a chance to continue some of the work I have been involved with for so many years."
KFB has long enjoyed a good relationship with the Fair Board which operates the Kentucky State Fair and Kentucky Venues, the management agency for the Kentucky Exposition Center and the newly renovated Kentucky International Convention Center.
His first days at KFB
Beck, who came to KFB, a graduate of Murray State University and farmer from Lyon County, began as a field staff representative working with 13 counties before moving into the state office in the spring of 1978.
"My very first day in the state office was spent just getting to know people and I really didn't get many assignments at first. But it didn't take long before the list started building, beginning with advisory committees I staffed and the legislative committees in Frankfort I was responsible for," he said.
In those days, Beck spent much of his time within the counties, as well as at the State Capital, in various meetings and with different commodity groups, along with his duties working with legislators. But those times with member families hold a special meaning for him.
"I thoroughly enjoyed working with our county members. It has been a great honor to be invited into their homes; to get to know their families and be with them in their dairy barns and tobacco patches and at their dinner tables," he said. "I just have really enjoyed the people."
Beck also enjoyed his work in Frankfort. He said in spending time talking about legislation and visiting with lawmakers, he could go back to the counties and tell members what was going on in the Capital.
"I saw the connection between the county members and those in Frankfort and Washington. I saw the respect lawmakers had for Farm Bureau. I saw legislators wait for the Farm Bureau representative to show up before beginning a committee meeting, and that really impressed me as a young man. It has been a blessing to me to have had a front row seat, by being a representative of Farm Bureau, to so many state and national issues that affect agriculture," he said.
Successes through the years
In having that front row seat, Beck played a role in getting key pieces of legislation passed that still benefit the agriculture community to this day. House Bill 44, which came about in 1979, has ultimately benefited every property owner, whether on a farm or in an urban area. This bill limits revenue from property taxes to four percent plus new growth.
In 1983, Beck was named the Director of Governmental Affairs and Assistant Executive Vice President for KFB. Shortly after that, he was instrumental in the getting the Grain Insurance Law, still known as Farm Bureau's Grain Insurance Bill passed which continues to protect Kentucky's grain farmers in the event of a grain elevator bankruptcy.
In 1994 he helped write the Kentucky Agriculture Water Quality Act that helps protect farmers as they deal with water-related issues. That legislation is still viewed as a model for other states and pushed Kentucky to the forefront in agriculture-related conservation measures.
One of the biggest Farm Bureau achievements, in which he played a role, came in 2000 with the passage of House Bill 611, a direct result of the Tobacco Master Settlement Agreement. With this would come the Kentucky Agricultural Development Board and the Ag Development Fund which have literally changed the face of agriculture in this state and helped farm families remain on the farm, continuing a traditional way of life for them.
In addition to the many legislative accomplishments, Beck has received a number of awards and honors through the years including being selected as an Outstanding Agriculture Alumnus of the Year by the Murray State University Agriculture Alumni Association in 1992; a Distinguished Alumnus Award given by MSU in 2016; receiving the Kentucky Council on Post-Secondary Education's Oak Award in 2017 which honors outstanding graduates for achieving statewide or national recognition in their careers and for exhibiting a lifelong affection for their alma mater and to Kentucky.
Beck has also been active in many roles with his church, St. Matthews Baptist, and serves on a number of committees and boards at both the state and national levels.
The next chapter
As he prepares for his new position at the Fair Board, Beck acknowledges it will be a challenging job but one he is ready to take on.
"It's a challenge I'm excited about and it's because of Farm Bureau, I have this opportunity. Over the last 41 years, I have had the chance to learn things that I can take with me and apply in my next role," he said.
Beck said his priorities in the new job include creating an environment and appearance in both the Expo Center and International Convention Center that are second to none and something all Kentuckians are proud of. In doing so, he would also like to see an increase in utilization of the properties and increases in revenue.
"Those properties provide jobs and opportunities for meetings and conferences," he said. "And in holding true to their agricultural heritage, we'll continue to have the best state fair in the country, and the North American International Livestock Expo, the KFB Beef Expo, and the largest farm machinery show in the country, along with opportunities for 4-H and FFA."
Beck said he realizes there is a urban/rural divide as he prepares to move on to this next chapter in his professional life, and there exists the opportunity to help bridge that gap by way of the events taking place now and in the future at Kentucky Venues.
"Part of my commitment is, I will do all I can to close that divide as it relates to this community and the use of those properties," he said. "I have an appreciation for them and I care about them. I want them to be the best they can be."
Beck added that through solid partnerships with other local and state organization, this can be accomplished.
In making this transition, Beck acknowledges that change has come to Farm Bureau over the years and change is necessary to remain effective. But the organization exists for the same reasons in which it began nearly a century ago.
"To me, the value of Farm Bureau is doing things for the membership collectively that they can't do by themselves," he said. "And being a part of this organization has been a blessing to me."