Counting Blessings After the Storm
Posted on Jun 27, 2022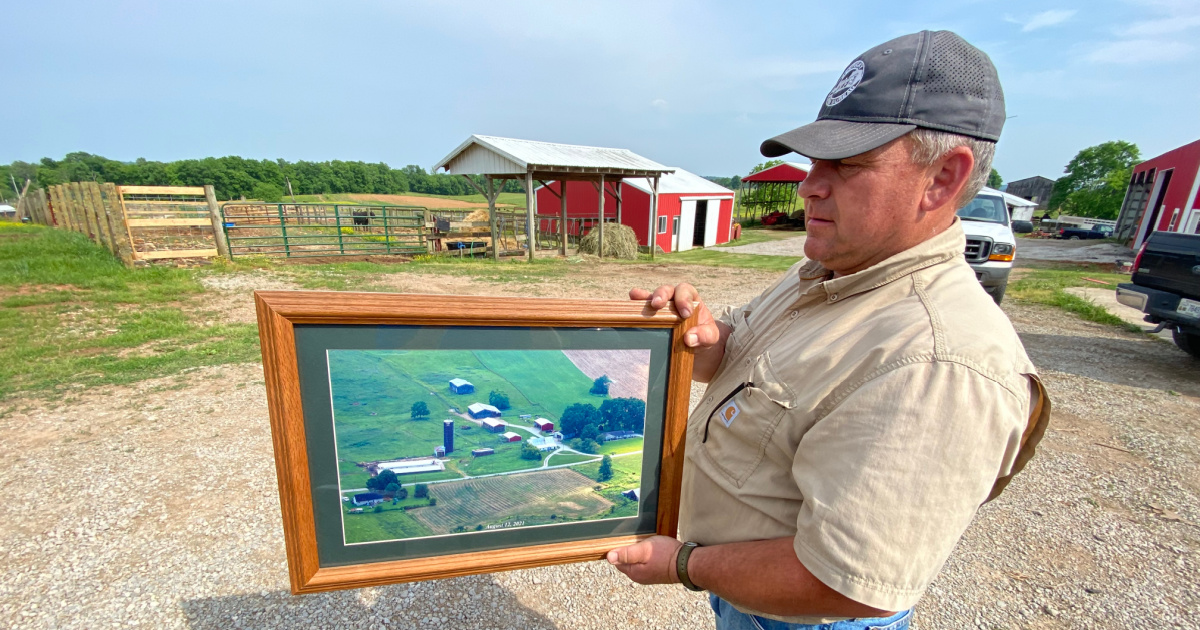 While visible signs of the destruction caused by last December's tornadoes remain, this Hart County farm family sees the silver lining.
The National Weather Service's archived information list several instances over the last century when tornadic activity was present in Hart County, Kentucky. And while many were devastating, perhaps none were as destructive as the storm that passed through last December.
Mitchel Logsdon's family has been farming in this area for most of those 100 years, but they've been lucky in that their farms have weathered most of those storms. That is, until December 11, 2021.
"My parents live down the road and they have a basement, so, we had decided to go there when we heard there were tornado warnings in the area," he said. "It was a blessing that all of our children were home, so I didn't have to worry about where they were during the storm."
Logsdon recalled the eerie stillness in the air as they loaded up everyone to make the short drive.
"By the time we got there, the rain had started, but we got in, but it was probably 15 minutes at the most before the tornado hit," he said.
It wasn't long before he started getting calls from neighbors to make sure everything was okay. It was then. Logsdon knew there must be some damage on his farm.
"An Amish gentleman down the road called right after the tornado passed through because he knew there was too much debris in his yard to have not come from our farm, but it was raining so hard that you couldn't really see anything or tell how much damage had occurred until daybreak," he said.
Unfortunately, the first light of the day would reveal the damage the Logsdon farm suffered. A workshop with all his tools was destroyed except for a wooden structure that was at the rear of the shop. He also lost three barns and a metal silo.
"We had some damage to the house but not enough that we couldn't stay in it. We were very fortunate that we have been able to stay in our home the whole time since the storm," he said.
In addition to the structural damage, many trees were uprooted or suffered some type of damage, but no farm equipment was lost, nor did he lose any livestock from his cattle operation.
In the aftermath of the storm that evening, Logsdon said he made a couple of calls after checking in with his neighbors, one to his best friend to make sure he was okay and the other to his insurance agent.
But soon after the sun came up, he said people just started showing up to help with the cleanup efforts.
"It didn't surprise me but to be honest you never know. We had never seen anything like this and didn't know who else had suffered storm damage but there must have been 50 people at one time or another here helping," Logsdon said.
The Hart County native and Kentucky Farm Bureau state director gave praise to the electric co-op workers who got electricity restored to the area within a couple of days, as well as county leaders and road crews out getting debris cleaned up and roads cleared.
"We had been up the whole time and by that Sunday I knew we had to step back and rest and that's what we did after church, we just tried to rest," he said.
But that day was also full of calls from friends and neighbors wanting to know what was needed.
"There were some folks that were here for three or four days helping. They didn't stop by for a few hours, but people just pick up and help when it's needed," said Logsdon. "And I've always known that and always felt that way for my neighbors. We grew up helping our neighbors."
He said someone from the Red Cross was in the area several days after the storm and made mention of seeing so many disasters and the aftermath of each but never had he seen a place where so many people had picked themselves up and dusted themselves off and got on with life, something seen all across the state.
While there is still damage to be seen in the area, Logsdon said his family is blessed and he knows that things could have been much worse. Six months later, there is little evidence, other than the missing structures, that a storm moved through his farm that night, other than some aerial photos taken showing the path of the tornado.
"The thing that will always come back to me, and is the most overwhelming, is how lucky we were when it destroyed that much, that close to the house," he said. "And the people who came to help, doing it for nothing other than just wanting to help a friend and neighbor, it has truly been a blessing."