Continental Refining Company Bringing New Opportunities to Soybean Producers
Posted on Nov 2, 2022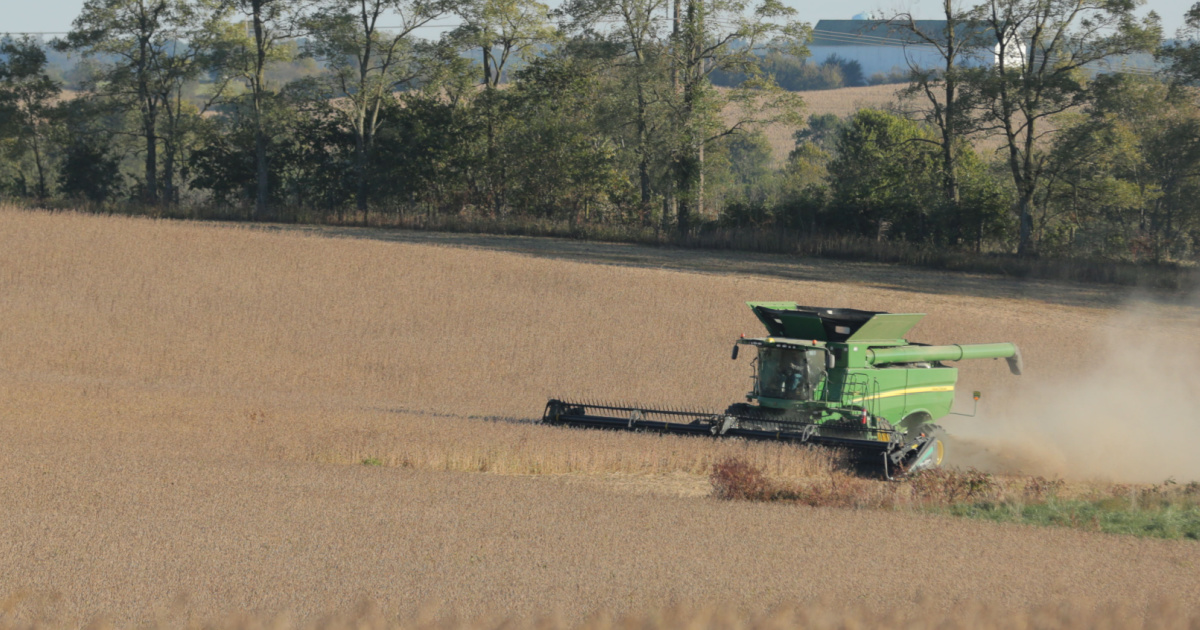 As soybean production in Kentucky has increased exponentially over the last two decades, producers in areas of the state where grain elevators are not located nearby have had to truck their harvest over great distances, adding additional costs and time constraints.
This has been especially burdensome as fuel prices have increased dramatically over the past two years. In 2020, the average U.S. cost of a gallon of diesel fuel was about $2.55. Today it is over $5.00 in many places.
But growers in the region surrounding Pulaski County will have an outlet much closer to home thanks to Continental Refining Company (CRC). The company is in the process of bringing a soybean crushing operation into its refining facility in Somerset providing a valuable outlet for the region's soybean crops and much-needed relief for producers who have been absorbing those increased fuel costs.
Steve Morris, the Chief Financial Officer at CRC said the refinery, formerly Somerset Oil which was built back in the 1930s, was a major employer and business in the community and the region for many years.
"Unfortunately, the period from 2000 through 2011 saw the refinery change hands several times, go through a bankruptcy and ultimately shut down." It appeared what had been a staple in the region for decades might never operate again.
That is until entrepreneur Demetrios Haseotes purchased the facility in late 2011. The refinery was renovated and began processing crude oil and selling road fuels and heavy fuel oils in late 2012.
"By 2018 the aging equipment as well as an inconsistent quality crude oil supply caused CRC to cease operations. Knowing the facility still had value and wanting to continue the legacy, the CRC team set out to re-design and rebuild a modern state of the art oil refinery, "a major undertaking," Morris said.
However, upon completion of the final design, the costs involved were too great to overcome and the project was shelved.
Then came Biodiesel…….
"We still had some infrastructure and making biodiesel was like going back to our roots," Morris said. "So, the next question was, 'What are we going to make it out of?'"
Used cooking oil and grease were a thought, but that market was saturated, so soybeans became an obvious choice once it was discovered how many producers were in the area.
"We were pleasantly surprised to find out just how many soybeans were grown in a 10 to 12-county radius of us, and so that's what led us to the idea of a soybean crushing operation," Morris said. "And the more we got into it, the more we realized that this was a fantastic fit for the region."
Morris explained that the oil from the soybeans from nearby farms could be used for biodiesel, the soybean meal could be sold to poultry producers and the soybean hulls could be used for livestock feed back on the farms. A sort of full-circle kind of situation, he noted.
The idea has local and regional producers excited. Skipper Todd and Mark Woodrum, both soybean producers in Casey County see the new facility as a way to get their crop to a much closer market.
"That facility is about 20 miles from here and most of our soybean crop, right now, goes to either Owensboro, which is 200 miles away, or Jeffersonville, and that's a little over a hundred miles," Todd said. "Having someplace local is going to help out on transportation, on getting our crop marketed out of here, and help as far fuel costs and time moving our crop away. We spend a lot in fuel each week moving our crops."
Woodrum echoed those sentiments saying this new market will save money and time.
"As long as they have their prices competitive with your other markets, this will just cut down on a lot of the trucking, and be a lot faster, too," he said. "And I think it'll be really good for some of the smaller producers who don't grow a lot and would benefit from a closer market"
Pulaski County producer Chris Pierce said having such a market for area soybeans could be a game-changer for a lot of growers.
"We have marketed 2022 soybeans with CRC and feel this facility will be an opportunity for local farmers," he said. "For the first time, local producers in our area will have an end user buying soybeans close to the farm gate. CRC will provide jobs to local tradesmen and feed products to farmers in this area. Local ownership and commitment are the backbones of this regional opportunity!"
Morris is looking toward the future in having the operation running at full capacity. For now, the facility will be buying soybeans from this season's crop.
"We have got beans contracted through early spring 2023 and will be buying spot beans as well, so, we will be buying this year's crop," he said. "But in looking down the road, maybe three to five years, we could be in the neighborhood of five or six million bushels of soybeans that we would process annually. I feel this facility will be a real boost to the local farmers, the rural economy, and the region, as a whole."