Commissioner Quarles Congratulates 2019 KHSAA-KDA Ag Athletes of the Year
Posted on Mar 12, 2019


FRANKFORT, Ky. (March 11, 2019) – Agriculture Commissioner Ryan Quarles applauded six Kentucky high school student-athletes involved in agriculture for being named the 2019 Kentucky High School Athletic Association-Kentucky Department of Agriculture (KDA) Ag Athletes of the Year.

"Congratulations to these agriculturally-minded student-athletes on winning the 2019 Ag Athlete of the Year Awards," Agriculture Commissioner Ryan Quarles said. "It's no secret that it is expensive to get a postsecondary education. Whether these students pursue their dreams at a four-year institution or at a vocational school, these scholarships will help offset the rising costs of continued education."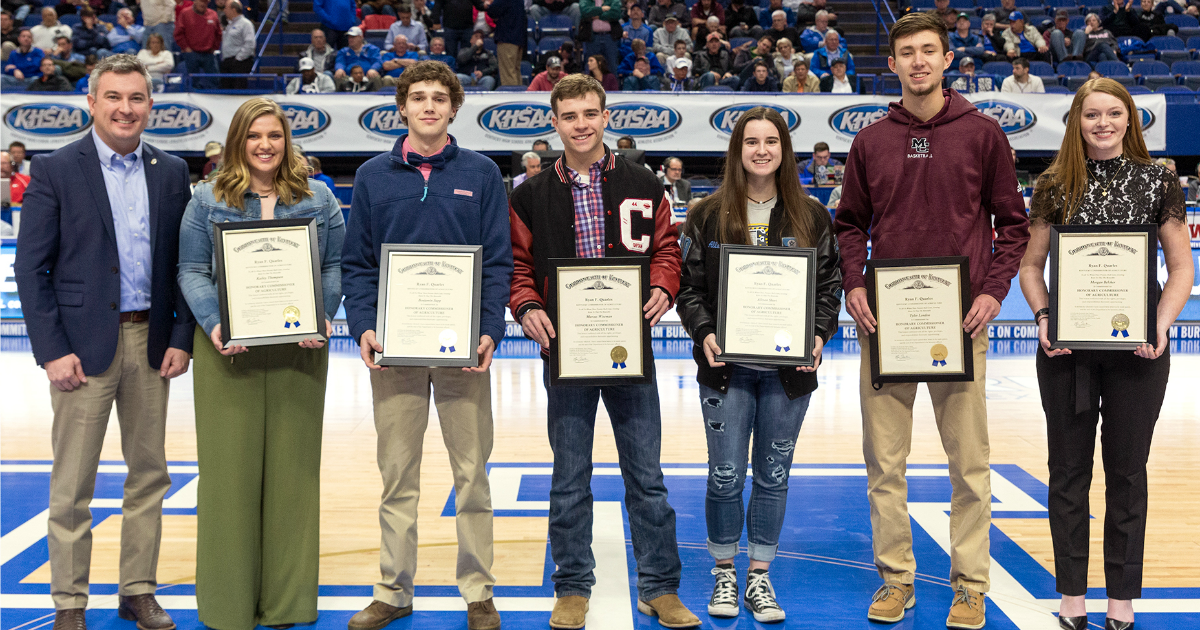 The 2019 Ag Athletes of the Year were named at a ceremony during the Whitaker Bank/KHSAA Boys' Sweet Sixteen State Basketball Tournament on March 8 at Rupp Arena in Lexington. Two $2,000 scholarships and four $1,000 scholarships were awarded. The honorees are:
Benjamin Sapp of Russell County High School ($2,000);
Kailey Thompson of Taylor County High School ($2,000);
Morgan Belcher of Pulaski County High School;
Tyler London of Metcalfe County High School;
Alleson Short of Muhlenberg County High School; and
Marcus Wiseman of George Rogers Clark High School.
A total of 61 student-athletes applied for the 2019 Ag Athlete Awards, and a committee selected the winners. The one-time scholarships, payable to an institution of higher learning, were awarded to senior student-athletes involved in agriculture who plan on continuing their education at a two-year or four-year institution or trade school following graduation.
The scholarships are supported by the "Ag Tag" Fund, which is financed by voluntary donations from Kentucky motorists when they buy or renew their farm vehicle license plates.