Commissioner Comer welcomes Murray State to the Kentucky Proud Farm to Campus program
Posted on Oct 2, 2014


Murray, KY (September 30, 2014) —

Murray State University

's entry into the

Kentucky Proud

Farm to Campus Program is a milestone in the rich agricultural heritage of the Purchase region,

Agriculture Commissioner James Comer

said in a ceremony Tuesday on the MSU campus.

"This region is one of the most productive areas in the nation, with a top-notch agriculture school, so it's only fitting to have Murray State in the Farm to Campus program so they can share more of the abundance of this area's farmers and food producers," Commissioner Comer said. "On behalf of the Kentucky Department of Agriculture, we look forward to helping MSU find more local foods for its students, faculty, and staff."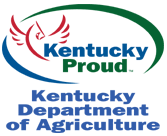 "We are 'Kentucky Proud' to join the Kentucky Department of Agriculture's Farm to Campus network of universities across the Commonwealth," said Tony Brannon, dean of the Hutson School of Agriculture at MSU. "Working together, our Dining Services, University Bookstore, and the Cherry Exposition Center have identified several Kentucky Proud products that can be utilized in our operations.
"As citizens of our great country, we have become accustomed to the most abundant, safest, and cheapest food in the world, and it's even better when that food comes from a local farmer or food processor. Some of our students and faculty are involved in producing Kentucky Proud products, and we look forward to helping market them on campus."
Farm to Campus is the official state program for connecting Kentucky farmers and food producers with Kentucky higher education institutions. Under Farm to Campus, the KDA helps participating institutions put fresh Kentucky Proud products in their foodservice systems and shelf-stable Kentucky Proud products in their campus bookstores.
Murray State is the eighth Kentucky college or university in the Farm to Campus program, joining Asbury University, Campbellsville University, Eastern Kentucky University, Georgetown College, the University of Louisville, Morehead State University, and the University of Pikeville.
Tagged Post Topics Include: Agriculture Commissioner, Asbury University, Campbellsville University, Cherry Exposition Center, College, Eastern Kentucky University, Farm to Campus, Food, Georgetown College, Hutson School of Agriculture, James Comer, Kentucky Department of Agriculture, Kentucky Proud, Morehead State University, Murray State University, Tony Brannon, University, University of Louisville, University of Pikeville