Commissioner Comer launches Appalachia Proud to boost eastern Kentucky through agriculture
Posted on Feb 17, 2014


LEBURN, Ky. — Agriculture Commissioner James Comer, alongside U.S. Senate Republican Leader Mitch McConnell and U.S. Sen. Rand Paul, launched a new Kentucky Proud brand designed to revitalize the Eastern Kentucky economy through agriculture in an event today at the Knott County Sportsplex.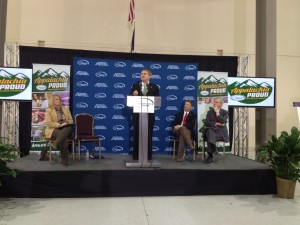 Appalachia Proud: Mountains of Potential is a trademarked brand that designates Kentucky Proud products made by producers in 37 Eastern Kentuckian counties. The program includes a set of specific, measurable recommendations for using agriculture to spur economic development and educational achievement in the region. At the event, Commissioner Comer issued a report containing the recommendations and a summary of agricultural activity in each of the 37 counties.
"This idea was inspired by two years of travel all across Eastern Kentucky and countless conversations with farmers, agribusiness owners, and other local business leaders throughout the region," Commissioner Comer said. "What became abundantly clear is that Appalachia is a special place with untapped potential, particularly in the areas of agriculture, food production, and agritourism. When you marry untapped resources with a workforce that has an unbreakable spirit, the possibilities are endless."
"This is another good idea to come out of Commissioner Comer's shop at the Kentucky Department of Agriculture," Sen. McConnell said.
"From Sen. McConnell to Commissioner Comer to [state Sen. Robin] Webb, we couldn't have a better team pushing for agriculture in Eastern Kentucky," Sen. Paul said.
The recommendations include:
I. Telling the story — Executing a creative and comprehensive marketing strategy to battle inaccurate stereotypes, highlight success stories in the region, and grow the agricultural economy;
II. Setting the stage — Supporting the Economic Freedom Zones Act of 2013, sponsored by Sens. McConnell and Paul, which would revitalize struggling economies in Eastern Kentucky and elsewhere across the United States by lowering taxes, enhancing education, reducing regulatory burdens, and encouraging charitable giving;
III. Starting early — Helping colleges and universities develop niche products that can succeed in Eastern Kentucky; activating FFA chapters in every school district in the region; creating a new mobile science activity center dedicated to Appalachia; and launching industrial hemp pilot projects at Eastern Kentucky University as well as Kentucky State University, the University of Louisville, Murray State University, and the University of Kentucky;
IV. Selling the product — Creating an Appalachian Wildlife Center, recruiting colleges and universities to join the Kentucky Proud Farm to Campus Program, and encouraging Eastern Kentucky schools to join the Kentucky Proud Farm to School Program; and
V. Investing in success — Seeking legislation to return 100 percent of coal severance tax dollars to coal-producing counties, and dedicating 15 percent of those funds to agricultural development.
The report and recommendations were issued to a standing-room-only crowd that included agriculture and other business leaders, students and school administrators, and university and elected officials.
"Our goal is to shine a bright light on the existing success stories of Appalachia and to build on them for the next generation of Eastern Kentuckians," Commissioner Comer said. "Please join me in welcoming to the Kentucky Proud family 'Appalachia Proud: Mountains of Potential.'"
For more information about Appalachia Proud: Mountains of Potential, and to download a copy of the Kentucky Department of Agriculture's report on agriculture in eastern Kentucky, go to www.kyproud.com/AppalachiaProud/.
Tagged Post Topics Include: Appalachian Proud, Commissioner of Agriculture, Eastern Kentucky, Economics, James Comer, Kentucky Proud, Knott County Sportsplex, Mitch McConnell, Rand Paul