Candid Conversation with 2021 KFB Young Farmer Committee Chair Heather Graham
Posted on Mar 11, 2021


KFB Candid Conversation presents a discussion about the topical issues related to KFB priorities, the agricultural industry, and rural communities, in a question and answer format. In this column, Heather Graham, the 2021 KFB Young Farmer Committee Chair, talks about the role young farm families play in Kentucky's ag industry and her thoughts about being the first female Young Farmer Chair.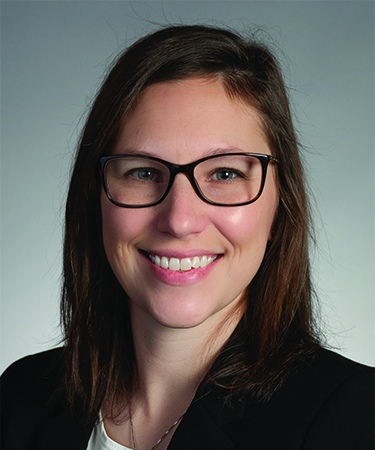 Would you mind sharing with our readers a little about your agricultural background?
I grew up on a farm in Scott County where we raised and showed Rocky Mountain horses, but it wasn't until high school when my interest in agriculture really peaked and I became active in both 4-H and FFA programs. By the time I graduated high school, I knew I wanted to pursue a career in agriculture, so I attended Morehead State University and majored in Agricultural Sciences with an emphasis in Animal Science. It was at Morehead that I met my future husband, Reed. We farm in southern Wolfe County with our 3-year-old son, John Henry. Like a lot of farmers, we have a diversified operation. We have a small, commercial cow-calf herd and retain our steers for a freezer beef business. We tend about 70 acres for hay, and we also have a firewood business that keeps us busy year-round. This past year, we completed the building of a high tunnel, and we are in the beginning stages of starting vegetable production. Reed and I both also work off the farm as County Extension Agents for Agriculture. As the saying goes, farming is not just a job, it's our way of life!
When and how did you become involved in the KFB Young Farmer program?
When I met Reed, he was serving as the Young Farmer chair for Wolfe County. I was fortunate to attend Young Farmer Summer Outings and Winter Leadership Conferences with him. I quickly realized not only how important the KFB organization was to agriculture as an industry, but how the Young Farmer program was essential for cultivating relationships and building leaders for the new generation of agriculturists. In 2015, I was blessed to be accepted into the LEAD program, and my passion for KFB only grew from there. KFB does an outstanding job of encouraging producers to have an active voice in not only their local communities but all the way to the national level, and the Young Farmer program helps those younger farmers grow their voice.
From a young farm family perspective, what do you see as some of the major challenges in staying on the farm, or beginning a career in the agriculture industry?
I've talked about this very topic with several producers, both young and seasoned! It can be hard to make a living off of farming alone, many of us have to work off of the farm to ensure a steady paycheck or to afford health insurance. Throw in kids, school activities, family activities, and everything else life presents, and time becomes an issue. Farming isn't a 9 to 5 job, it is 24/7/365. It can be overwhelming to try and divide your time between all the tasks at hand.
How do you feel about being the first female chair of the Young Farmer Committee?
It's certainly an honor to be the first female chair. To be selected by your peers for a position of leadership is humbling and I am proud to be serving in this position. Women have been, and continue to be, involved in decisions and leadership both on and off the farm, and the situation in KFB is really no different. It's encouraging to see more women in the organization with leadership titles.
Do you see yourself as a role model for other young people, especially females, becoming more involved in ag-related leadership positions?
My hope is that any person, child or adult, male or female, would see in me my passion for my community and my passion for agriculture and that it might light their fire to be involved. We can all make a difference in our community, in our world, if we take that first step to be involved. I would encourage anyone that is interested in agricultural leadership to find that someone that they can lean on for inspiration and support. And for those of us that are in leadership positions already… be the light.
Along with challenges come opportunities. What are some opportunities you see ahead for young farm families?
COVID and the ripple effects of the pandemic have been hard on everyone, but there have been a lot of opportunities to change how we interact and learn because of COVID. Farmers have had the opportunity to watch amazing seminars, conferences, and lectures through online platforms that they otherwise may not have been able to attend in person. We've been able to join farmers from across the state, the nation, and even the world and learn about their practices, what they're doing to make an impact on their farm and their community. The knowledge of experts has literally been at our fingertips while we've been plowing the fields, cooking dinner, or working in the garden. The last year has certainly been a struggle, in more ways than one, but it has also presented us with unprecedented opportunities to learn, improve, and grow – ourselves, our families, and our farms.
What would you like to accomplish the most during your tenure as KFB Young Farmer Committee Chair?
I'm sure, like the Chairs before me, I'd like to see the Young Farmer program continue to grow. Specifically, I would like for our individual county and district programs expand and strengthen. Farm Bureau involvement starts at the local level, and if we can engage our young people at home – hone their leadership skills, build networks of support, and ignite their passion for agriculture and Farm Bureau — then our organization will be that much stronger for the future.