Candid Conversation: Drew Graham and John Sparrow
Posted on Jul 1, 2020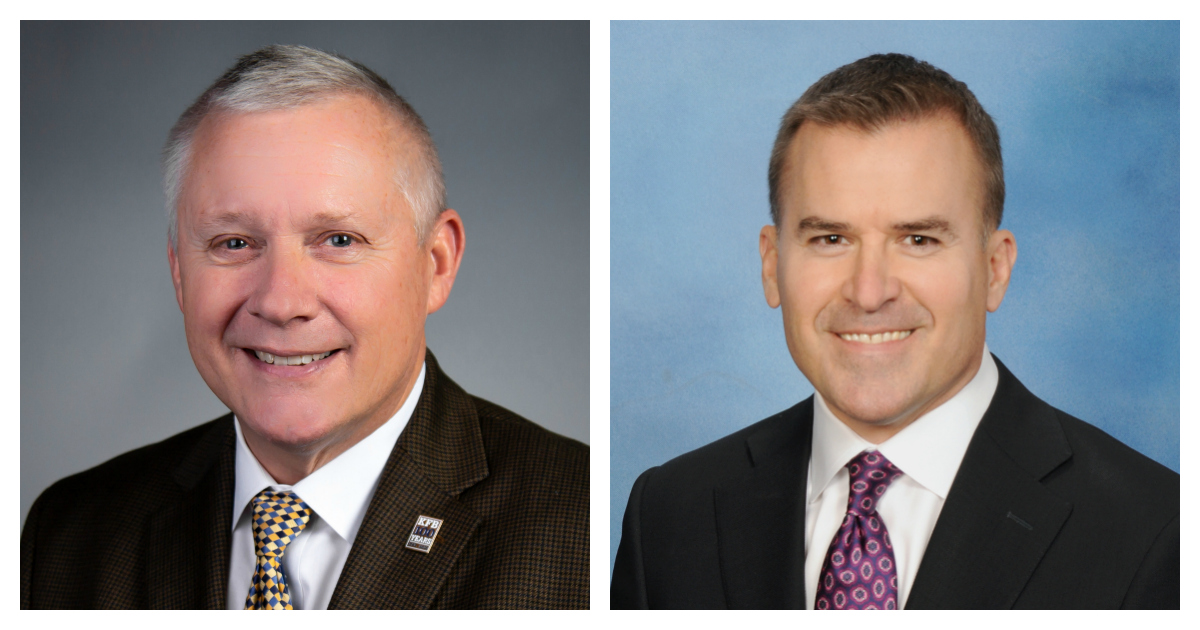 KFB Candid Conversation presents a discussion about the topical issues facing the agricultural industry and rural communities in a question and answer format. In this column, Kentucky Farm Bureau Federation Executive Vice President Drew Graham and KFB Insurance CEO and Executive Vice President John Sparrow discuss the functions of the organization, the big topics affecting the Federation and Insurance Company, and what it has been like operating during a pandemic.
For those readers who may be new to the Farm Bureau organization, could you explain a little about both the Federation and the Insurance Company?
Graham: I oversee the day-to-day operations of the KFB Federation, which is the agriculture advocacy side of the overall organization. The Federation got its start in 1919 and was created to serve as a voice for farm families across this Commonwealth. And while so much has changed since those days, we still stand for those farm families and the agriculture industry, just as Farm Bureau did more than 100 years ago. Perhaps the most unique thing about our organization is the grassroots approach we take in deciding policy and priority issues for the Federation's advocacy efforts. Every county in the state has a local Farm Bureau organization, and those county members are the ones who decide policy ideas for the Federation which ultimately become our priority issues by way of our state Board of Directors. It is this grassroots way of doing things that makes Farm Bureau so unique and so effective.
Sparrow: Kentucky Farm Bureau Insurance was created out of the Federation in 1943, and was done so to serve members and underserved people in rural Kentucky communities who weren't getting competitive insurance opportunities. Working with a myriad of other insurers, including Indiana Farm Bureau Insurance and State Farm, we launched and started opening offices in what would eventually be all 120 counties. We also started recruiting people to work for us in those communities; people living and serving there. As a grassroots organization, our governance comes from these communities across the state. That's a strength we have, and I believe it to be our competitive advantage in Kentucky.
Today, in 2020, we have 182 agent offices across the state with 15 claims offices located regionally throughout the Commonwealth, and we service well over 1.3 million policies. Putting that into greater context, we're now the number one writer of property and casualty insurance in Kentucky, and we are the only Farm Bureau that holds that position nationwide.
While KFB is comprised of its agriculture advocacy Federation and the flagship member benefit Insurance Company, the two operate together in many ways on a daily basis. Could you elaborate on the importance of being "Stronger Together?"
Graham: While KFB is comprised of two entities, we operate as one organization. There is not a day that goes by that the leadership of both the Federation and the Insurance Company aren't in constant contact over ideas or issues that are affecting one side or the other. Because we work so closely together, this organization is well-positioned to serve our members. And at the end of the day, serving our members to the best of our abilities is what is most important. The idea that we're "Stronger Together" is not just an empty phrase that we use as part of a public relations effort. Rather, it is a philosophy we live by when it comes to operating this organization.
Sparrow: As an organization that has both a for-profit and a not-for-profit entity, our agencies and local volunteer leaders work hand-in-hand every day. The same is true of the employees in our state office. We advocate for each other. Because of that service to each other, and because we have each other's best interests in mind, we can conquer a lot of things. Now, for that to really work, you have to have leadership that buys into it and believes in it. I feel wonderful about our executive committee, our board members, our Federation division directors, and Insurance vice presidents, all of whom really want to invest in each other's success. We are much stronger together because we all believe in each other.
What are some of the main issues the two of you are currently involved with as it relates to both the Federation and Insurance Company?
Graham: As with most companies right now, we are making our way through the COVID-19 situation. In doing so, we have discovered what we really knew all along; the people who work for Farm Bureau are some of the most dedicated people I know. They have taken this pandemic by the horns and never missed a beat when it comes to getting their work done, serving our members, and keeping this organization running as smoothly as possible. In doing so, we still are advocating for our agriculture industry. Farms didn't shut down during this pandemic. In fact, the necessity of the American farmer has never been more apparent, and because of that, we are more determined than ever to do our part in ensuring our farm families and rural businesses stay in business and continue the job they are doing to provide the necessary food, fuel, and fiber we need and depend on every single day, pandemic or not.
Sparrow: You know, you can buy insurance anywhere. So, one of the things vitally important for Kentucky Farm Bureau is to maintain what got us here. Why are we so relevant in Kentucky when it comes to insurance and membership? I believe it to be our grassroots. I believe it to be our governance. We have to be well-grounded. We have to be financially secure. We have to be conservative, but yet we have to compete in a world that's very aggressive in terms of pricing and competitiveness. But we believe our value proposition is right here, doing things similar to the way we've always done them. Being in each community, meeting the customer where they need to be met; our challenge is how do we do that in an ever-evolving world?
Recruiting is something else companies like ours are always challenged with. We've got 700 employees, 400 agents, and 600 customer service representatives out there, and making sure you get the best, service-focused people is critically important. We want to provide our customers and communities with the best service we can. We've been very fortunate in doing that for more than 75 years now, and that track-record keeps us energized every day.
KFB is the fourth largest Farm Bureau in the country. In your opinions, what did it take for the organization to get to this point and why is that important to members?
Graham: First and foremost, we have become the fourth largest Farm Bureau because of the work the entire organization has provided to its members. Our serving member benefit is our Insurance Company which has helped grow this operation over the decades to become one of the best in the country. But our dedication to the very industry that gave us our start over a century ago has been key to developing leaders in this state who have gone on to be nationally recognized as outstanding agriculturalists. Because of this, Kentucky has a seat at the table when ag policy is being developed at all levels and again, it starts at the county level. Serving our members is the heart and soul of this organization, and because we see it that way and live it every day, we can count ourselves as being blessed to stand as one of the top Farm Bureaus in the country.
Sparrow: I'll say it over and over again: The reason we're so relevant is because we built a strong structure of support around leaders in our local communities, and we invested in these communities. This makes people want to be a part of our organization – either as a volunteer, an employee, or a customer buying insurance from us.
People want to be a part of Kentucky Farm Bureau. The irony in this is that Kentucky is smaller in population than some of the other Farm Bureau states but even so, we're competitive with them. We've been able to stay relevant and price competitive, and, because we are so strong in this state, some might suggest that we actually drive the price in Kentucky. The national brands have to meet us in price and we don't necessarily, historically have to meet them. That's a neat place to be and certainly good for our members.
Operating during COVID-19 has got be very challenging. How has the organization adapted to that and how are things going so far?
Graham: From the Federation standpoint, we often operate away from the state office in many different capacities. So, we already have a bit of a head-start when it comes to working remotely. But, in order to abide by state and federal regulations regarding the pandemic, our staff has been working from home since early March. In doing so, I can honestly say we have not missed a beat. While we have had to cancel some events, the day-to-day operations have continued as usual. We may meet in a different way, but the end result is the same: We are serving our organization and members to the fullest extent. I can't thank our staff enough for their efforts and the dedication they have displayed every day.
Sparrow: Our number one priority through this pandemic is our people. And when I say our people, I'm talking about our customers, our employees, our agents, and our contractors. We have not wavered on that. From the onset, we emphasized that we were going to make sure we took care of our folks. In doing that, it's caused us to work differently and think creatively. Not surprising to me, our employees, our agents and our volunteer leaders, were all in. Kentucky Farm Bureau is still producing, we're still serving, and our staff is still working nonstop. We're just doing it differently. There's never been a doubt from anybody here – our executive committee, our board members or our staff – that the safety of each member of the Kentucky Farm Bureau family, including our customers, comes first.
In looking past this pandemic, is there anything you would like to share about future endeavors?
Graham: As is the case with everyone, I look forward to getting back to a day of normalcy. As humans, we need that interaction between each other and as farm folks, we have an inherent need to be neighborly, to help each other in times of crisis, to support each other during the good and bad times we face. I do believe this time of uncertainty has given us all time to pause and count our blessings, to find new ways to interact, and to continue to serve in ways we may not have realized before. We will move forward together as an organization, as united communities, and as people who genuinely care for each other no matter what the day brings.
Sparrow: Through all of this we have discovered we are able to do some things we didn't think we could do before. But I feel strongly that we're absolutely delivering on the needs of our customers and members when they need us the most. As always, our eyes are open to opportunities as we continue to think and grow and develop how we serve those customers, while always being mindful that our core value is having relationships in communities. And though we may not be seeing as many of our customers face-to-face through the pandemic, I don't believe any of them feel unserved or that they aren't getting the help they need. One thing this organization can do very well when it comes to solving needs is figure things out. If there's a way we can provide value through what we do, I believe we can make it happen.