Candid Converation with Dr. Stuart Foster
Posted on Nov 7, 2019


KFB Candid Conversation presents a discussion about the topical issues facing the agricultural industry and rural communities in a question and answer format. In this column, Dr. Stuart Foster, State Climatologist and Director of the Kentucky Mesonet Weather Data System located at Western Kentucky University (WKU), discusses weather changes, weather data collection, and the value of such climate information.

For those who may not know about the Kentucky Mesonet System, could you explain what it is and what it does?

The Kentucky Mesonet is our statewide weather and climate monitoring infrastructure, which is a wonderful asset for the state and we're one of very few states in the country that have a network anything like it. It consists, currently, of 71 automated weather stations across Kentucky which collect observations every five minutes throughout the day, and we collect, process, and make that data available to the general public, to our state agencies, and to the National Weather Service.

Why is such a network so important to have, and how long has it been in place?

On a beautiful, clear, fair-weather kind of day, having observations every five minutes probably isn't critical for most things. But when we get into an active weather situation where we've got the threat of severe weather and storms developing across the state, or winter weather situations, or flash flooding, those observations can be really critical. With the amount of severe weather that we get hit with here in Kentucky and recognizing the importance and variability of our climate, WKU developed a proposal to receive an appropriation to be able to begin development of the Kentucky Mesonet with our first station being installed locally in Bowling Green at the WKU Farm in June of 2007. That's when our first observations were collected.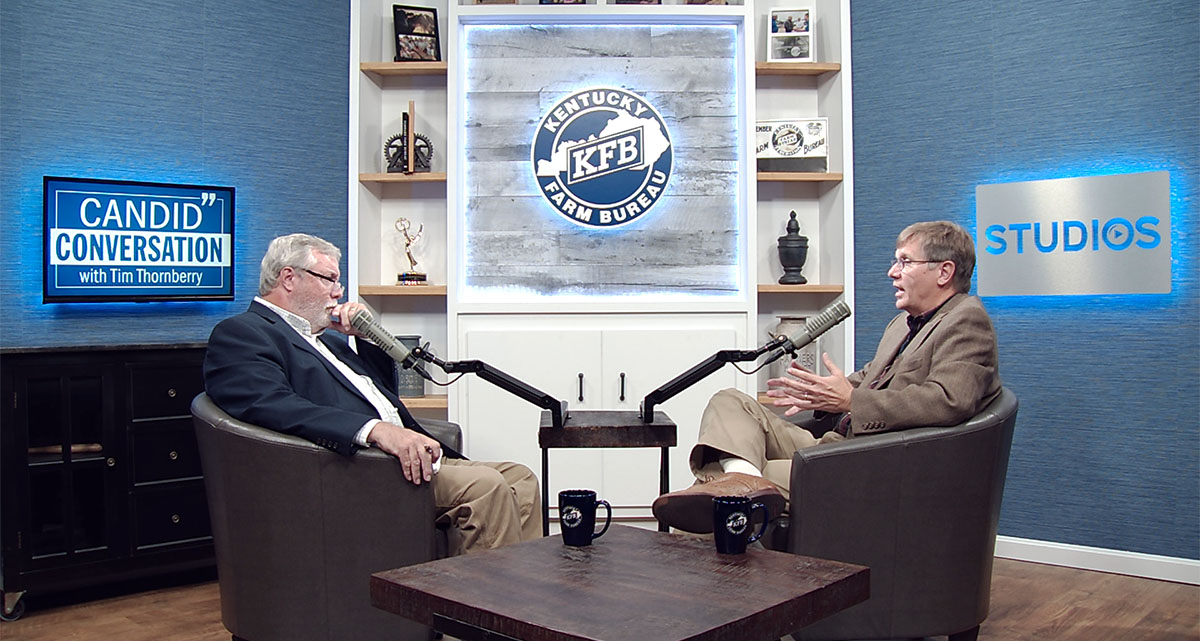 What happens to all the data you collect from these stations?
In emphasizing the importance of our partnerships, the data goes to the National Weather Service and it also goes to the Kentucky Division of Emergency Management's Emergency Operation Center. In doing so, the Mesonet stations help to enhance public safety across the state, whether it's the station in your county or the station in the next county over, providing very critical, near real-time data and information about weather conditions. But the data is also available for anyone who goes to the website (www.kymesonet.org). And of course, our data becomes part of the climate record as we move forward.
What are some things about the Mesonet that are perhaps more acclimated to agriculture?
There's so much of this information available for the benefit of farmers. We help them track growing degree days using our temperature data, as well as precipitation for monitoring crop development. Thus, it allows farmers to better understand how the weather affected their operations after the growing season or after an extreme weather event. Many of the stations also have the capability to measure soil moisture and soil temperatures. That data is available, I believe, now in over 40 sites across the state and we're continuing to invest in soil monitoring at our existing stations and certainly the new stations. We have also recently begun monitoring temperature inversions to aid decision making when scheduling field operations.
One would assume the data stations have had a busy 2019 with some of the swings in weather conditions experienced over the course of the year.
It actually seems like our weather over the last several years has been a rollercoaster ride in many ways and this year was certainly like that. We started out wet, in particular in February, and then again in June. In fact, based on the data from our stations, some areas in the state had received 70 to 80 percent of their average annual precipitation by the end of June prompting us to look at the real possibility of breaking our statewide record set back in 2011. But then, when we got to August for some, and September, the faucet was shut off and the heat was turned on breaking a record for being the driest September since 1895. So, it's just a remarkable year so far and of course it is not over yet.
Are we able to see extended weather pattern changes with the data you have and earlier recorded data?
While we have seen a gradual increase in both temperature and precipitation through the growing season, what strikes me are the remarkable swings that we have seen in our weather patterns, particularly between extremes of wet and dry. The one thing that's remarkable for us and really stands out would be that the last 10 years or so have been, in spite of the September drought and in spite of the fall drought in 2016, and severe drought in 2012, a remarkably wet period. In fact, it has been the most prolonged and wettest period of our climate record going back to the late 1800s. So, that's one thing that stands out, in the midst of all that wet weather, we can still have droughts. The Mesonet data will help us, in the long-term, evaluate those changes and identify trends that may give clues of future weather patterns.
You are a member of the KFB Water Management Working Group. How valuable has that relationship been to you and other stakeholders in water resource management efforts?
I would say the Water Management Working Group, created by KFB, has been transformational across the state, certainly from my perspective as state climatologist. It has brought together people with a common interest not just in the well-being of agriculture and farmers, but a common interest in the well-being of our communities across the state. We've been able to get people at the table that had the interest, the resources, and the capability to really focus efforts to better understand our needs for water resources, going forward. I think it's really helped to focus us to the point where we can be more proactive as we look to the future of Kentucky. From my conversations with colleagues in other states and other parts of the country, I can't say that it's unprecedented, but I haven't seen this kind of initiative and cooperative spirit anywhere. This is going to benefit everybody over the long-term. When it comes to issues around water, they're important to everybody whether it's rural or urban communities. Water is just a very unifying issue for us to deal with. It's exciting when you are able to work with a group that you know has the ability to get people together to actually get things done and move us in a positive direction.
And now for the ultimate question, do you get a lot of people knocking on your door asking what the weather is going to be like?
Well, I get that question a lot, and of course the reality is, I don't have anything to do with any of that. However, as we probably have heard many times, most people wouldn't be able to start a conversation if it wasn't for the weather, so the subject provides a way to talk to folks. And even though I get a lot of complaints when it's not so good, I really appreciate the folks that say thanks when we get a nice day.