Caldwell County FFA Members Help with Tornado Relief
Posted on Apr 21, 2022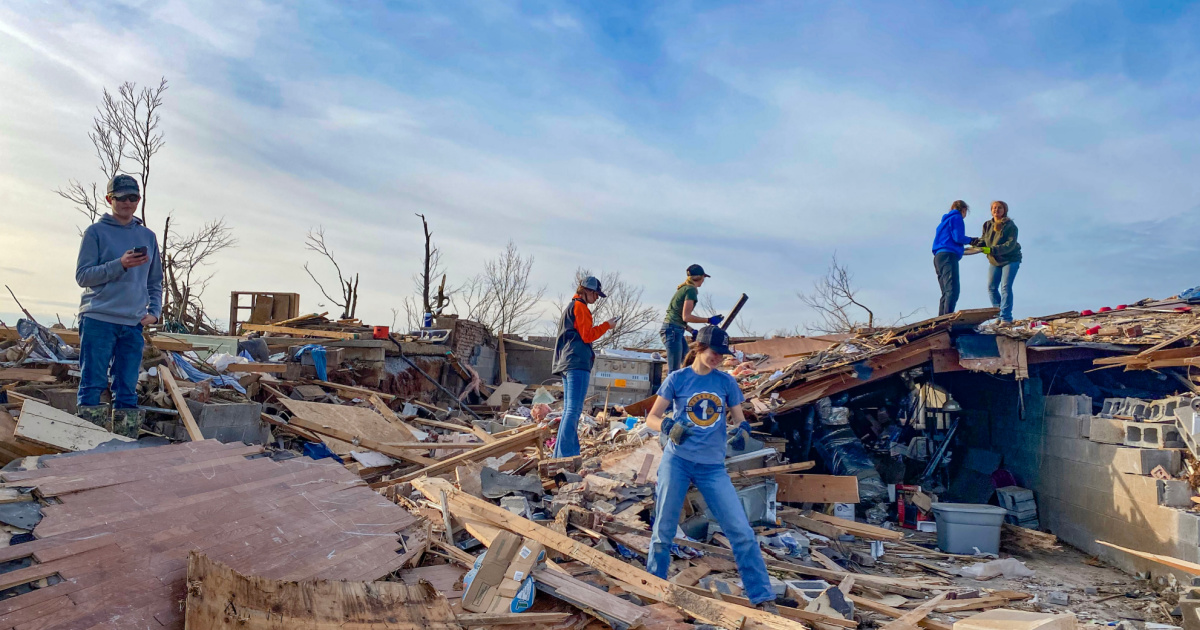 These young people didn't hesitate to support their community in the aftermath of devastating tornadoes
While the damage left behind by the December 2021 tornado outbreak was something most people in affected areas had never seen before, it did not deter countless volunteers from showing up to aid in the cleanup in the immediate days and weeks following the devastation.
FFA members at Caldwell County High School (CCHS) were especially anxious to join in the relief efforts. Their county was one of the hardest hit areas in the state, and CCHS agriculture teacher and FFA advisor Magen Woods said literally each one of her students knew of someone who had experienced damages, or worse.
"We are a small, close-knit community and all of our students know someone who has been affected by these storms, so it has been a personal thing for them to go out and lend a helping hand," she said. "They immediately started calling me asking what they could do. So, the first thing we did was get out into the community and see just what kind of help was needed."
Much of the early relief efforts made by the FFA members included helping affected people recover and box up some of their personal belongings that had been displaced by the storm, such as dishes or clothing.
"We had some students who had access to golf carts, so we loaded donated supplies and went out into neighborhoods and started delivering things like tarps, bottled water, and snacks," Woods said. "We had another group of students who actually baked cookies, and then they individually wrapped them and delivered those cookies to people that were working."
The outpouring of help has been tremendous, Woods noted. She said FFA chapters from across the country had contacted her wanting to bring donations.
"We have even had FFA chapters from Washington and New York send us boxes of blankets that their FFA chapters got together, writing special messages on them, and they sent them to our students," she said. "We've been able to distribute those to students in the primary, elementary, middle, and high school."
Woods gives all the credit to her students. They organized everything, made lists of what they needed to take care of, and found out where things needed to be donated.
"They have put the miles on their vehicles, driving to various places, making sure that things got handed out; they worked Saturdays and Sundays, after school, and long days," she said. "I mean, it's been all them. I have not had to ask anything. They've stepped up time after time."
Laken White, a junior at CCHS and the FFA chapter secretary, said it has been a very rewarding experience to help those in need.
"One of the main goals in FFA is community service, to go out and help your community in some way, and I think that's exactly what we did," she said. "We did a lot of different things. We unloaded trucks and trailers, we went to homes to help people recover any valuables they could find, we distributed donated goods. At first, we really didn't know what to do, we just knew there were people who needed our help, and we wanted to help."
The agriculture community, as a whole, stepped up to help their neighbors during this tough time, Woods noted.
"The tornado did a lot of damage to farms in this county, but it really hit the town area the hardest, as well as the University of Kentucky Research Center. And it was so amazing to see all the farm folks coming to town to lend a helping hand," she said. "Those farmers made sure their neighbors were taken care of and it was a beautiful thing to see."
Sydney McKinney, a junior student and chapter-committee chair, said she had family members who had lost their homes, which was obviously a priority for her, but she found that many people were still hopeful despite their material losses.
"There were a lot of people, more than I thought, who were very optimistic about the situation, saying it was all going to be okay because they had all those people around them willing to help," McKinney said. "And I know Ms. Woods said that it was completely us, making the efforts to help as much as we could, but she guided us all the way. She told us who needed help and what we needed to do. So, as soon as we heard who needed help and what we needed to do, that's exactly what we did. We met here (at CCHS) every single day, as early as we needed and stayed as long as we needed to and wherever needed."
While the relief efforts carry on as the people in these affected areas continue to put their lives back together, a group of FFA students from Caldwell County High School will likely be remembered for many years to come because of the difference they made in their community, for their community.
"I don't really think that we thought we were making a difference, we just felt that we needed to help because this is our home, and these are the people who have helped raised us," White said.