Brian Welch Wins Kentucky Farm Bureau Discussion Meet
Posted on Dec 1, 2018


Brian Welch, of Hopkins County, won first place in the final round of Kentucky Farm Bureau's (KFB) Discussion Meet, a debate-styled competition for young farmers that relies on an individual's skill in reasoning and logical discussion of issues. The event was one of the highlighted activities of Friday night's general session during KFB's annual meeting in Louisville.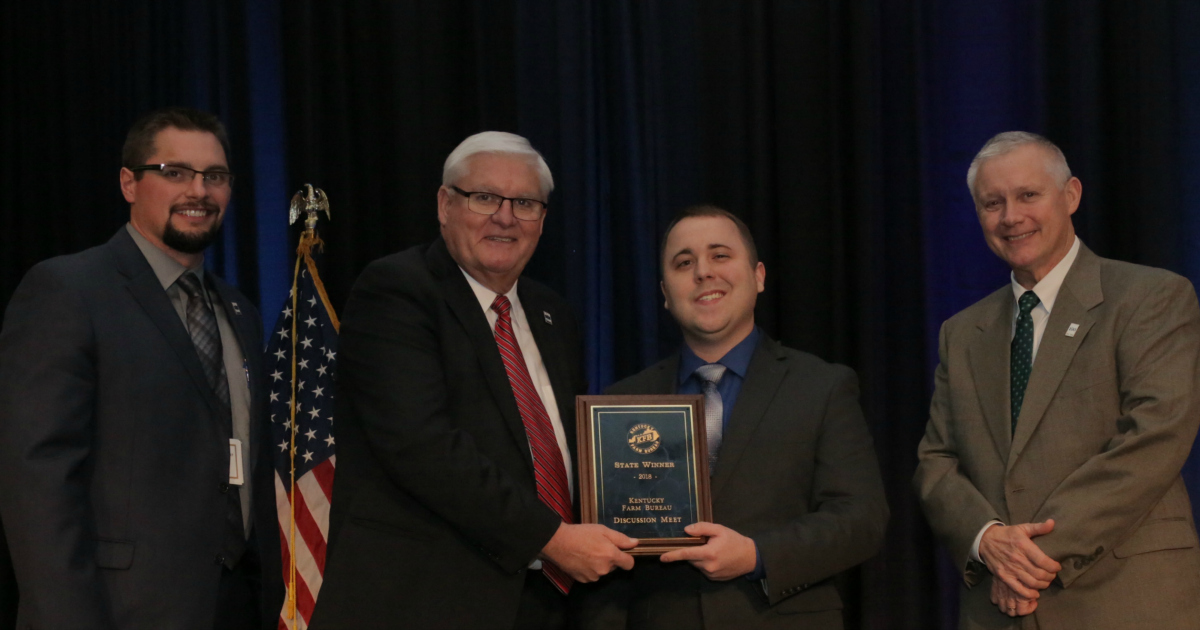 Welch participated with three other entrants in the final event, winning a Kawasaki MULE donated by Southern Farm Bureau Life and Jacobi Sales. He also won a trip to the national finals in New Orleans, Louisiana as part of the American Farm Bureau Federation's annual convention, January 11-16, 2019. When Welch competes for top national honors next month in New Orleans, he will be vying for prizes including a new Ford truck.
Runner-up in the state Discussion Meet was Mike Meyer, who received $1,000 from KFB.
The two other finalists in the state-level contest were Lilly Robertson of Logan County and Mackenzie Wright of Carroll County. They each received $200 cash awards from KFB.
KFB's Discussion Meet tests entrants on their basic knowledge of critical farm issues and their ability to respond in a panel-type discussion.
Kentucky Farm Bureau, with over 473,000 member families statewide, is the state's largest general farm organization. Approximately 2,000 members attended KFB's 99th annual meeting in Louisville, November 28 – December 1, to recognize this year's individual and organizational achievements and adopt policy for 2019. To view all the updates released from this year's annual meeting, visit KYFBNewsroom.com.
PHOTOS AVAILABLE FOR DOWNLOAD:
To view or download the photographs that accompanies this story, click here.