Betty Farris Recognized for Distinguished Service to Farm Bureau
Posted on Nov 30, 2018


Betty Farris of Butler County was awarded the 2018 Distinguished Service to Farm Bureau award for her lifetime dedication to family, farming, and the local community. She was presented with the award at Kentucky Farm Bureau's (KFB) 99th annual meeting at the Galt House Hotel.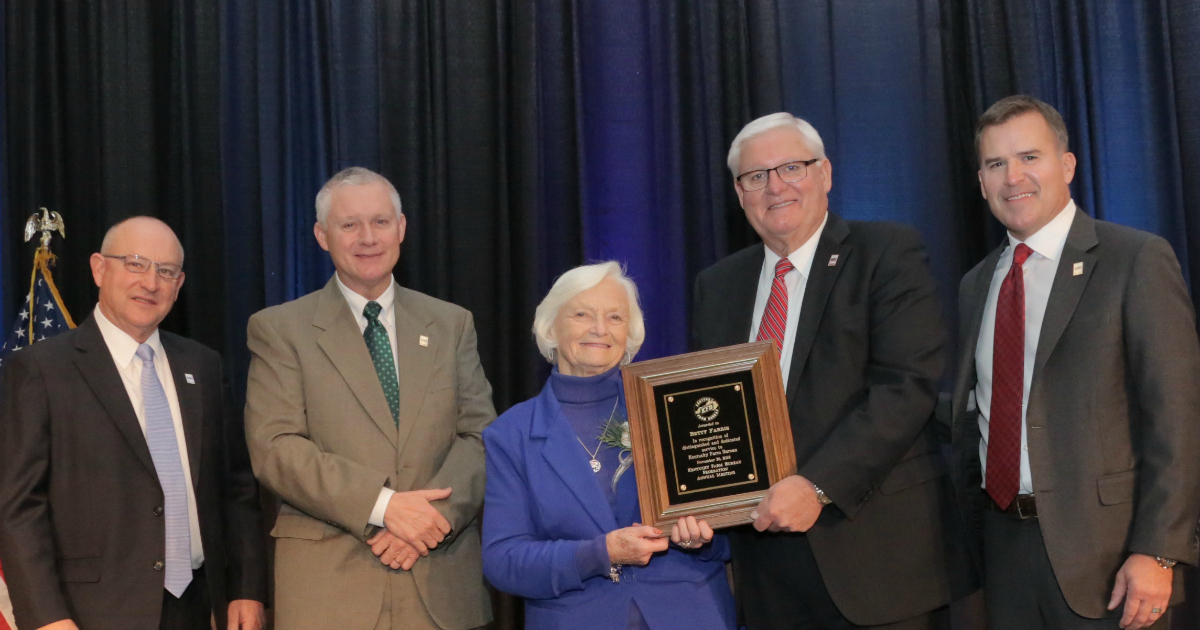 A retired teacher and lifelong member of her local county farm bureau, Farris has worked diligently over the years to promote KFB through various presentations and involvement with local civic groups. In 2009, she was elected as the first woman President of the Butler County Farm Bureau. During her tenure, the County Farm Bureau was selected as the top county in Kentucky and significantly increased membership.
Prior to becoming President, she served on nearly every committee possible including Women's Committee Chair (15 years), County Farm Bureau Annual Meeting Chair (10 years), and served as chair of the Budget Committee, Policy Development Committee, Education Committee, Scholarship Committee, and the Legislative/Farm to Table Appreciation Event.
"From promoting ag literacy in local classrooms to rural health initiatives to keeping us all up to date and involved with current legislation that impacts the agriculture community, Betty never misses a beat," said Shane Wells, President of the Butler County Farm Bureau. "She has a set a tone here in Butler County and across the state for what true volunteer leadership means, and we are so thankful for all she continues to do."
Betty's service to KFB is recognized not only in Butler County, but across the state. She was elected District 3 Women's Chair in 1999 and served until 2017, also serving as the Kentucky State Women's Chair from 2013-2015. She served as a member of the Kentucky State Board of Directors from 2014 -2016 where she spent a significant amount of time traveling to promote KFB throughout the state and region.
"I have learned so much from Betty and her commitment to Farm Bureau's mission," said Vickie Bryant, Chair of Kentucky Farm Bureau Women's Committee. "Betty has set a new standard for how all members of the agriculture industry, both women and men, should represent themselves to the community -- with love and leadership."
Kentucky Farm Bureau, with over 473,000 member families statewide, is the state's largest general farm organization. Approximately 2,000 members attended KFB's 99th annual meeting in Louisville, November 28 – December 1, to recognize this year's individual and organizational achievements and adopt policy for 2019. To view all the updates released from this year's annual meeting, visit KYFBNewsroom.com.
PHOTO AVAILABLE FOR DOWNLOAD:
To view or download the photograph that accompanies this story (Betty Farris), click here.