Ben and Katie Furnish named Kentucky Farm Bureau's 2017 Outstanding Young Farm Family
Posted on Dec 1, 2017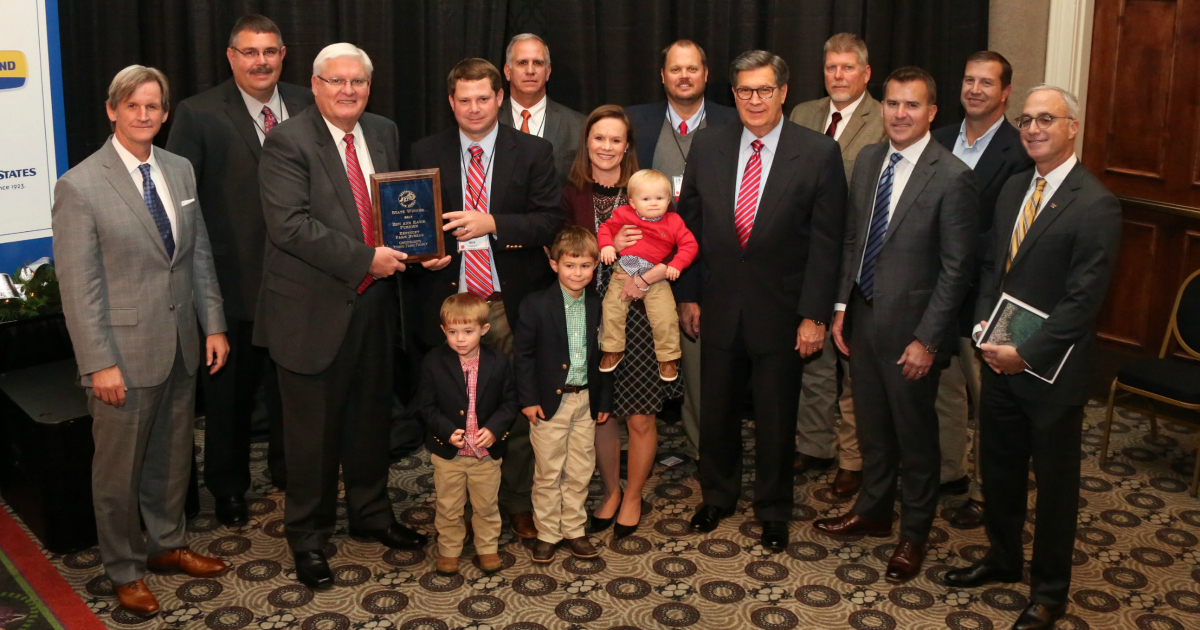 Louisville, KY (December 1, 2017) – Ben and Katie Furnish of Harrison County were honored as Kentucky Farm Bureau's (KFB) 2017 "Outstanding Young Farm Family" during the organization's 98th annual meeting in Louisville. Each year KFB awards this distinction to a couple, under the age of 35, who has exhibited the strongest farm management skills, most consistent financial growth and highest level of involvement in both Farm Bureau and the community.
In 2003, Ben bought his first group of cows and raised his first tobacco crop utilizing the farming background he grew up with on his parents' 176 acre cattle and burley tobacco operation. From that point he expanded significantly on what his father had started and purchased his first farm of 46 adjoining acres in 2005.
Over the next decade he would continue to grow through purchased and leased land. Today, he and his family operate on more than 2,200 acres of owned and leased land. Farm production includes stocker steers, burley tobacco, corn, soybeans, wheat, mixed hay and, for the last three years, industrial hemp.
The Furnishes also custom harvest hay and grains for a neighboring farm when needed. Katie has a degree in nursing and works part-time as a Registered Nurse at their local hospital. The couple has three children. Ben, who has a degree in agriculture economics, uses the Kentucky Farm Business Management program to help compare his family operation to others of the same size in an effort to improve and be more profitable.
The couple plans to expand their stocker operation in the future, while also looking at expanding their feeder calf operation. This would allow for another source of natural fertilizer and lower their input cost without sacrificing crop yields.
Ben and Katie are members of Harrison County Farm Bureau and are active in many other organizations. They also enjoy many family activities including being active in their church and participating in local recreational baseball.
In addition to receiving statewide recognition as the newest "Outstanding Young Farm Family," the Furnish's won a Case IH 3-n-1 Compressor/Welder/Generator and 100 hours use of a Case IH Tractor 125hp or less, courtesy of Kentucky Farm Bureau Mutual Insurance Company & Case IH, an Apple iPad from Republic Bank & Trust, $1,000 cash from Premier Crop Insurance, a $750 Dyna-Gro Seed voucher from Crop Production Services, a $500 voucher from Southern States Cooperative, and a voucher for 12 bags of seed corn from Pioneer Seed.
They also received an expense-paid trip to compete for the American Farm Bureau Federation's (AFBF) Achievement Award next month in Nashville, TN.
Kentucky Farm Bureau, with more than 478,000 member families statewide, is the state's largest general farm organization. Approximately 2,000 members attended KFB's 98th annual meeting in Louisville, November 29 – December 2, to recognize this year's individual and organizational achievements and adopt policy for 2018. To view all the updates released from this year's annual meeting, visit KYFBNewsroom.com.
PHOTO AVAILABLE FOR DOWNLOAD:
To view or download the photograph that accompanies this story, click here.