Ballard County Farm Donated to Murray State University for Agriculture Research and Education
Posted on Oct 10, 2016


Jimmy Don Robinson has spent most of his life in public service. He is an Army veteran having served during the Berlin and Cuban crisis, rising to the rank of Infantry Captain in the Reserves; a former District Attorney and District Judge. He also served as an Assistant Attorney General as well as in many positions during his tenure at the Kentucky Transportation Cabinet. But of all the titles he processes, perhaps his favorites are that of "husband" and "farmer."

Robinson and his late wife Dr. Charlene Robinson were married on June 17, 1975 and began their lives together as owners and operators of Eagle Rest Plantation which has been in his family since 1845. The farm has been recognized by the National Cattlemen's Association as one of the oldest cattle ranches in the U.S. under continuous family ownership.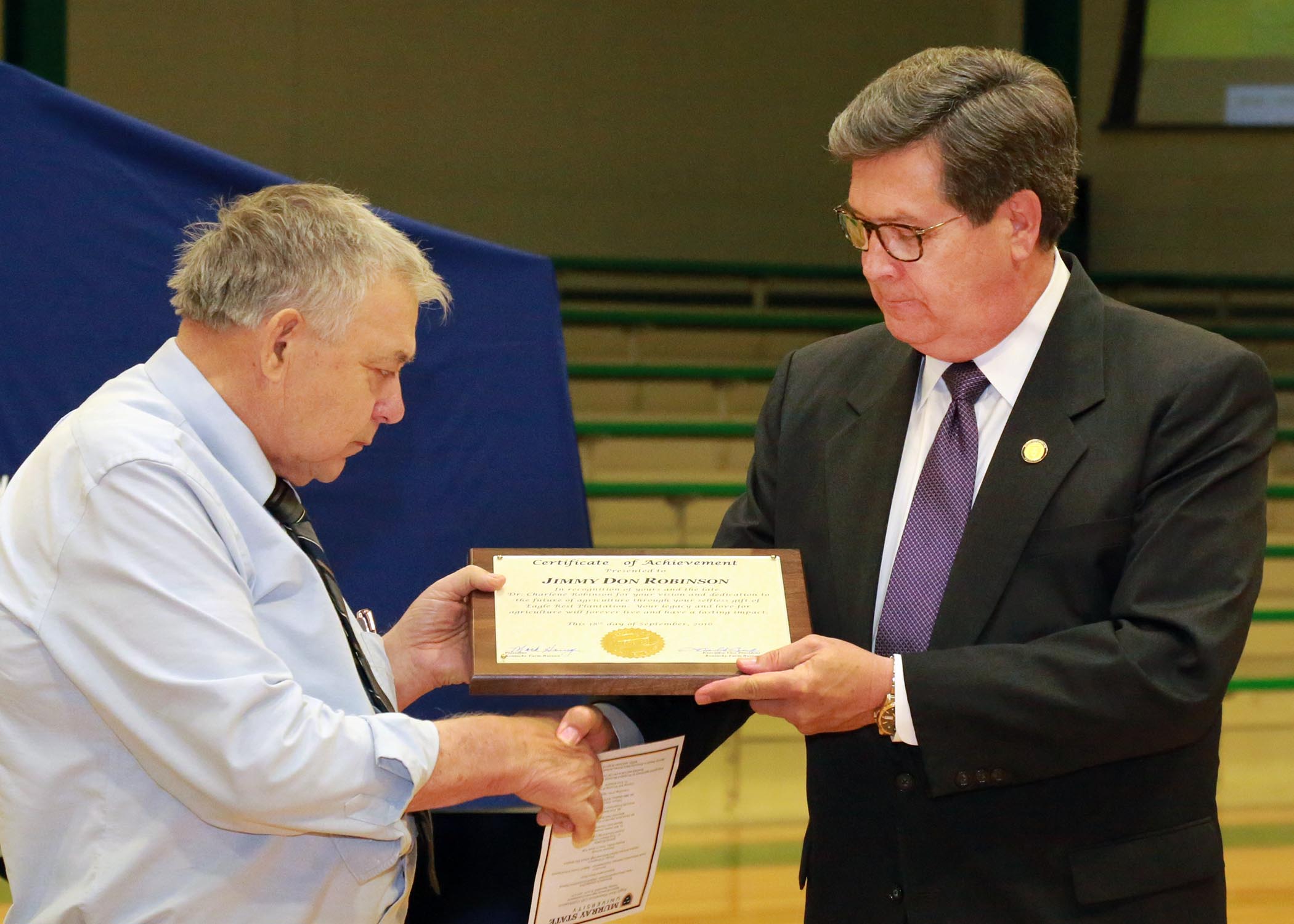 But the plantation has been home to many other endeavors throughout the years. Robinson said that after the Civil War, his great grandfather began raising thoroughbreds on the farm until 1922. The farm also became noted throughout much of the Southeastern United States for the quality mules produced on the farm, a byproduct of the thoroughbred business.
After Robinson's great grandfather's death, members of the family began to raise different crops including hay and tobacco on separate tracts of the farm until the end of World War II. It would be several years later that Robinson, his wife and his parents began to bring the original farm tracks back together.
Today, Eagle Rest Plantation is of such historical importance, it has been designated as a Kentucky Landmark and Kentucky Sesquicentennial Farm.
But Robinson's love for his wife was unparalleled, even by the family farm. He once told her if anything ever happened to her he would tear the house down, salt the land, lock the gates and look for a war and get his commission back. Fortunately she convinced him to do otherwise before she passed away from cancer in 2006.
In keeping with his ongoing love of agriculture, his land and a promise he made to his wife to keep the farm together, Robinson has generously donated all of its 534 acres along with two houses to the Murray State University (MSU) Foundation, Inc. The donation will benefit the Hutson School of Agriculture, students, faculty, staff, and regional and state agricultural initiatives.

"I am very pleased to make this gift to benefit Murray State University. I have enjoyed working with the Murray State officials during the past year as we addressed the details and future of Eagle Rest Plantation. This is a large, historic farm and it means a great deal to me and my family," said Robinson.
The Ballard County Farm Bureau Board Member and his wife dedicated much of their time to serving their community. He noted that this gift will benefit Ballard County, regional and state agricultural programs and students for many years to come.
"It will be exciting to have Murray State's physical presence in Ballard County as an educational, agricultural and economic development driver," said Robinson. "I hope the students can get practical experience here and I think it will benefit those in and around Ballard County."
Kentucky Farm Bureau Executive Vice President David Beck said the Robinsons have been well known for their service and leadership to their local community and region for many years.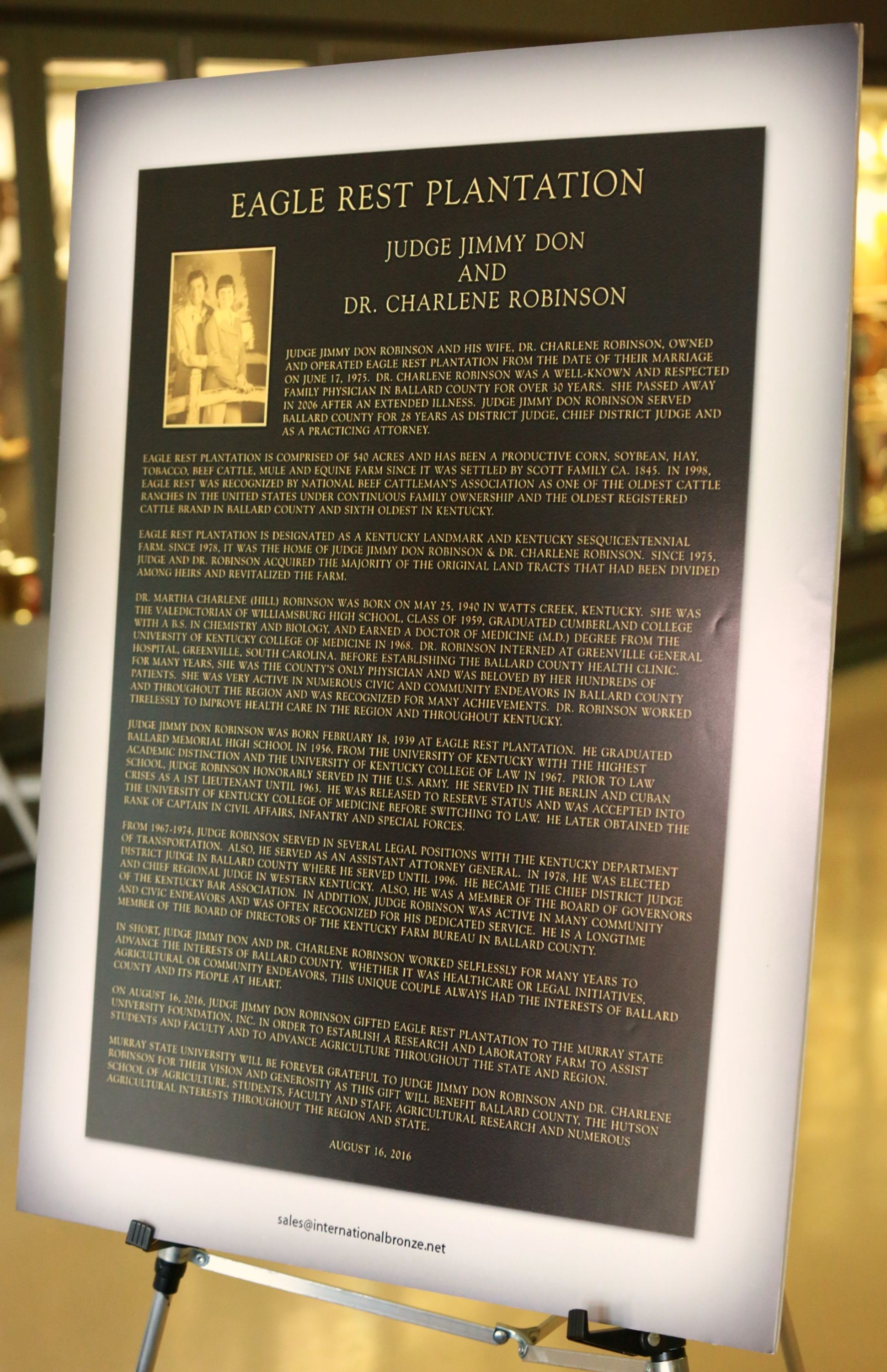 "Now, they're continuing that by making their farm available to MSU. As we think about all the values that will come from this generous gift we think about the impact it will have," he said. "It will serve as an opportunity to do research and, in addition to that, it will also extend opportunities to students and give them a firsthand experience to be on the farm."
Dr. Bob Jackson, president of the Murray State University Foundation acknowledged the magnitude of the gift made by the Robinson family.
"I've known Judge Robinson for many years, and we are very grateful for his generosity and vision. In addition, this will be a wonderful legacy for Judge and Dr. Robinson as a marker to recognize their lives of public service in Ballard County and the region."
Jackson added that Eagle Rest Plantation is valued at $2.6 million and is one of the largest gifts ever made to benefit the university and its agricultural programs.
Hutson School of Agriculture Dean Tony Brannon said the gift of this historic farm will allow expansion of the school's research and numerous agricultural initiatives.
"It will enhance our many agricultural programs and affords a tremendous opportunity for our students, faculty and staff," he said. "This is an institution-changing gift and we are extremely appreciative to Judge Robinson as we continue to advance Murray State University's Hutson School of Agriculture as a national leader in agricultural education and research."
Judge Robinson said he thinks it's very important to provide agriculture education to upcoming generations.
"There are still a lot of students interested in agriculture and in having something like this farm close, they'll actually get hands-on experience," he said.
A ceremony marking the occasion was recently held in Ballard County bringing together representatives from the college, the community, Kentucky Farm Bureau and the Kentucky Department of Agriculture to show their appreciation to the Robinsons. State Rep. Steven Rudy was also present. He said through this gift, the legacy of the Judge and his wife will live on.
"And I'm certain the research Murray State University does on this farm will benefit the farmers of this community, this state, this nation and all of God's creations," he said.
During that ceremony, Brannon announced a new scholarship that will be given each year to a Ballard Memorial High School FFA member to Murray State in the name of the Robinsons.
Judge Robinson, who is fighting a cancer battle now himself, will live out the rest of his life at the plantation.
A sign that will be placed at the farm in honor of the couple was also unveiled during the ceremony. Brannon fittingly closed the event with a blessing and told the audience, regarding the gift and what it will mean to all, "The best is yet to come."