American Farm Bureau speaks on how the trade war endangers farmers
Posted on Jul 19, 2018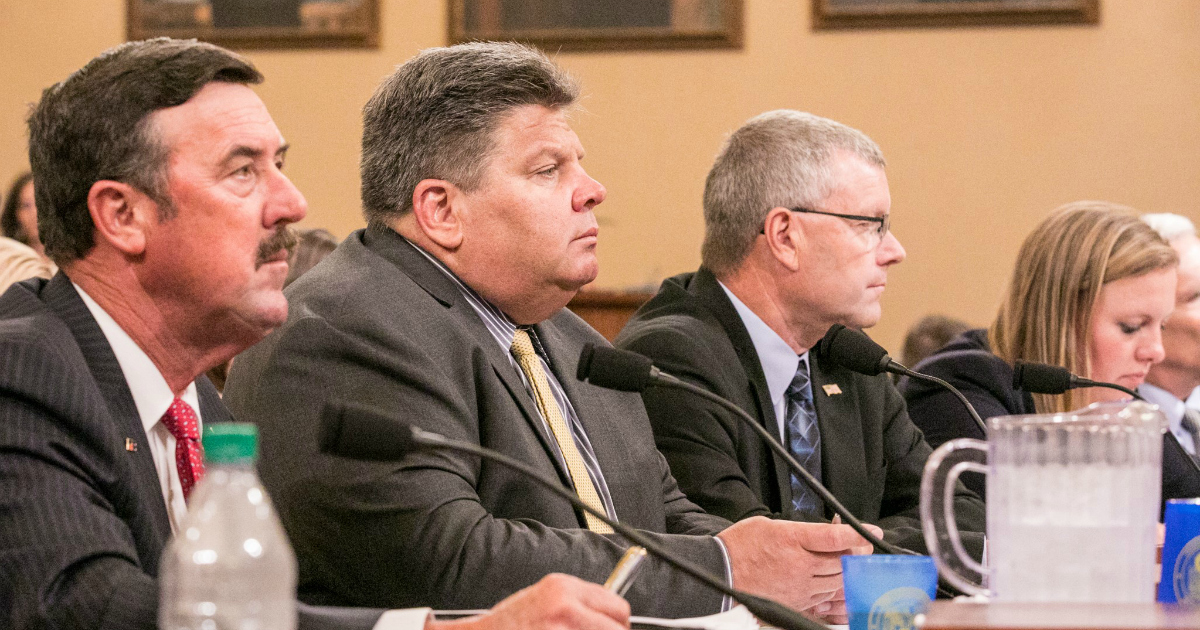 WASHINGTON, July 18, 2018 – American Farm Bureau Federation Vice President Scott VanderWal and Texas Farm Bureau President Russell Boening today warned Congress that many farms will lose money and even go out of business entirely if the growing trade war continues. Each called for a resumption of talks and removal of tariffs that are undoing decades of progress in trade.
Kevin Paap, president of the Minnesota Farm Bureau, testified separately for his state's organization. "Agriculture has been and continues to be the tip of the spear," the corn and soybean farmer told the committee. "Once you lose a market, it is really tough to get it back. We cannot afford to lose our place as a leader in the agricultural global marketplace."
VanderWal, who also serves as president of the South Dakota Farm Bureau, raises corn and soybeans and owns a cattle feeding operation.
"Our farmers are facing a perfect storm," VanderWal told the House Ways and Means Subcommittee on Trade. "Since 2014, the American farmer's income has fallen 52 percent. Now, farmers are dealing with big shifts in the commodity markets because of trade and tariff threats. Throughout history, some farmers have survived by expanding their operations. Today, that option is nearly impossible for many because of the lack of qualified labor. We also have the potential of going into harvest without a new farm bill. The ingredients of this perfect storm—trade threats, lower income, the lack of labor and no farm bill—will be more than our farmers can handle."
The South Dakota farmer called for more clarity. "We must ask, what is the exact goal? What is the exit strategy? If we knew this would all be over within a few months, we could hang in there and manage around it. Obviously, none of us know the time frame and that uncertainty is very detrimental.
"We must get back to the table and get these issues worked out. If we cannot do that, the consequences are dire," VanderWal said.
During his testimony, Boening, a farmer who serves as chairman of the AFBF Trade Advisory Committee, acknowledged that foreign barriers to trade are sometimes steep. The Boening family raises watermelons, feed grains, wheat, cotton and beef cattle and operates a dairy.
"In 2015, China's 'minimum support price' for corn, rice and wheat was estimated to be nearly $100 billion in excess of the levels China committed to when they joined the World Trade Organization," Boening said.
"Let me make this clear: for just three crops - in just one year - China illegally exceeded its World Trade Organization limits by 100 billion dollars. Some may think that's no big deal, but let me put this in context. We just finished a hard-fought farm bill debate, where some questioned the need for support provided to our farmers, but China's illegal subsidies - for just three crops - in one year - exceeded what we will spend on the entire farm safety net for every crop on every acre in this nation over the entire life of the farm."
Nonetheless, Boening expressed the frustration many farmers and ranchers feel over the current tit-for-tat tariffs between the U.S. and long-standing trading partners.
"We will begin cotton harvest on our farm in about six weeks, against the backdrop of significant volatility in the market," Boening said. "Forty-six percent of cotton exported to China comes from Texas. Any potential loss of this important market would be very difficult for our cotton farmers.
"Also, on our dairy, we have already seen prices of milk and other products fall by more than 10 percent over the last month alone. These are just a few personal examples and there are many other farmers and ranchers who are facing the same challenges with all the uncertainty over trade policy."