Ag proposal developed for SOAR project
Posted on Feb 1, 2015


Access to capital, availability of land and developing local food systems are among the key issues for agriculture contained in a committee report for the Shaping Our Appalachian Region (SOAR) initiative. Those recommendations will be among those from 10 committees reporting at a February 16 "summit" meeting in Pikeville.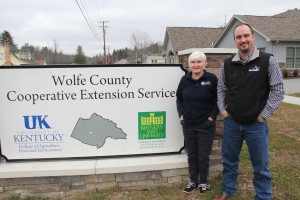 Governor Steve Beshear and Congressman Hal Rogers launched SOAR in 2013 in response to coal's downturn. They called for a large group of "stakeholders" (organizations, businesses, academia, etc.) to work cooperatively on a plan of action to create jobs and improve the quality of life in the 53 Appalachian counties. That charge was taken quite seriously: More than 1,700 – including several KFB leaders -- attended the initial "summit" meeting for the project.
Entering 2015, the next step is the February 16 summit in Pikeville, where 10 committees will present recommendations developed over a course of many meetings throughout the region. The areas of emphasis include agriculture, education, health, business recruitment, infrastructure and tourism.
Wolfe County Extension Agent Daniel Wilson is chairman of the SOAR Agricultural, Local and Regional Foods and Natural Resources Committee. He said he realized this was serious business when Governor Beshear called him to request his service as chairman. And that was reinforced, he said, by the participation of Republican and Democratic political leaders at the initial summit.
"That brought a lot of energy and commitment to this," said Wilson, a Jackson County native in his eighth year at the Wolfe County extension service.
During 10 "listening sessions" at sites ranging from Greensburg to Pikeville to Morehead, the agriculture committee surfaced some primary recommendations that it will present at the February 16 summit. Surfacing from the discussions involving more than 300 Kentuckians were primary issues of concern such as access to capital, availability of land, developing local food systems, encouraging partnerships, creating a planning and development fund and promoting existing facilities.
Recommendations include the following:
*A small loan program whereby low or no-interest loans of up to $5,000 are available
*Provide tax incentives for mine land owners and others to lease property for agricultural purposes.
*Fund and showcase model efforts of product development, regional cooperation and marketing endeavors.
*Work with USDA and the private sector to establish "food hubs" and other infrastructure beneficial to agriculture.
*Utilize institutions of higher education for agriculture development, primarily by expanding curriculum.
*Continuing support for entrepreneurial development programs.
"We discussed many things," said Wilson, "but the main one we heard about was regional food hubs; places where producers can sell vegetables to wholesalers and others. Traditionally, farmers in the region had tobacco and cattle, which are easily sold. It's not that way for vegetables. They'd like a reliable venue to say, load up a truck of tomatoes or whatever and have a buyer."
The committee also heard repeated calls for programs to enhance access to land and capital.
"This is a good time to get into farming; the agriculture economy is good and there are a lot of resources out there," said Wilson. "Being able to lease good land, and obtain affordable loans are important elements for growth."
The agriculture group has representatives from extension, academia, the Governor's Office of Agricultural Policy, Kentucky Center for Agriculture and Regional Development plus farm commodity and advocacy organizations.
While coal country is a primary focus, the counties involved actually stretch as far west as Edmonson County. Several traditionally strong agricultural areas are included.
The SOAR project also involves dozens of volunteers from AmericorpsVista. Working in the Wolfe County office is Yvonne Scott, who came from the mountains of western North Carolina for a one-year commitment to SOAR. Her role is to recruit support and facilitate action. She said the program's response to SOAR "shows how important this is; that there's a lot of potential."
Ms. Scott and Wilson both voiced disappointment in the underutilization of several facilities in the region, most notably the Jackson County Regional Food Center in Annville.
"That's a good model for other parts of the region," said Ms. Scott.
Wilson said participants are optimistic because of the involvement of a powerhouse political team of the governor and the chairman of the House Appropriations Committee. Moreover, Senate Majority Leader Mitch McConnell and a bipartisan group of state legislative leaders from the region have voiced support.
The committee recommendations will go to the project's executive board, which will determine a course of action.
Tagged Post Topics Include: Daniel Wilson, Edmonson County, Extension, GOAP, Governor, Jackson County, KCARD, Mitch McConnell, Pikeville, Shaping Our Appalachian Region, Steve Beshear, Tax incentives, USDA, Wolfe County, Yvonne Scott