A Time to Learn
Posted on Aug 20, 2021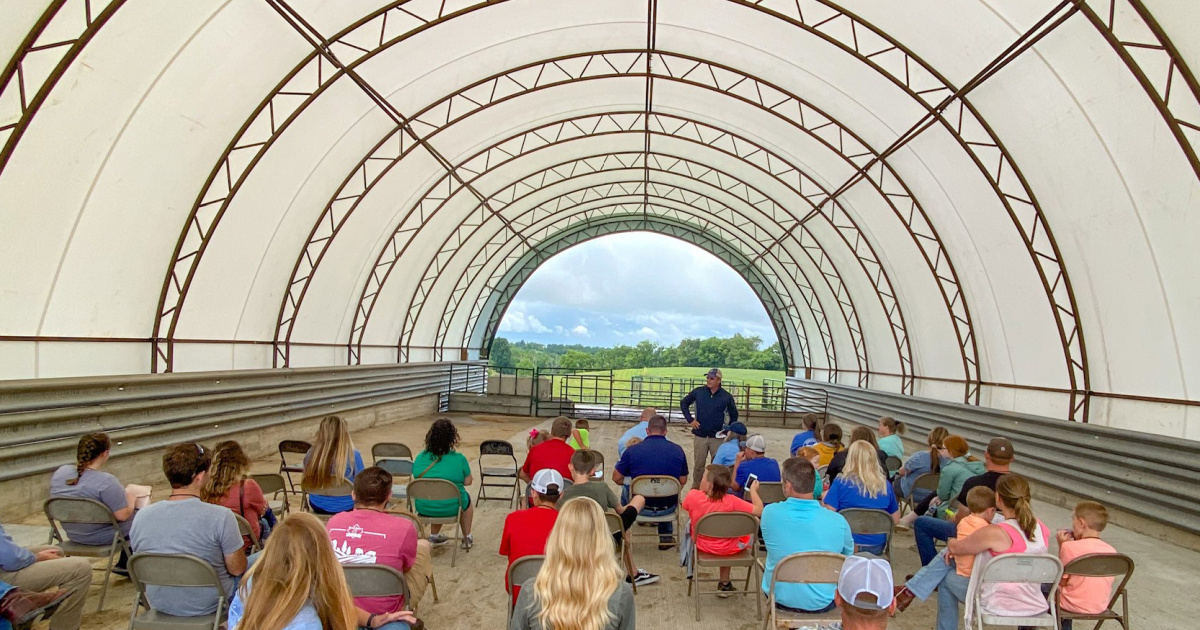 Ag Literacy serves as the root of KFB summertime activities
Each year, Kentucky Farm Bureau hosts a number of events designed to help participants learn about the organization, agricultural education, leadership skills, and ways to be more efficient advocates for the ag industry and rural communities.
This year, the events included five teacher workshops, held across the state; the Institute for Future Agricultural Leaders (IFAL) held at Murray State University and the University of Kentucky; and the State Women and Young Farmer Leadership Summit, which were held together in July.
KFB President Mark Haney said after a year of cancellations of many of these events, it's good to get back to a little normalcy.
"The summertime events we host at KFB have a long history of providing valuable information to all those involved," he said. "For everyone who has taken part in one of these learning opportunities, we hope to have made a positive impact in the lives of our participating teachers, young people, county leaders and volunteers."
KFB Teacher Workshops
Over the past two decades KFB has provided professional development opportunities to teachers throughout the Commonwealth by way of workshops that are agriculturally inspired and allow participants to integrate the information they take away from these workshops and interject into their core curriculum.
The 2021 teacher workshops were held at the Kentucky Horse Park, Churchill Downs, Murray State University's Equine Center, the Overlook Events Center in Pikeville, and Western Kentucky University's L.D. Brown Ag Expo Center.
Jennifer McNulty, a retired science teacher and creator of the curriculum Connecting Science and the Horse led the teaching sessions at each of this year's workshops. She said the program will help foster a sense of community awareness and belonging among students.
"This curriculum was written to help teachers connect students with the tools to transform their interests, questions, and values into something they can explore close to home," McNulty said. "The smallest investigation can lead to a lifetime of growth and opportunities for students when they learn they can meet their curiosities where they are. Students rewarded for exploring will carry that productive habit for the rest of their lives."
Following her retirement from teaching, McNulty became interested in learning more about horses and horseback riding for her own personal enjoyment but found it was also a way to connect students to Kentucky's storied industry.
"As I learned more about how to take care of horses and how Thoroughbreds are bred for racing, I realized one of the greatest sources for connecting concepts learned in the classroom with students' lives was embedded within their own community," she said. "I used my own knowledge and personal experience of planning curriculum for elementary students and the knowledge I gained from several supportive individuals within the horse industry to create activities and lessons that used practical and accessible information about horses to teach science."
As she shared her ideas with those who work in the equine industry, veterinarians, and teachers, support for the project grew into Connecting Science with the Horse as the finished curriculum which was aided by Kentucky Agriculture and the Environment in the Classroom.
"In this, the classroom is no longer dominated by the four walls in a school," McNulty said. "Now, students and teachers can proactively seek out opportunities to explore science concepts by studying some of Kentucky's greatest resources."
Scott Christmas, director of ag education programs at KFB said the workshops help lead teachers, and ultimately their students to a better understanding of the agriculture industry.
"The importance of ag literacy should never be forgotten and through these workshops, we hope to build a bridge of sorts that will connect our students to the information they will need as consumers, one day," he said. "Agriculture touches everyone of us in some way, every day and these workshops are helping to supply critical information to a very broad audience, while helping teachers achieve the demands set upon them to gain continuing education and professional development hours."
Kate Henninger, a fourth-grade teacher at St. Michael School in Louisville, attended the workshop held at Churchill Downs. She said she was looking forward to bringing information back to students about an industry so close to home.
Last year was actually my first in teaching fourth-grade science, so I was really new to the curriculum and didn't have a lot of resources for hands-on approaches," she said. "Especially with COVID, I wasn't sure how much I could do and hearing how hands-on this (workshop) is and how interactive and using things that we have right here in our community, makes it that much more rich and it'll be more engaging."
Women and Young Farmer Leadership Summit
While educators are the focal point of the KFB Teacher Workshops, students and Farm Bureau volunteers also have opportunities to further their learning and leadership skills by way of IFAL and the 2021 summer conference held for Women's Committees members and Young Farmer program participants.
This year a joint conference was held for the Women's Committees and Young Farmer groups due to COVID-19 restrictions that were in place throughout most of 2020 and into the early months of 2021.
But the traditional offerings of informative breakout sessions and local farm tours were in place to capacity crowds.
KFB Federation Executive Vice President Drew Graham said getting back to in-person meetings has been a blessing for him as well as volunteer members from across the state.
"Our KFB county leaders are so important to the overall success of this organization and these types of learning opportunities simply can't be replicated through teleconferencing," he said. "The hands-on activities and sessions offered at these conferences helps participants network and take ideas back to their respective local Farm Bureaus to make each one better which in turn, benefits Kentucky Farm Bureau, as a whole."
IFAL
Nearly 80 high school juniors made their way to Murray State University and the University of Kentucky to participate in the 2021 IFAL events both were cancelled last year. The week-long camps offer these young people a look at KFB as an agricultural advocacy organization while getting a taste of college life.
During the course of the activities offered as part of the IFAL experience, students are divided into groups and participate in discussion groups related to a number of different ag-related topics. The Discussion Group program has long been a part of KFB competitive events for young people which is showcased each year at the state and national annual meetings level.
Jackson Tolle, KFB Director of Young Farmer programs said having these high school students learn about the process of discussion meets will benefit them in the future.
"The discussion groups are likely the single most important thing we do each year during IFAL as these young people work together on specific issues to formulate possible solutions," he said. "And while this may be viewed as practice for later opportunities, a lot can be learned by all of us in listening to what these students have to say."