A New Market on Main: Pleasureville Farmers Market Grand Opening
Posted on Jul 29, 2015


The small town of Pleasureville welcomed a big addition to Main Street this past week with the grand opening of the Pleasureville Farmers Market.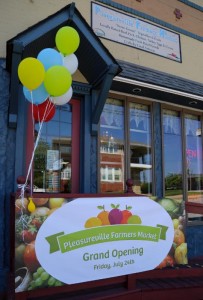 The Kentucky Center for Agriculture and Rural Development (KCARD) team began working with Pleasureville community leaders Susan Schlosnagle, Cheryl Clark, and Jakob Beckley early in the development of the farmers market plan, and the three community leaders give the KCARD team credit for helping the market get off the ground.
"KCARD helped us look at the design from different perspectives as we were renovating the building. They were instrumental in guiding us as we wrote grant applications, and helped us develop our budget and evaluate what would be the best use of our money," said Cheryl. "I do not know what we would have done without their help."
"As a community we have been working hard to breathe life back into our Main Street to make it an active business center once again, so it is exciting to see the Pleasureville Farmers Market join our revitalization efforts," said Cheryl Clark.
The Pleasureville Farmers Market is an indoor year-round business on Main Street and a welcome addition to a community without a grocery store. It is also giving area farmers a local market for the wide array of agricultural products produced in the rural community. Cheryl is enthusiastic about the strong dedicated farmer base that has signed up with the new market to provide fresh seasonal products year round.
"We have eight farmers within ten miles of our small community that have already joined the market," explained Cheryl. "The Schlosnagles of Dutch Creek Farm have grass fed beef. Chelsey and Jared Schlosnagle will provide the market with pastured eggs, chicken, and turkey. Kathy Lee-Jarvis of Katie O's Garden is a high tunnel producer that will have fresh organic produce until late fall. Shaw Farms is providing Heritage Pork to the market with various pork cuts in addition to fresh vegetables. Jerry & Kathy Alsup are value- added producers providing canned jams, jellies, and pickles. Mike and Terry Grimes of Grimes Produce and Barbara Gregory of Gregory Farms are supplying ample selection of garden vegetables to the market."
The Pleasureville Farmers Market shares a building with the Main Street Café & Bakery. Unlike traditional markets which require producers to be on site with their products, the new market will allow producers to drop off products at the market and with products displayed like an old time store with a central register to make a single purchase instead of having to buy products from each vendor.
"Our schedule is so busy that we only have time each week to do one farmers market on Saturday, so we are really excited that we can have our locally raised meats and eggs for sale at the market three days a week," said Susan. "I think this is a great opportunity for our area farmers and a great way to provide local food to our community."
To be a part of the market a farm will pay a fee to join the market each year, and then they receive 90% of the sales of their farm products. The other 10% goes to the market to help cover the overhead costs of the indoor market, promotion, and other expenses.
The market will host special events throughout the season to give customers a chance to get to know the farmers. Along with special events, the market will provide retail space to 4-H Means Business, a local 4-H entrepreneur group. The 4-H group will have items for sell made by the young entrepreneurs including postcards with local scenes, beeswax candles, soaps, and a variety of other products. The young 4-H entrepreneurs will have no setup fees and they get all of the profit from their sales.
The idea for the indoor market came together when leaders in the Pleasureville community began developing a ten year plan to revitalize Main Street. The number one business the group identified as needed in the community was a grocery store.
"Pleasureville has a rich agricultural history predominantly dependant on tobacco and beef cattle. As we transitioned away from tobacco, farmers have looked to other enterprises to supplement their farm income," said Susan. "We identified the need in our community for a grocery, so I believed it was a natural fit to develop a farmers market."
As the community leaders began developing the plan for the market, Cheryl suggested making the market home in an unused section of the buildings owned by her and her husband. The buildings already housed the Main Street Café & Bakery, so a farmers market would be a natural addition to the businesses.
"We made a commitment to the community allowing them use of the building for the purpose of developing the facility to meet the needs of an in-house farmers market," said Cheryl. "It has been a great fit, especially since the restaurant purchases items from the market to be on menu in the restaurant."
KCARD was instrumental in assisting the market planning group in developing a business plan for the new enterprise and in writing a grant submitted to the Agricultural Development Board on behalf of this project. KCARD also made the community leaders aware of additional grant opportunities and assisted in writing an additional marketing grant to expand the business.
"The Pleasureville Economic Development Council has really put a lot of thought, effort, and resources into their downtown revitalization efforts," said KCARD Grant Facilitator Aaron Shapiro. "KCARD's role was just to help them figure out how the pieces fit together and help them consider what funding options might be available to develop their vision of an indoor farmers market."
The grand opening of the Pleasureville Farmers Market last week was the culmination of many hours of work and planning, but it is just the beginning of a vibrant new community market. A market that began as just an idea in a community planning meeting has come to fruition thanks to the commitment of countless individuals who are dedicated to revitalizing the small community of Pleasureville.
"It is so satisfying to see people in our little town again eating dinner, picking up fresh groceries, and shopping at the other businesses," said Cheryl. " It warms my heart to see our little town come back to life again, and that is what this investment has been all about."
The Pleasureville Farmers Market is open from 8:00 a.m. to 2:00 p.m. on Thursday and Friday, from 5:30 p.m. to 8:00 p.m. on Friday evening, and from 8:00 a.m. to 2:00 p.m. on Saturday.
Source: Kentucky Center for Agriculture and Rural Development
Tagged Post Topics Include: 4-H, 4-H Means Business, Aaron Shapiro, Agricultural Development Board, Agriculture, Barbara Gregory, Chelsey Schlosnagle, Cheryl Clark, Community Leaders, Dutch Creek Farm, Farmers, Grand Opening, Grant Facilitator, Grass Fed Beef, Gregory Farms, Grimes Produce, Jakob Beckley, Jared Schlosnagle Kathy Lee-Jarvis, Jerry Alsup, KADB, Kathy Alsup, Katie O's Garden, KCARD, Kentucky Center for Agriculture and Rural Development, Local Food, Local Market, Main Street, Main Street Café & Bakery, Mike Grimes, Pleasureville, Pleasureville Economic Development Council, Pleasureville Farmers Market, Shaw Farms, Susan Schlosnagle, Terry Grimes, Young Entrepreneurs