A Horse Named "The Player" and the Bond That Saved His Life
Posted on May 3, 2019


FRANKFORT- The bond between a human and animal is just that, a pledge of sorts; a promise from one to the other, in many cases, to care for each other and provide the task each was meant to do for the other. No one knows that better than William "Buff" Bradley, owner and trainer at Indian Ridge Farm.

He breeds and trains thoroughbreds with long-time partner Carl Hurst and, until his passing, with his father Fred Bradley, splitting his time training at tracks in Kentucky, mainly Churchill Downs, then in New Orleans throughout the winter.

During the time he has been in the business, which has been most of his life, Bradley has developed these special bonds with most of the horses he trains, but especially those that come from his family farm.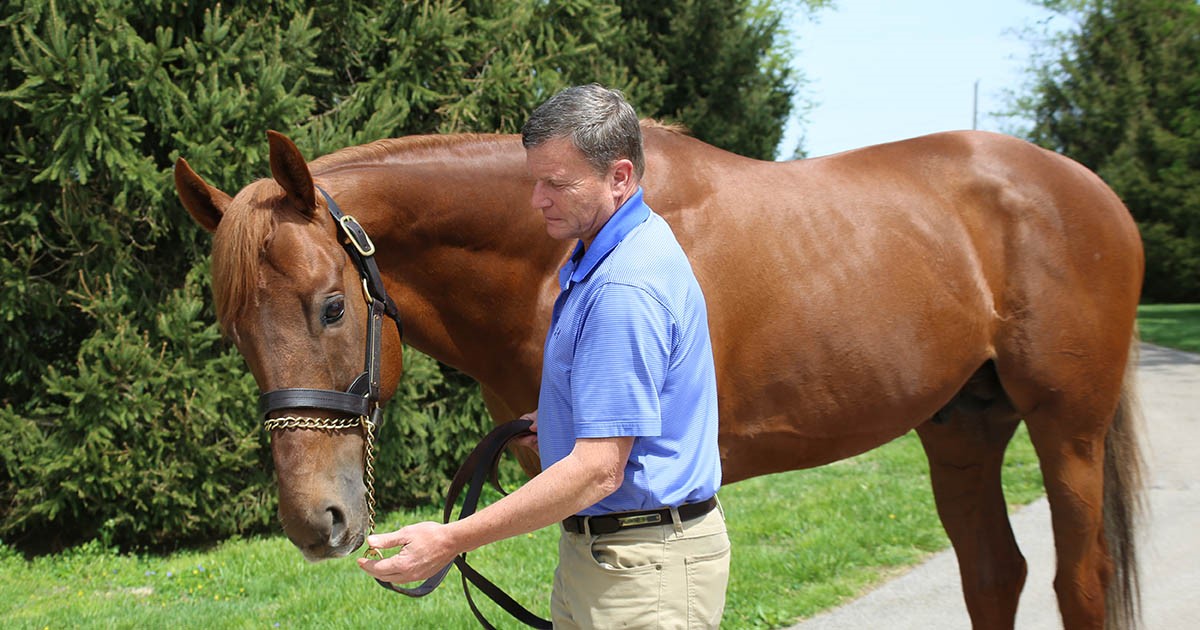 Some of the greats that call Indian Ridge home include Brass Hat and Groupie Doll, both well-known in the racing world, as well as very popular around their home town. But as popular as those two horses have been, there is one stallion born on the farm that has captured the attention of countless animal lovers from all over, and the hearts of the Bradley family.
"The Player" is his racing name but around the barn he is known as "Angus" and since his birth, this horse has had a personality all his own.
"This horse was bred, born and raised on our farm and he has had his little quirks since day-one. He always wanted to sleep late and often he would sit down on his haunches like a dog, or put his head under the stall gate, or eat hay while lying flat on his back," said Bradley. "He's just always had such a personality. He's even chased me while mowing."
He was so quirky that Bradley took him to the Hagyard Equine Medical Institute to make sure nothing was wrong neurologically with the horse. But, after a couple of trips, the word was, Angus was just fine, and his antics were just a part of his personality.
And so, with quirks and all, Angus would train and make his way to the track where Bradley saw that this horse was a real runner; something any trainer would love to say, and something that was putting this horse on the fast track to his own fame and fortune.
Once his racing career began, Bradley even decided to create a Facebook page for Angus complete with some of the photos of him being his quirky self on the farm and some of his results at the track.
"It looked like he was going to be a pretty nice race horse. His whole family are runners and stakes winners," said Bradley. "And we really thought last year was going to be his big, breakout year."
And from all indications, that was going to be the case. But during the New Orleans Handicap, and while leading the race, jockey Calvin Borel, pulled him up realizing something bad had happened. Bradley knew it, too. Upon making his way to the horse's side, he knew the injury was very serious. Angus had broken both front sesamoids in his right front leg, tearing tendons and ligaments, as well.
"It just broke my heart right away and we knew it wasn't good. When we loaded him on the van to take him to the barn I told him I would do all I could to save him, but he had to help me, too," said Bradley.
His vet took a look at the horse once in the barn area and told Bradley he thought the horse was a candidate for euthanasia. But Bradley was not prepared to give up. His vet also told him a doctor at the nearby LSU Equine Center could perform the operation to save him. So, Bradley took the horse to see Dr. Chuck McCauley who initially told Bradley the same thing, the horse was indeed a candidate for euthanasia.
"The thing the doctors were telling me, that the horse would be up against, was not the surgery to repair the injury itself, but the after care where you have to worry about foundering and infections," said Bradley.
Having only performed the kind of surgery Angus would need a few times, McCauley operated on the horse, a move that would eventually lead to his recovery. Bradley pointed out that trying to save the horse was always the first decision, but he knew that if Angus began to suffer in any way, a much tougher decision would have to be made.
"There were some ups and downs through it and an anticipated two-month stay turned in six months, but the one thing Carl and I made clear to Dr. McCauley and his staff was that we did not want him to suffer ever but we were going to try and do what we could for him," he said.
Bradley's emotions are evident even now when describing facing barn workers and family to deliver the initial news of the accident.
"I had to go back to the stable area that day and face our help who were all upset, and I had to call home and talk to my family, and I still tear-up now more than I did then thinking about it, knowing I had to make some tough decisions and do the right thing," he said. "There are those who don't understand what a bond the people around these horses have with them. They all work together and want the best for them. We want to win races, but we take care of the horse first."
One thing going for this horse was that quirky personality, that not only made him unique, but proved to be a strength within him, as well. Bradley said Angus knew how to take care of himself and he likely had as much to do with his recovery as anything else.
While it goes without saying that The Player's days on the track are over, he has found a new job standing stud at Crestwood Farm in Fayette County. Bradley said it is a great place and Angus seems to be very happy there. He also said how thankful he is to farm owner Pope McLean for helping make this happen.
Incidentally, The Player's Facebook popularity is growing. Bradley said he has updated friends and fans since the accident and still posts regularly.
"I try to get something posted every week and, in a way, I've been surprised at how many people are following him," said Bradley. "Social media has been a big plus for us to get information out and is a way to show how good of care we are giving these horses, and something we live to do every day. You know, when we look back and feel upset about what could have been for this horse, we're just glad he is still here with us."