A cHAMpion bid: $350,000 raised for charity at 50th Kentucky Farm Bureau Country Ham Auction
Posted on Aug 22, 2013


Louisville, KY (August 22, 2013) – Phenomenal acts of charitable giving were on display during

Kentucky Farm Bureau

's (KFB) 50th annual Country Ham Breakfast & Auction this morning, raising $350,000 from the sale of the

Kentucky State Fair

Grand Champion Ham.
Yum! Brands Foundation, based in Louisville, offered up a generous $350,000 for the 13.3-pound ham produced by Harper's Country Hams of Clinton, Kentucky. That is the equivalent of approximately $26,315 per pound of ham.
"For us, it is very, very important as a company and as a foundation that we give back to the communities where we live and work," said Angela Osting, Manager of Yum! Foundation & Global Community Investment, after the auction's conclusion.
Nearly 1,600 people gathered for KFB's 50th annual Country Ham Breakfast & Auction in the South Wing of the Kentucky Exposition Center, and were witnesses to this monumental feat of charitable giving. Local, state and national elected officials spoke prior to the auction about current agricultural and political conditions in Kentucky and across the nation, but the event hit a fever pitch as the audience watched bidders duel in six-figure amounts for the Grand Champion Ham.
Osting announced at the Ham Breakfast that the charitable donation from the Yum! Brands Foundation would be given to the Fund for the Arts. She also indicated that the grand champion ham would go to Dare to Care Food Bank.
"Partnering up with the Fund for the Arts, who is a great community partner of ours in reaching and educating children, we thought this would be a great way to go about it," concluded Osting.
Although no goal amount is set for the ham's top bid each year, KFB has now helped raise more than $6.8 million for dozens of local charities, educational institutions and non-profit organizations through the 50-year history of the auction. All money raised through this auction is donated directly to the charity of the winning bidder's choice.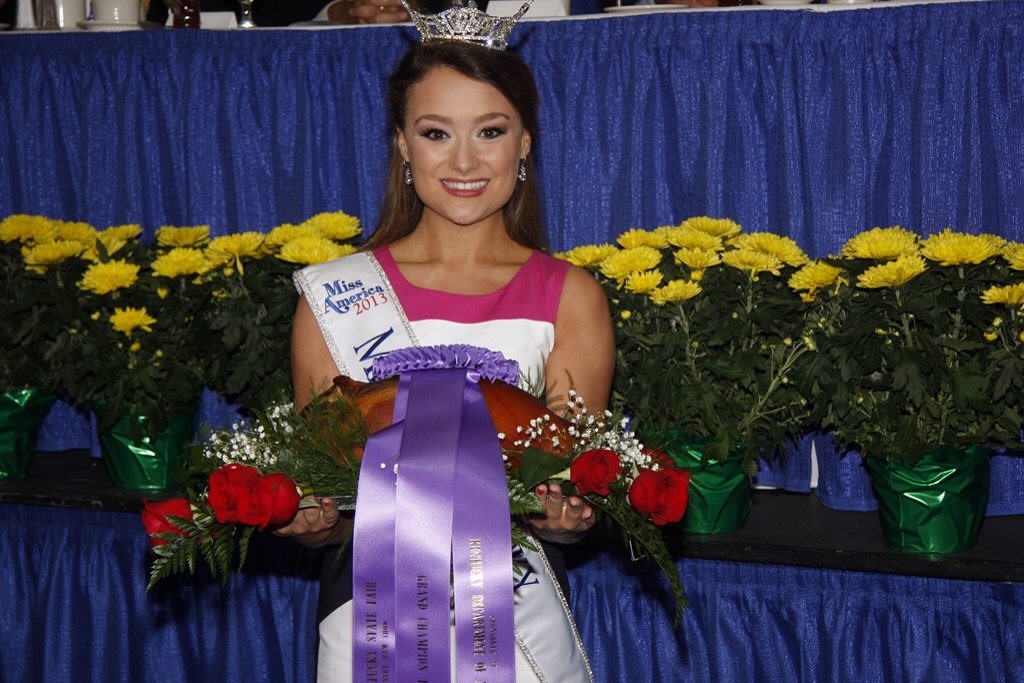 "There aren't too many times in your life when you can say you helped raise $350,000 by the end of breakfast. This was definitely an exciting morning," said Mike Tobin, KFB's commodity director and ham breakfast event coordinator. "It's a doubly successful day when we can place agriculture firmly in the spotlight at the same time that we help bring about a huge donation to local charities."
The ham auction's humble beginnings – a respectable $124 winning bid at the first event in 1964 – have grown exponentially in recent years. The average price of the auctioned ham over the last 10 years is now nearly $545,000.
RELATED LINKS:
Henderson Gleaner & Evansville Courier & Press
Tagged Post Topics Include: Angela Osting, Country Ham Breakfast, Dare to Care Food Bank, David Beck, Eddie Melton, Fritz Giesecke, Fund for the Arts, Greg Fischer, Harper's Country Ham, Jenna Day, Kentucky Exposition Center, Kentucky State Fair, KFB, Mark Haney, Mike Tobin, Miss Kentucky, Steve Beshear, YUM! brands, Yum! Brands Foundation