2019 Kentucky Farm Bureau Young Farmer Leadership Conference
Posted on Mar 21, 2019


Young farm families from across the state gather for this annual learning opportunity

LEXINGTON- In keeping with Kentucky Farm Bureau's (KFB) efforts to continually provide learning opportunities to its members, this year's Young Farmer (YF) Leadership Conference hosted nearly 300 attendees for a weekend filled with educational workshops, tours, and the chance to network with each other, as well as state ag leaders.

KFB President Mark Haney addressed the gathering and said helping a younger generation remain on, or come to the farm, is critical to the success of the industry here and across the country.

"We must do all we can to support and encourage young farm families to carry on traditions that, for many, started generations ago, and for others is something new," he said. "The need for young people to become involved in the agriculture industry has never been greater, and learning opportunities, like the ones found at this winter meeting, can be of assistance and an inspiration to them."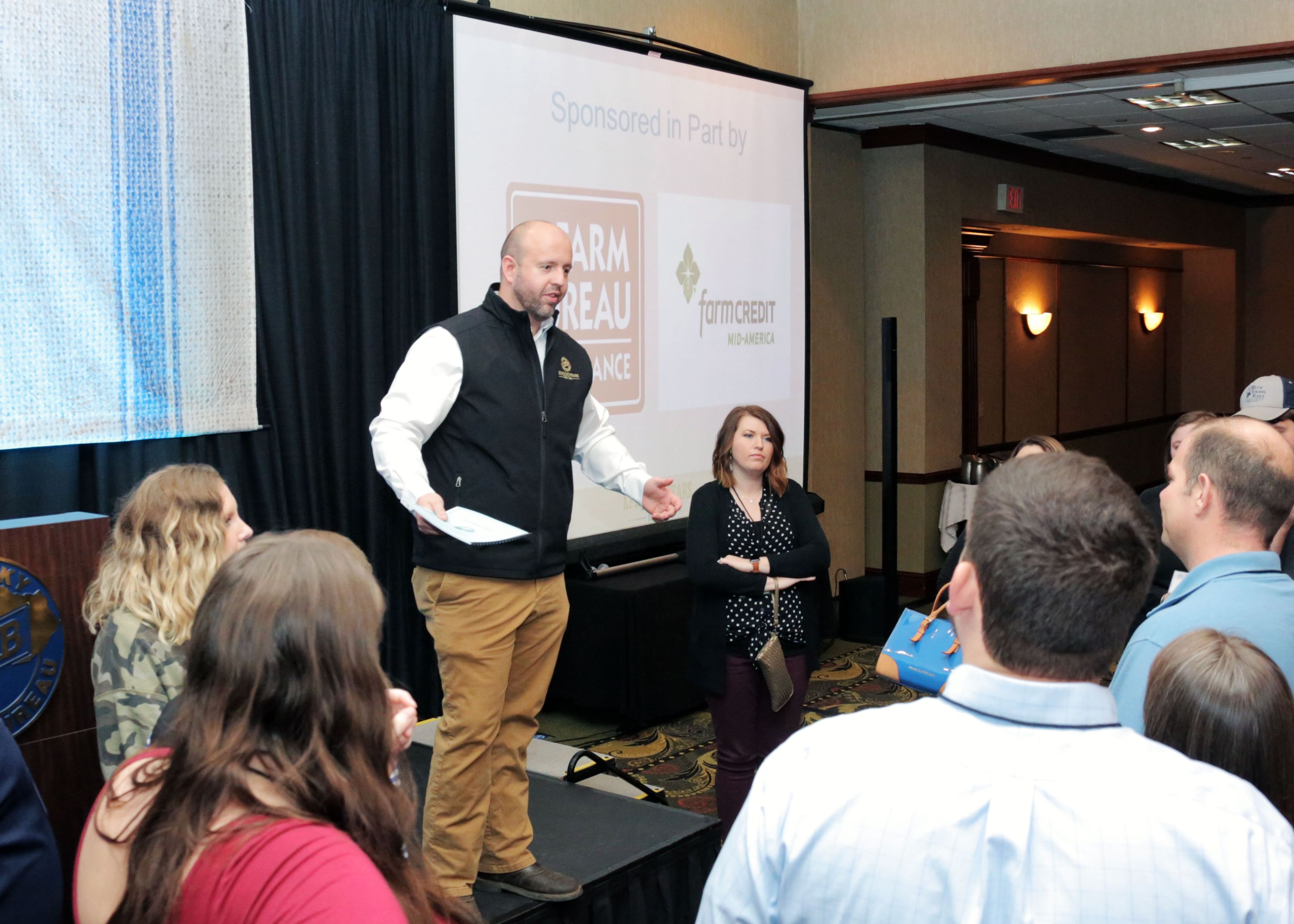 Tyler Ferguson, the 2019 State Young Farmer Committee Chair said these types of meetings help to encourage these young farm families even in trying times.
"While we may be going through a rough time economically on the farm, we realize how important agriculture is to all of us, and it will be this new generation of farmers who will lead the way into the future," he said. "My hope is those who are participating in this, and all of our YF Outings, will take something back to the farm that will make it more successful and encourage them even more."
The Ferguson farm consists of a cow-calf operation in Johnson County utilizing reclaimed strip-mine land as pastures for livestock. Additionally, Tyler and his wife Andrea have a direct beef marketing business. In maintaining such operations, he said educating oneself is paramount in remaining sustainable.
"We've had to learn a lot about forages and what is best to use in an environment that is common in Eastern Kentucky," he said. "But learning opportunities like the ones found at the YF Leadership Conference are available and invaluable. Not only do attendees take back good practices for the farm, the leadership skills they gain help them become better leaders in their communities."
And from a business perspective, Ferguson added, gaining those leadership skills is something that makes their hometowns better.
"Any time we can improve our rural communities, all of our ag-related industries, including our farms, have a better chance of being successful," he said.
Conference Workshops
Each year, the YF Leadership Conference includes a variety of workshops on a number of subjects all designed to enhance the learning opportunities available to attendees including one for the children.
This year, workshop subjects included farm vehicle regulations on the road; learning the best times to purchase new equipment and supplies for the farm; adding value to a livestock operation through a CSA; finding ways to diversify operations; drone technology; personal safety and self-defense; telling your story through social media; and the basics of canning.
From the podium
In addition to hearing from Mark Haney and Tyler Ferguson, attendees also heard from an array of speakers including renowned author, farmer, and radio/television broadcaster Andrew McCrea, along with Keni Thomas, a former U.S. Army Ranger Veteran and motivational speaker.
Legislatively, Kentucky House Speaker Pro-Tempore David Meade spoke to the gathering after policy issues were discussed by KFB Director of Public Affairs Jeff Harper. Agriculture Commissioner Ryan Quarles served as the keynote speaker on day-one and KFB First Vice President Eddie Melton brought greetings on day-two.
David Meade, Speaker Pro-Tempore, Kentucky House of Representatives: "We need to make sure those young farmers have an avenue to come in and maintain our farms because our farming communities are extremely important to our rural economy. Often, as is the case in my home county, farming is the number-one industry in many of these areas. We also need to start bringing in more jobs so we can sustain the needs we have in rural communities, and have the proper infrastructure that we need. Rural broadband is especially important with the younger generation. Everything is technologically driven now, so we have to make sure we have access to rural broadband and push for more of it in those rural areas."
Ryan Quarles, Kentucky Agriculture Commissioner: "Agriculture is dependent on nurturing the next generation with leadership, and Kentucky Farm Bureau is supportive of developing a pipeline of leadership. It's important they be prepared, not only for the challenges of marketing or the changing consumer preferences, but also changing technology that will emerge and shape how agricultural production occurs for that next generation. These young farmers are focusing on new and emerging crops, but also focusing on ways to market products directly from the farm to consumers. They are brilliant at it and using social media in ways the previous generation has never used. They are also willing to take some risks, whether it be with new crops like industrial hemp or other types of livestock which are beginning to develop across the state. It's the millennials who are doing more with less, and we are even beginning to see some urban agriculture."
Eddie Melton, Kentucky Farm Bureau First Vice President: "In working on their farm every day, these young farm families see the issues firsthand that are affecting them. Conferences like the Young Farmer Leadership Conference allows them to network with other farm families to talk about these issues openly. Many of us in agriculture today had a family to help get us started. This next generation needs that, too. And those of us in leadership want to help them build a base they can grow on; a place where they can raise their children and be successful. This farming way of life will get into your blood and I think Farm Bureau's role is to find ways to help these young people stay on the farm and be involved in their communities. Being involved not only helps on the farm but helps the rural development picture across the state, and successful rural economies help to make our state's overall economic outlook better."