2017 Kentucky Farm Bureau Farmer of the Year
Posted on Nov 14, 2017

Louisville, KY (December 1, 2017) – Darren Luttrell of Ohio County was honored as the 2017 Kentucky Farm Bureau (KFB) "Farmer of the Year" during the organization's 98th annual meeting in Louisville.
Each year, KFB recognizes an individual whose efforts not only strengthen the state's agriculture industry but also demonstrates service and leadership both on and off the farm.
Three Kentucky farmers were selected as finalists in this year's competition – Luttrell, Richard Preston of Hardin County and Lisa Robards of Bullitt County. After a careful review of each finalist's nomination form and an on-site visit to their farms in September, the judging committee selected Luttrell as KFB's 2017 "Farmer of the Year."
Since 1982, Darren Luttrell has been a part of the family farming operation and has seen production acres double from 1,800 to 3,600 consisting of corn and soybeans. He also operates eight broiler houses and raises 380 head of beef cattle.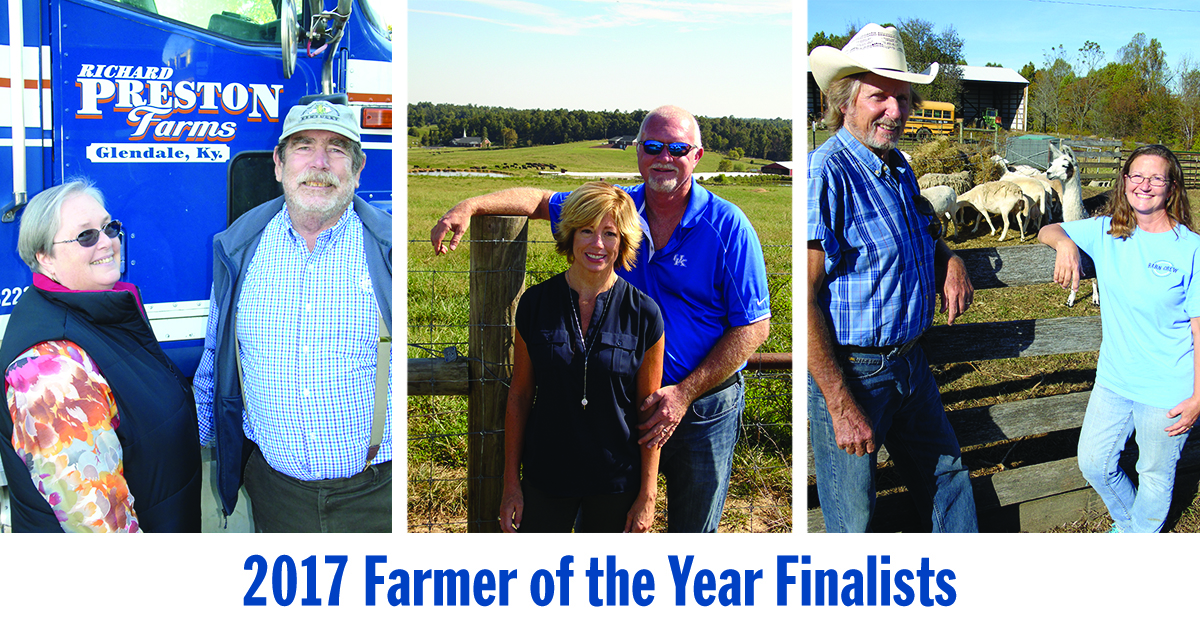 In addition, he has also been associated with a leading agriculture technology company as a dealer for the last 16 years. While this part of his overall farming experience is not a major revenue contributor, Luttrell said it has allowed him to know and utilize their technology quickly and work with some of the best and most progressive farmers in the area.
The Luttrell operation is a true family farm. His two sons are both involved full-time on the farm primarily focusing on the grain and cattle operations while wife Debbie helps him with the poultry business.
Luttrell has used different precision farming tools over the years to help reduce input costs and has always been willing to try new farming practices.
He would like to expand his grain system and grow more acres in the future. He also plans to give his sons more responsibility in the decision-making process on the farm.
"The key to our future is a well-executed succession plan that will ensure a successful operation for many years to come," said Luttrell.
He has been active in the Ohio County Farm Bureau, the local Chamber of Commerce, his church and the local school system where he is known as "Farmer Luttrell" and has helped teach children about life on the farm.
Kentucky Farm Bureau Farmer of the Year
Judges met in mid-September to conduct interviews with the finalists and visit the farms. The "Farmer of the Year" recipient was announced at KFB's 2017 state annual meeting in Louisville on December 1 and received $1,000 from the Kentucky Farm Bureau Federation. All three finalists were given a KFB jacket, and the runners up each received $250 from the Kentucky Farm Bureau Federation.
In addition to the statewide recognition and prizes, Luttrell will represent Kentucky in the Swisher Sweets/Sunbelt Ag Expo Southeastern "Farmer of the Year" contest, the South's most prestigious agricultural award, in Moultrie, Georgia, in October of 2018.
Kentucky Farm Bureau, with more than 478,000 member families statewide, is the state's largest general farm organization. Approximately 2,000 members attended KFB's 98th annual meeting in Louisville, November 29-December 2, to recognize this year's individual and organizational achievements and adopt policy for 2018. To view all the updates released from this year's annual meeting, visit KYFBNewsroom.com.