Webster County Honored in Kentucky Farm Bureau's County Activities of Excellence Program
Louisville, KY (December 1, 2017) – Webster County Farm Bureau was honored as one of the five winners in the 2017 Kentucky Farm Bureau (KFB) County Activities of Excellence program. All five recipients of the award were recognized during the December 1 general session of KFB's annual meeting in Louisville.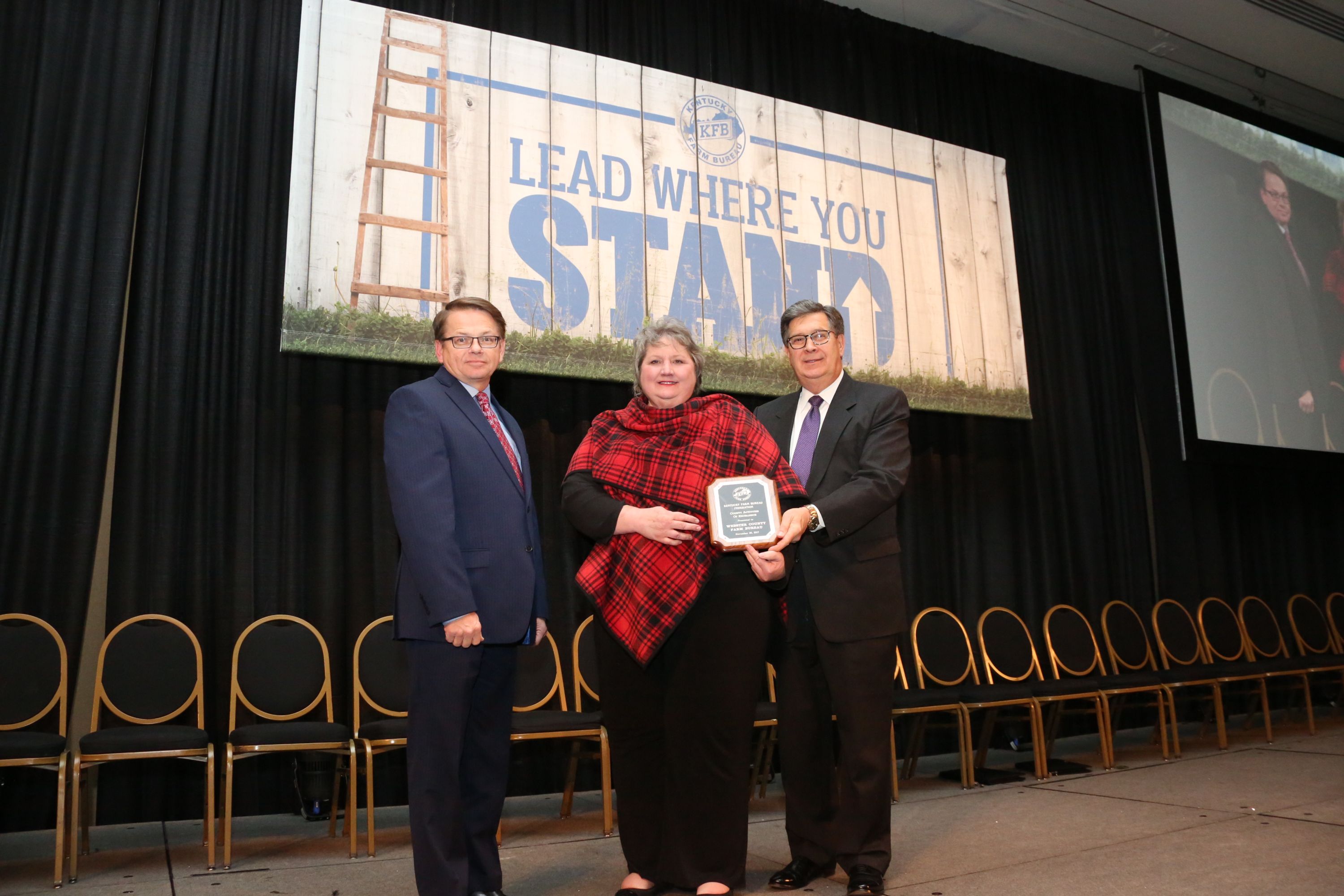 The County Activities of Excellence competition was developed to identify and honor the outstanding, innovative programs or activities conducted at the county level that meet the overall goals of the organization. The program also encourages KFB members to share their ideas with others who may benefit or be able to replicate a successful program in their own county.
Webster County Farm Bureau was recognized for its involvement in encouraging farmers to purchase 4'x4' metal signs, each designed with full color pictures that promote agricultural safety. The signs are displayed on the member's farms for the public to see as a reminder that farm safety is important.
In addition to the safety signs purchased by farmers, they provided 18"x24" roadside caution signs that are displayed on roads throughout the county as a reminder to be alert to farm equipment on the road.
KFB Spotlight
January 13, 2023

Farmer and rancher delegates to the American Farm Bureau Federation's 104th Convention today adopted policies to guide the organization's work in 2023. Key topics ranged from expanding risk management programs and improving dairy pricing transparency to battling hunger.
January 9, 2023

The American Farm Bureau Federation presented awards to state Farm Bureaus at the organization's 104th Convention. The awards recognize excellence in implementation of outstanding member programs and membership achievement in 2022.
January 4, 2023

Candid Conversation presents a discussion about the topical issues related to KFB priorities, the agricultural industry, and rural communities. In this column, Kentucky Department of Fish and Wildlife Resources Commissioner Rich Storm discusses the mission of the department and how it can be of assistance to more than just those who like to hunt and fish.