Webster County Honored in Kentucky Farm Bureau's County Activities of Excellence Program
Louisville, KY (December 1, 2017) – Webster County Farm Bureau was honored as one of the five winners in the 2017 Kentucky Farm Bureau (KFB) County Activities of Excellence program. All five recipients of the award were recognized during the December 1 general session of KFB's annual meeting in Louisville.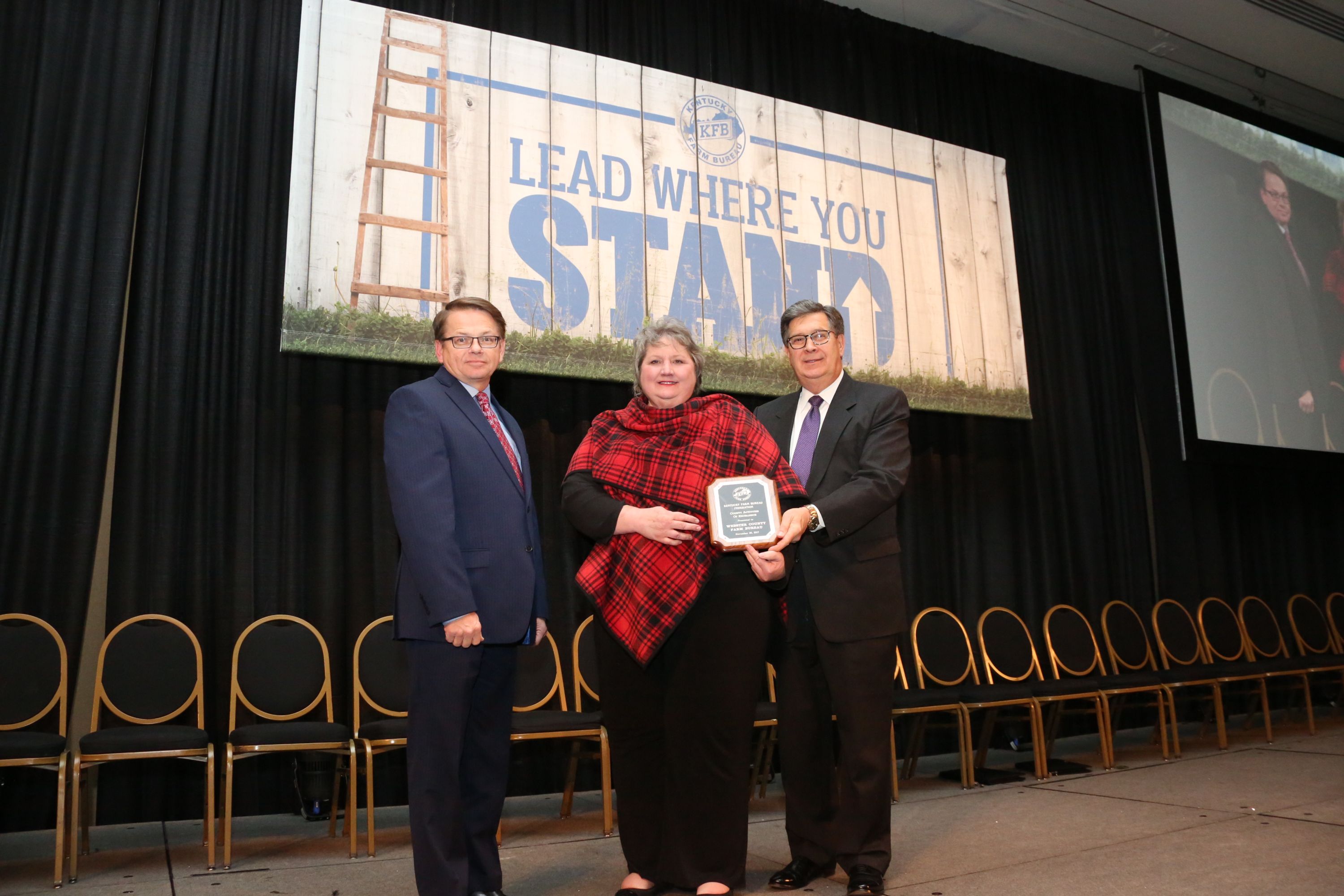 The County Activities of Excellence competition was developed to identify and honor the outstanding, innovative programs or activities conducted at the county level that meet the overall goals of the organization. The program also encourages KFB members to share their ideas with others who may benefit or be able to replicate a successful program in their own county.
Webster County Farm Bureau was recognized for its involvement in encouraging farmers to purchase 4'x4' metal signs, each designed with full color pictures that promote agricultural safety. The signs are displayed on the member's farms for the public to see as a reminder that farm safety is important.
In addition to the safety signs purchased by farmers, they provided 18"x24" roadside caution signs that are displayed on roads throughout the county as a reminder to be alert to farm equipment on the road.
KFB Spotlight
May 12, 2020

Agriculture Commissioner Dr. Ryan Quarles has announced Feeding Kentucky has purchased 10,080 pounds of Kentucky Proud pork sausage from the iconic Purnell's "Old Folks" headquartered in Simpsonville, Kentucky. The purchase is funded by a historic donation from Kentucky Farm Bureau Mutual Insurance Company to Feeding Kentucky as part of the Kentucky Hunger Initiative last month.
May 6, 2020

KFB Candid Conversation presents discussions about issues facing the agricultural industry and rural communities in a question and answer format. In this column, UK Associate Extension Pofessor Kenny Burdine discusses the current state of the cattle industry and his role on a national team which came together to discuss the impact of COVID-19 on the sector.
May 6, 2020

It is no secret that tobacco production has been on the decline for several years and for a number of reasons, including waning consumer use of tobacco products. As more and more tobacco users turn away from its usage, one Kentucky company is looking at this very traditional crop for use in a very non-traditional way – as a possible means to combat the COVID-19 virus.