Project by Union County Student Featured in Kentucky Farm Bureau's "Science in Agriculture" Displays
Louisville, KY (November 30, 2017) – Union County student, Trevor Thomas, was among the 12 students selected from across the state to display their agriculture science projects at this week's Kentucky Farm Bureau (KFB) annual meeting in Louisville.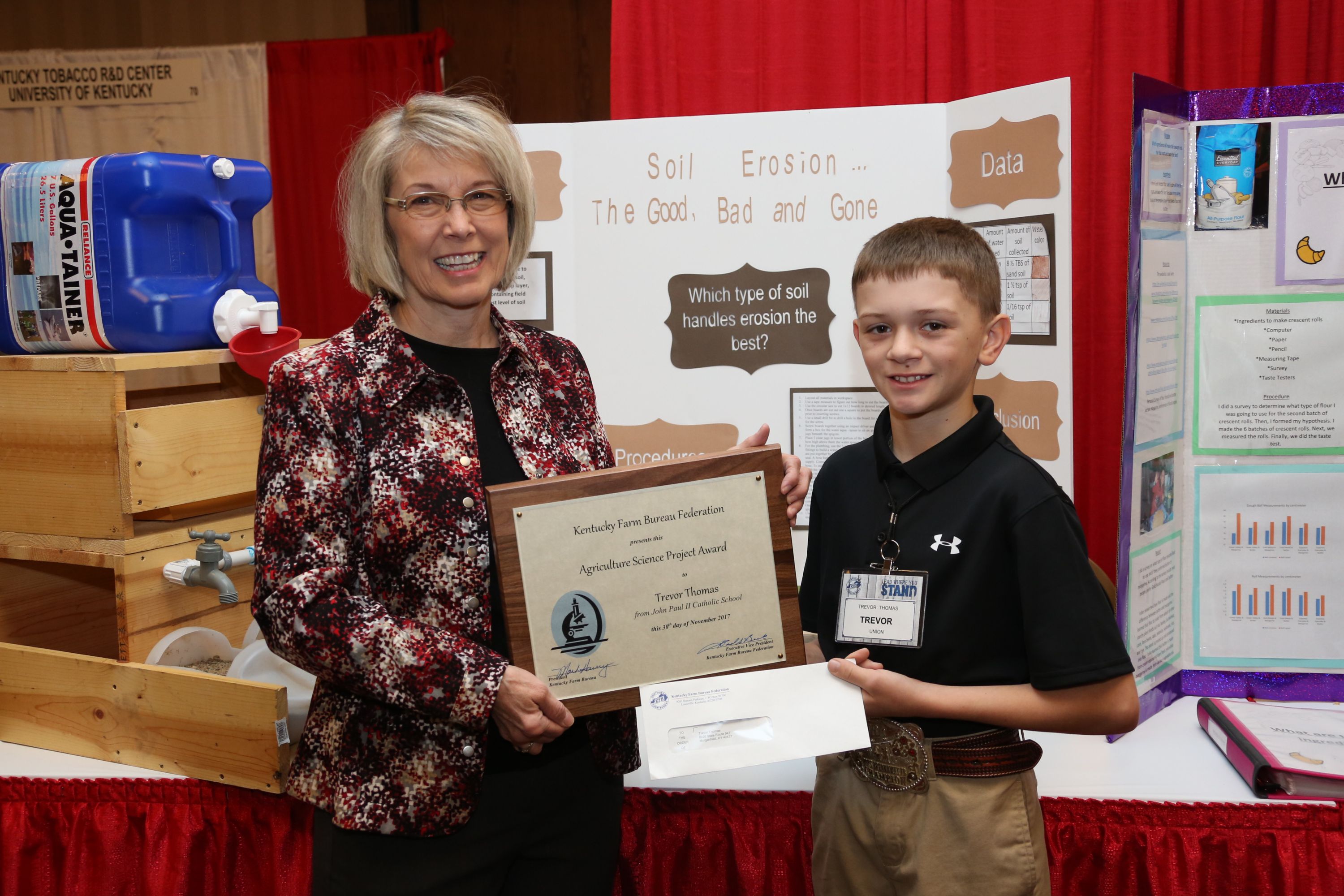 Trevor displayed his science project as part of the KFB annual meeting tradeshow. His project, "Soil Erosion… ,The Good, Bad, and Gone," explored different soil erosion rates.
He was awarded $125.00 and a certificate of recognition for his participation at the state level.
The Science in Agriculture program was developed by KFB as a way to encourage teachers to incorporate agricultural themes into their classroom instruction. Projects are evaluated on categories such as creativity, skill, clarity and thoroughness, agricultural accuracy and scientific thought.
KFB Spotlight
November 19, 2021

Cathy Weaver, University of Kentucky Extension Agent for 4-H Youth Development in Jessamine County, is the recipient of the 2021 Kentucky Farm Bureau (KFB) Farm Public Relations Award.
November 19, 2021

Enjoying Thanksgiving dinner with family and friends is a priority for many Americans, but paying attention to how the meal will impact the budget is also important. Farm Bureau's 36th annual survey indicates the average cost of this year's classic Thanksgiving feast for 10 is $53.31 or less than $6.00 per person. This is a $6.41 or 14% increase from last year's average of $46.90.
November 18, 2021

Kentucky Farm Bureau (KFB) announced today that Suzanne Cecil White of Daviess County is the 2021 Farm Woman of the Year. She will be recognized during the KFB Annual Meeting at the Galt House in Louisville, Kentucky next month.