Scott County Farm Bureau Young Farmers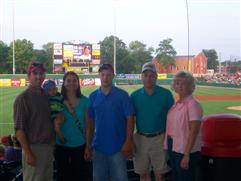 Attending the 2009 Young Farmers Summer Outing in Bowling Green were Daniel, Alison and Creighton Smith along with James Lyons and Alvin and Debbie Lyons. As part of the entertainment, Young Farmers attended a Bowling Green HotRod Minor League baseball game.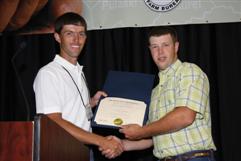 James Lyons of Scott County received the State Young Farmers Scholarship from Greg Harris, Madison County, Kentucky Farm Bureau Young Farmers Chair, at the recent Summer Outing of Kentucky Young Farmers held in Bowling Green, KY. James, son of Debbie and Alvin Lyons, is a junior at the University of Kentucky where he is majoring in Agricultural Economics.
KFB Spotlight
April 6, 2021

Kentucky Farm Bureau was founded on the principle of grassroots advocacy, a methodology that has served the organization well for more than 100 years.
April 6, 2021

As we prepare for spring planting and another growing season on the farm, it goes without saying that most of us will be reflecting on the past year and the dark winter we have come through.
April 6, 2021

As the subject of climate change gathers momentum in Washington, D.C., Farm Bureau has been preparing for it over the last year. In February of 2020, the American Farm Bureau Federation (AFBF) became one of the founding members of the Food and Agriculture Climate Alliance (FACA) which is comprised of organizations representing farmers, ranchers, forest owners, the food sector, state governments and environmental advocates that are working together to define and promote shared climate policy priorities.