Muhlenberg County Farm Bureau 2015 Scholarship Recipients
Mr. Joe Reed is the recipient of the 2014-2015 Bruce Hendrix/Muhlenberg County Farm Bureau scholarship. Mr. Reed is a 2015 graduate of Muhlenberg County High School and he is the son of Mr. Steve & Dr. Debbie Reed of Greenville. He served as president of the local and regional FFA chapters. He was also an officer and a member of the 4-H Shooting Sports and 4-H Livestock Club. Joe participated in many judging team activities through his FFA career. He was also the Muhlenberg County Farm Bureau Outstanding Farm Bureau Youth in 2013 and 2014. He is a member of the Cave Springs Missionary Baptist Church. He will be attending Murray State University this fall majoring in engineering and physics. He received a $1000.00 scholarship.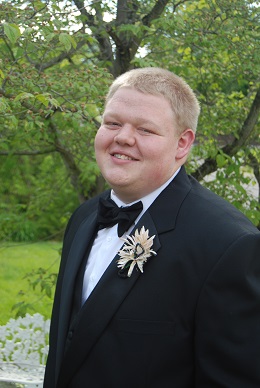 KFB Spotlight
January 20, 2021

Kentucky Farm Bureau (KFB) has released the names of individuals elected to lead its new initiative, Generation Bridge. Amanda Gajdzik of Shelby County has been elected chair, Tammy White of Union County is vice chair, and Sarah Beth Guffey from Clinton County is secretary of this newly formed committee.
January 18, 2021

Agriculture Commissioner Dr. Ryan Quarles invites Kentucky's youth to participate in the Kentucky Pollinator Stakeholders Art Contest. The contest is designed to educate the public on the benefits of pollinators and encourage behaviors that promote pollinator habitats across Kentucky.
January 13, 2021

Caleb and Leanne Ragland of LaRue County won a top honor during the American Farm Bureau Federation (AFBF) virtual convention today, being named winners of the Young Farmers & Ranchers "Achievement Award."