Mercer County Farm Bureau Wins First Place in County Information Awards Competition
Louisville, KY (December 1, 2017) – Mercer County Farm Bureau was honored today for its first-place finish in the 2017 Kentucky Farm Bureau (KFB) County Information Awards competition. Beth Kelly, Information Chair of Mercer County Farm Bureau, attended an awards breakfast at the organization's annual meeting in Louisville and was presented with the plaque and cash award given for the variety of effective public relations programs she coordinated over the last year.
Daviess County Farm Bureau and Fayette County Farm Bureau finished second and third, respectively.
The County Information Awards are presented annually to recognize the best programs for member information and media relations performed at the local level. Criteria for winning entries includes developing a plan for regular communication with the county's membership, securing news stories by local media outlets that emphasize issues important to both Farm Bureau and agriculture, hosting a media appreciation event, keeping website content updated, and promoting community relations programs.
Honorable mentions for the award were given to Farm Bureaus in Garrard and Harlan counties for their noteworthy accomplishments in media relations and member information.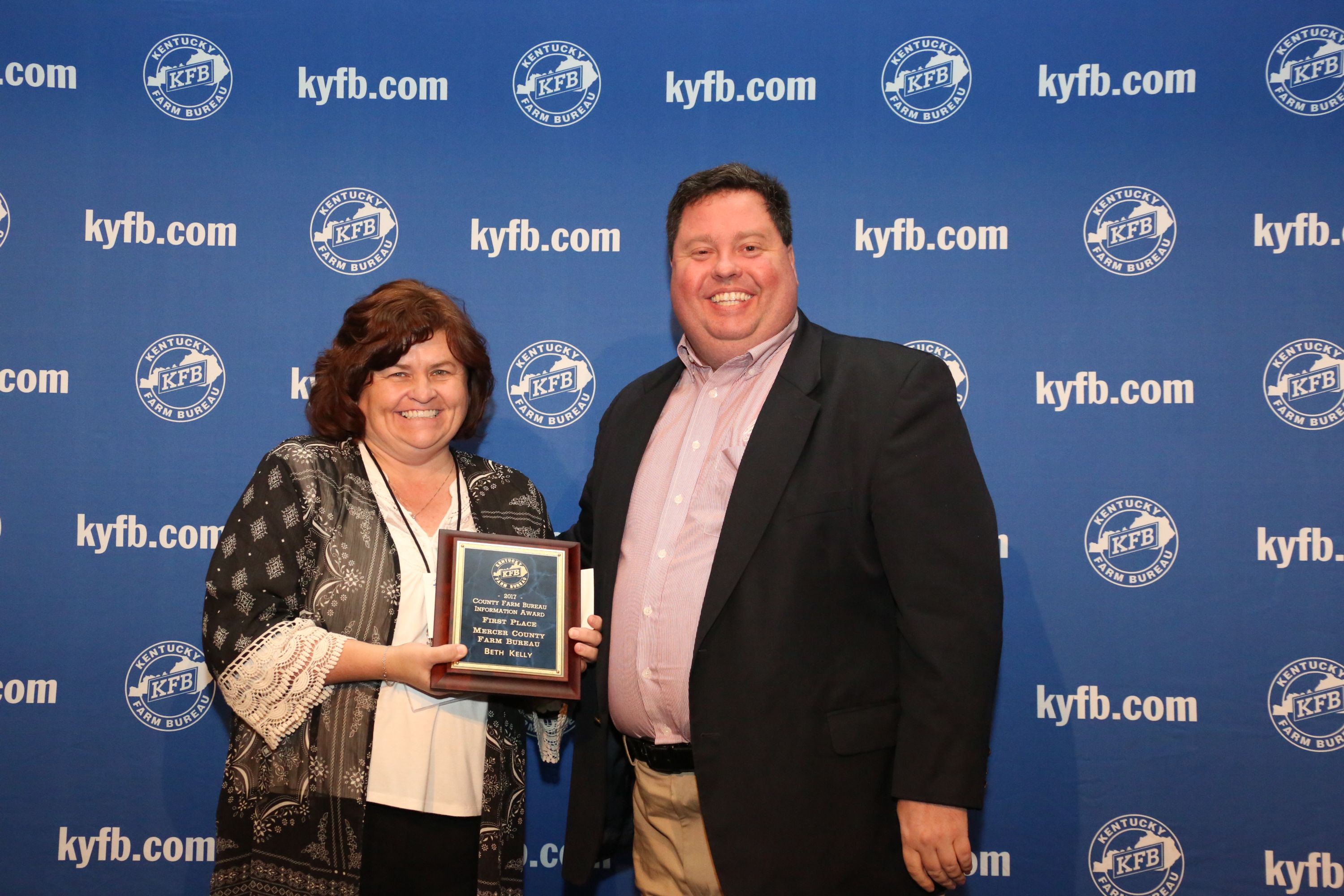 KFB Spotlight
October 25, 2021

Wesley Parker of Christian County will be honored as the 2021 Kentucky Farm Bureau (KFB) "Farmer of the Year" during the organization's 102nd annual meeting at the Galt House in Louisville this December.
October 22, 2021

While education has looked very different over the past year from its traditional classroom settings, the financial needs of students, especially those going on to higher education, has likely never been greater. Kentucky Farm Bureau (KFB) has recognized those needs for decades by establishing scholarship programs at the state and county levels.
October 22, 2021

Last month's September crop report from the USDA's National Agriculture Statistics Service, (NASS) Kentucky Field Office reported increased production levels for corn and tobacco over 2020, with a slight decrease in soybeans production. Regional Director David Knopf said unless there are any unforeseen circumstances, he doesn't see any big changes coming as the harvest season progresses.