Donation to Kendyl & Friends Playground
Mercer County Farm Bureau donated $3,000 to the Kendyl & Friends Playground. This playground is for special needs children to be able to play just like everyone else. It is named after Kendyl Claycomb who contracted meningitis when she was less than 1 month old. Her mother Crimson wanted her to be able to play just like all other children but the closest special needs playground is in Pikeville KY. Crimson applied for a grant for playground equipment and was awarded over $36,000 in playground equipment, but the stipulation was that she had to have the money for the rest of it which was almost $250,000 by the end of 2016 or the grant would be rescinded and the price would go up for the rest of the equipment. The city of Harrodsburg along with local businesses and people came together and either donated money or had chili suppers, yard sales etc. to raise the rest of the money.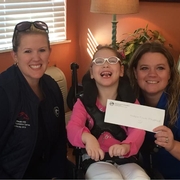 KFB Spotlight
July 14, 2020

Kentucky Farm Bureau Studios received two nominations in the 56th Annual Ohio Valley Regional Emmy Awards. The nominated segments highlighting the culture and charm of rural Kentucky aired on RFD-TV and Kentucky Educational Television.
July 6, 2020

There is no doubt that helping usher the agriculture industry forward with technology should be a priority for Kentucky's elected officials, but how you go about it matters.
July 1, 2020

It goes without saying, but the coronavirus pandemic has made the world we live in look very different than it did just a few months ago. We have had to learn to work remotely, meet virtually, and stay six feet apart from one another.