Donation to Kendyl & Friends Playground
Mercer County Farm Bureau donated $3,000 to the Kendyl & Friends Playground. This playground is for special needs children to be able to play just like everyone else. It is named after Kendyl Claycomb who contracted meningitis when she was less than 1 month old. Her mother Crimson wanted her to be able to play just like all other children but the closest special needs playground is in Pikeville KY. Crimson applied for a grant for playground equipment and was awarded over $36,000 in playground equipment, but the stipulation was that she had to have the money for the rest of it which was almost $250,000 by the end of 2016 or the grant would be rescinded and the price would go up for the rest of the equipment. The city of Harrodsburg along with local businesses and people came together and either donated money or had chili suppers, yard sales etc. to raise the rest of the money.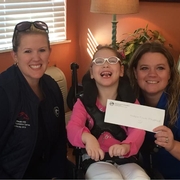 KFB Spotlight
Grand Champion Ham Brings Charitable Donation of $1 Million at KFB's 56th Annual Country Ham Breakfast

August 23, 2019

This year's 56th annual Kentucky Farm Bureau Country Ham Breakfast brought in an astounding bid of $1 million for charity. The Grand Champion Country Ham auction is a Kentucky Farm Bureau state fair tradition dating back to 1964.
August 12, 2019

By the time Kentucky Farm Bureau was founded as an organization in 1919, the Kentucky State Fair was already celebrating its 17th birthday, officially. But the fair has roots that date back to 1816, making it one of the oldest fair celebrations in the country.
Stress on the Farm and in Rural America: Acknowledging its existence can be a good first step in combating this issue

June 25, 2019

As much as farm families love what they do, there is a tremendous amount of stress that can come along with any farming operation, big or small; in good economic times or financial downturns.