Donation to Kendyl & Friends Playground
Mercer County Farm Bureau donated $3,000 to the Kendyl & Friends Playground. This playground is for special needs children to be able to play just like everyone else. It is named after Kendyl Claycomb who contracted meningitis when she was less than 1 month old. Her mother Crimson wanted her to be able to play just like all other children but the closest special needs playground is in Pikeville KY. Crimson applied for a grant for playground equipment and was awarded over $36,000 in playground equipment, but the stipulation was that she had to have the money for the rest of it which was almost $250,000 by the end of 2016 or the grant would be rescinded and the price would go up for the rest of the equipment. The city of Harrodsburg along with local businesses and people came together and either donated money or had chili suppers, yard sales etc. to raise the rest of the money.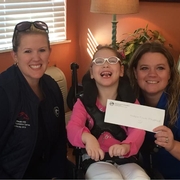 KFB Spotlight
June 23, 2022

To say Catlin Young wears many hats would be an understatement. This recent Murray State University (MSU) agri-business graduate/first-time farm owner/University of Kentucky College of Agriculture, Food, and Environment Weed Science Technician/social media blogger/animal lover is blending these many roles to accomplish her mission of carrying on a family farming tradition.
June 23, 2022

When searching for information about or images of Jefferson County, Kentucky on the internet, one will likely see photos of the Louisville skyline or statistics about it being the most populated county in the state.
May 6, 2022

On a colder than normal April afternoon, Morgan Askins is unloading her two quarter horses at the Shelby County Fairgrounds as she prepares to be the flag bearer for the weekend's Kentuckiana Ranch Horse Association (KRHA) event. She gets her horses settled and prepares for the next day's activities.