Donation to Kendyl & Friends Playground
Mercer County Farm Bureau donated $3,000 to the Kendyl & Friends Playground. This playground is for special needs children to be able to play just like everyone else. It is named after Kendyl Claycomb who contracted meningitis when she was less than 1 month old. Her mother Crimson wanted her to be able to play just like all other children but the closest special needs playground is in Pikeville KY. Crimson applied for a grant for playground equipment and was awarded over $36,000 in playground equipment, but the stipulation was that she had to have the money for the rest of it which was almost $250,000 by the end of 2016 or the grant would be rescinded and the price would go up for the rest of the equipment. The city of Harrodsburg along with local businesses and people came together and either donated money or had chili suppers, yard sales etc. to raise the rest of the money.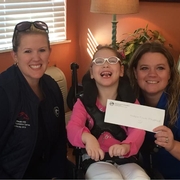 KFB Spotlight
May 17, 2019

In addition to being resourceful, hard-working and persistent, our nation's farmers have been very patient. We have endured continued drops in net farm income, a host of natural disasters, and some of the most volatile commodity markets experienced in decades.
May 9, 2019

I'm not sure if this is an age thing or not, but it seems to me that the older I get the more I reflect on the past, taking in all the moments and memories that have guided me to where I am today as a person, a husband, a father, a soon-to-be grandfather, and a communicator.
May 9, 2019

When thinking of Kentucky agriculture, many crops could come to mind including corn, soybeans, wheat, and tobacco, to name a few. But timber may not often be thought of as a crop.