Donation to Kendyl & Friends Playground
Mercer County Farm Bureau donated $3,000 to the Kendyl & Friends Playground. This playground is for special needs children to be able to play just like everyone else. It is named after Kendyl Claycomb who contracted meningitis when she was less than 1 month old. Her mother Crimson wanted her to be able to play just like all other children but the closest special needs playground is in Pikeville KY. Crimson applied for a grant for playground equipment and was awarded over $36,000 in playground equipment, but the stipulation was that she had to have the money for the rest of it which was almost $250,000 by the end of 2016 or the grant would be rescinded and the price would go up for the rest of the equipment. The city of Harrodsburg along with local businesses and people came together and either donated money or had chili suppers, yard sales etc. to raise the rest of the money.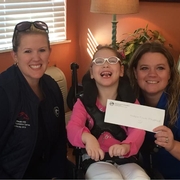 KFB Spotlight
May 9, 2023

As farm families across the state continue with spring planting, I'm reminded of how far we have come over the years in this process, from an agricultural technology standpoint, while never losing sight of the reasons we plant a crop.
May 9, 2023

Improving water quality has been a long-term goal of the state's agricultural sector well in advance of the many climate issues currently making headlines.
May 9, 2023

As humans, it's very easy to draw conclusions about something by sight alone. But we don't all see things—or in my case, places—in the same way. What I might think is beautiful, another may see just the opposite, and vice versa.