McLean County students awarded Farm Bureau scholarships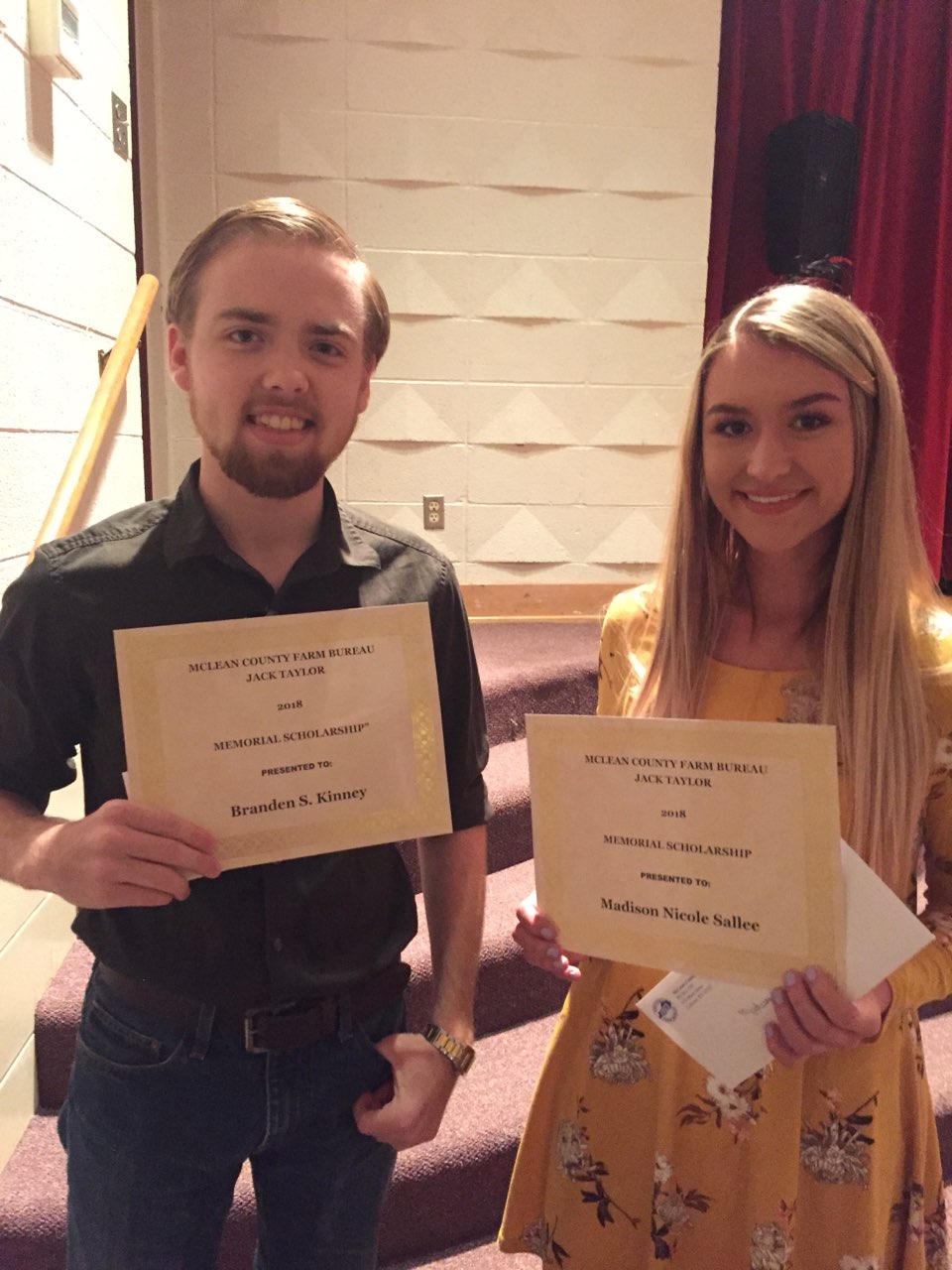 Louisville, KY (July 6, 2018) - – Brandon S. Kinney and Madison Nicole Sallee, both seniors at McLean County High School, are the recipients of scholarships from McLean County Farm Bureau. In partnership with County Farm Bureaus, the Kentucky Farm Bureau Education Foundation awarded $465,400 this year to deserving students from across the Commonwealth.
Brandon S. Kinney was awarded a $1,000 scholarship. After graduating from high school, Kinney plans to attend Owensboro Community College or Western Kentucky University to pursue a degree in criminal justice. Kinney is the son of Michael and Tracy Kinney of Calhoun, KY.
Madison Nicole Sallee also was awarded a $1,000 scholarship. After graduating from high school, she is heading to Owensboro Community College to pursue a degree in nursing. Sallee is the daughter of Tiffany Sallee of Calhoun, KY.
Farm Bureau scholarships, offered annually, are awarded to recipients who display the greatest levels of academic excellence, involvement in extracurricular activities, leadership abilities and financial need.
KFB Spotlight
January 18, 2021

Agriculture Commissioner Dr. Ryan Quarles invites Kentucky's youth to participate in the Kentucky Pollinator Stakeholders Art Contest. The contest is designed to educate the public on the benefits of pollinators and encourage behaviors that promote pollinator habitats across Kentucky.
January 13, 2021

Caleb and Leanne Ragland of LaRue County won a top honor during the American Farm Bureau Federation (AFBF) virtual convention today, being named winners of the Young Farmers & Ranchers "Achievement Award."
January 11, 2021

The American Farm Bureau's Virtual Convention kicked off with an opening address by AFBF President Zippy Duvall from his farm in Georgia.