McLean County students awarded Farm Bureau scholarships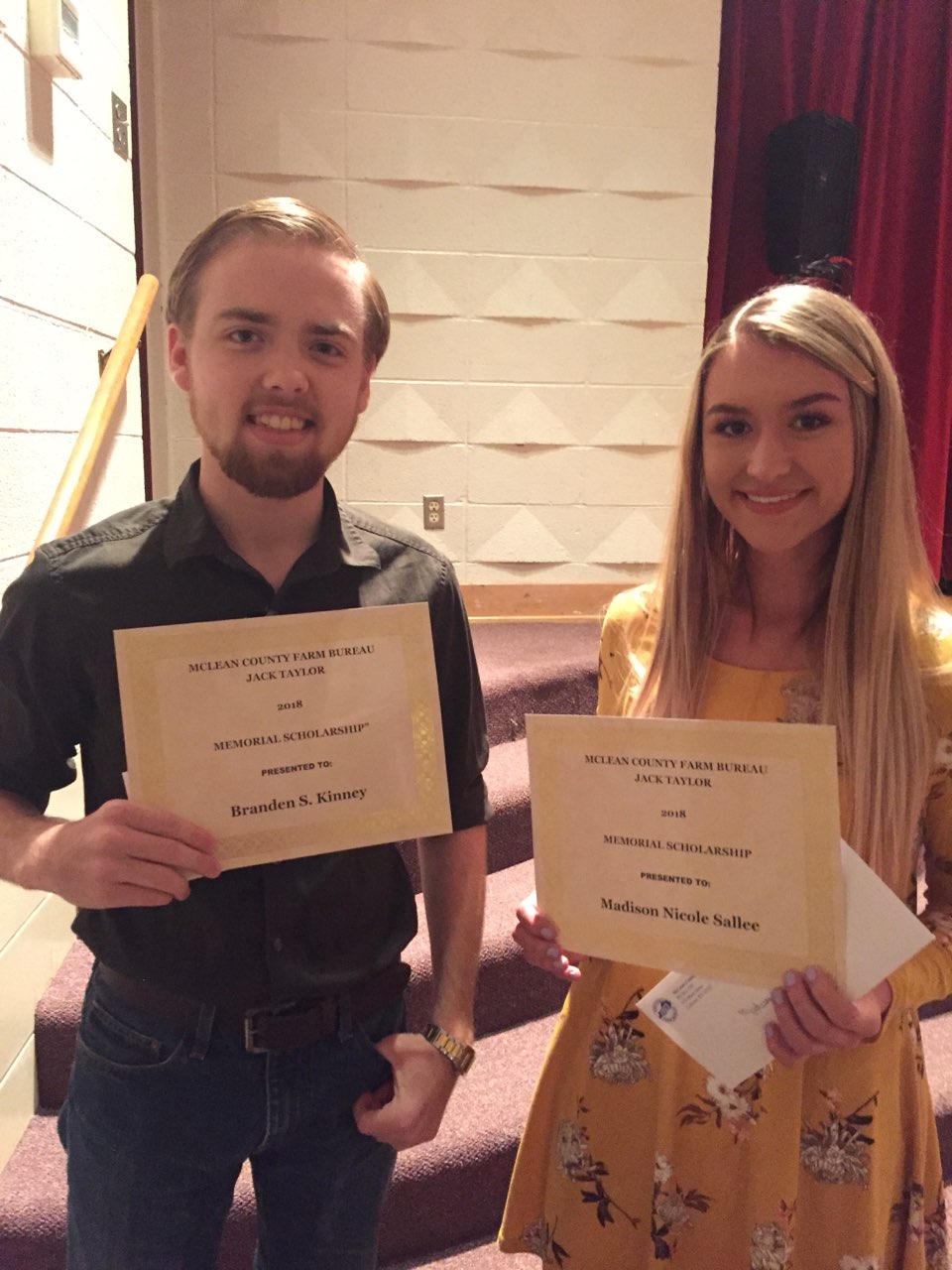 Louisville, KY (July 6, 2018) - – Brandon S. Kinney and Madison Nicole Sallee, both seniors at McLean County High School, are the recipients of scholarships from McLean County Farm Bureau. In partnership with County Farm Bureaus, the Kentucky Farm Bureau Education Foundation awarded $465,400 this year to deserving students from across the Commonwealth.
Brandon S. Kinney was awarded a $1,000 scholarship. After graduating from high school, Kinney plans to attend Owensboro Community College or Western Kentucky University to pursue a degree in criminal justice. Kinney is the son of Michael and Tracy Kinney of Calhoun, KY.
Madison Nicole Sallee also was awarded a $1,000 scholarship. After graduating from high school, she is heading to Owensboro Community College to pursue a degree in nursing. Sallee is the daughter of Tiffany Sallee of Calhoun, KY.
Farm Bureau scholarships, offered annually, are awarded to recipients who display the greatest levels of academic excellence, involvement in extracurricular activities, leadership abilities and financial need.
KFB Spotlight
April 6, 2021

Kentucky Farm Bureau was founded on the principle of grassroots advocacy, a methodology that has served the organization well for more than 100 years.
April 6, 2021

As we prepare for spring planting and another growing season on the farm, it goes without saying that most of us will be reflecting on the past year and the dark winter we have come through.
April 6, 2021

As the subject of climate change gathers momentum in Washington, D.C., Farm Bureau has been preparing for it over the last year. In February of 2020, the American Farm Bureau Federation (AFBF) became one of the founding members of the Food and Agriculture Climate Alliance (FACA) which is comprised of organizations representing farmers, ranchers, forest owners, the food sector, state governments and environmental advocates that are working together to define and promote shared climate policy priorities.