McLean County students awarded Farm Bureau scholarships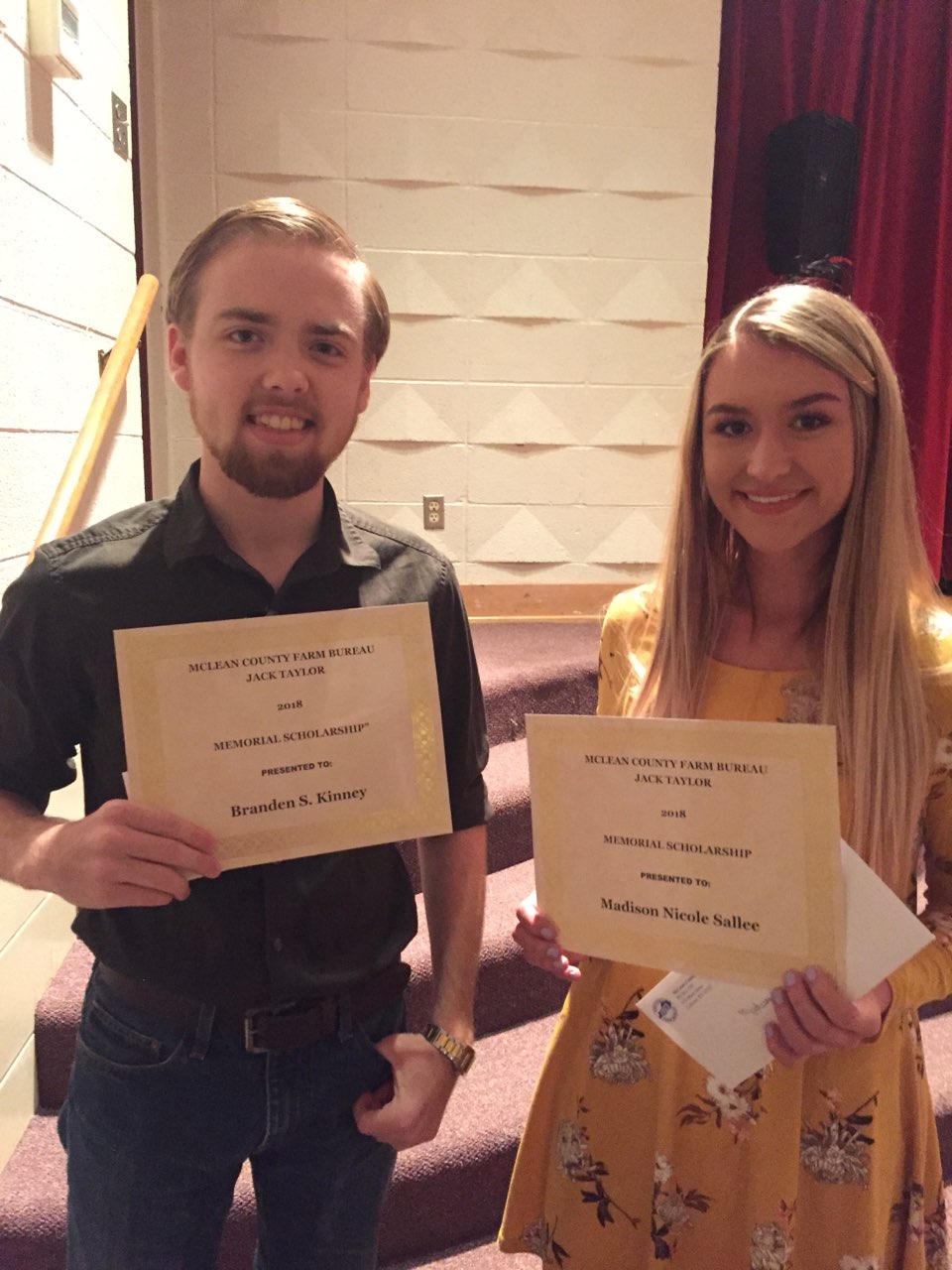 Louisville, KY (July 6, 2018) - – Brandon S. Kinney and Madison Nicole Sallee, both seniors at McLean County High School, are the recipients of scholarships from McLean County Farm Bureau. In partnership with County Farm Bureaus, the Kentucky Farm Bureau Education Foundation awarded $465,400 this year to deserving students from across the Commonwealth.
Brandon S. Kinney was awarded a $1,000 scholarship. After graduating from high school, Kinney plans to attend Owensboro Community College or Western Kentucky University to pursue a degree in criminal justice. Kinney is the son of Michael and Tracy Kinney of Calhoun, KY.
Madison Nicole Sallee also was awarded a $1,000 scholarship. After graduating from high school, she is heading to Owensboro Community College to pursue a degree in nursing. Sallee is the daughter of Tiffany Sallee of Calhoun, KY.
Farm Bureau scholarships, offered annually, are awarded to recipients who display the greatest levels of academic excellence, involvement in extracurricular activities, leadership abilities and financial need.
KFB Spotlight
November 7, 2018

Three finalists have been named for the 2018 Kentucky Farm Bureau OYFF honor, in recognition of their achievements as part of the farming community. The finalists are Nicholas and Bethany Hardesty of Meade County, Wesley and Alicia Logsdon of Pulaski County, and Drew and Liz White of Union County. The winner will be announced at the Kentucky Farm Bureau Annual Meeting at the end of November.
November 7, 2018

Kentucky Farm Bureau (KFB) leaders and commodity executives from across the state gathered for a legislative preview meeting on November 7, 2018 at the KFB headquarters in Louisville, Kentucky. The group of more than 30 individuals representing agriculture commodity groups came together to discuss several ag-related topics and the many legislative needs and concerns of farmers and rural communities throughout the Commonwealth.
October 18, 2018

Large parts of the South were devastated by the wind, rain and floods of Hurricanes Florence and Michael. Learn more about how you can help farmers in need.