McLean County students awarded Farm Bureau scholarships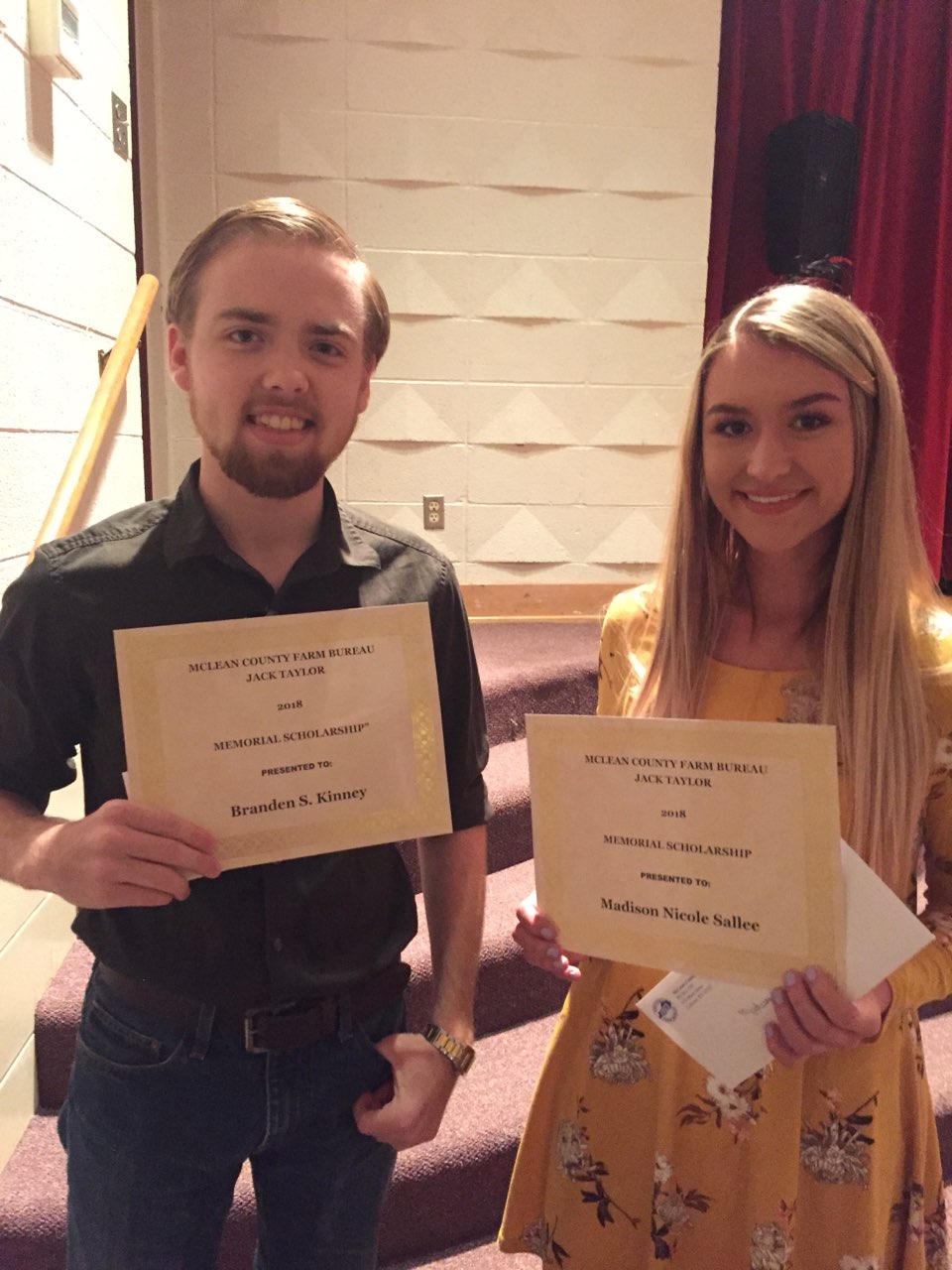 Louisville, KY (July 6, 2018) - – Brandon S. Kinney and Madison Nicole Sallee, both seniors at McLean County High School, are the recipients of scholarships from McLean County Farm Bureau. In partnership with County Farm Bureaus, the Kentucky Farm Bureau Education Foundation awarded $465,400 this year to deserving students from across the Commonwealth.
Brandon S. Kinney was awarded a $1,000 scholarship. After graduating from high school, Kinney plans to attend Owensboro Community College or Western Kentucky University to pursue a degree in criminal justice. Kinney is the son of Michael and Tracy Kinney of Calhoun, KY.
Madison Nicole Sallee also was awarded a $1,000 scholarship. After graduating from high school, she is heading to Owensboro Community College to pursue a degree in nursing. Sallee is the daughter of Tiffany Sallee of Calhoun, KY.
Farm Bureau scholarships, offered annually, are awarded to recipients who display the greatest levels of academic excellence, involvement in extracurricular activities, leadership abilities and financial need.
KFB Spotlight
December 3, 2022

Pulaski County farmer Mark Haney was re-elected Kentucky Farm Bureau President on the concluding day of the organization's 103rd annual meeting. Also re-elected were Webster County's Eddie Melton as First Vice President and Sharon Furches of Calloway County as Second Vice President.
December 2, 2022

Jenna Coles of Logan County and Matthew Estes of Barren County were awarded top honors in the Kentucky Farm Bureau 2022 Outstanding Farm Bureau Youth contest.
December 2, 2022

Ben Prevette of Hopkins County won first place in the final round of Kentucky Farm Bureau's (KFB) Discussion Meet, a debate-styled competition for young farmers that relies on an individual's skill in reasoning and logical discussion of issues.