McLean County students awarded Farm Bureau scholarships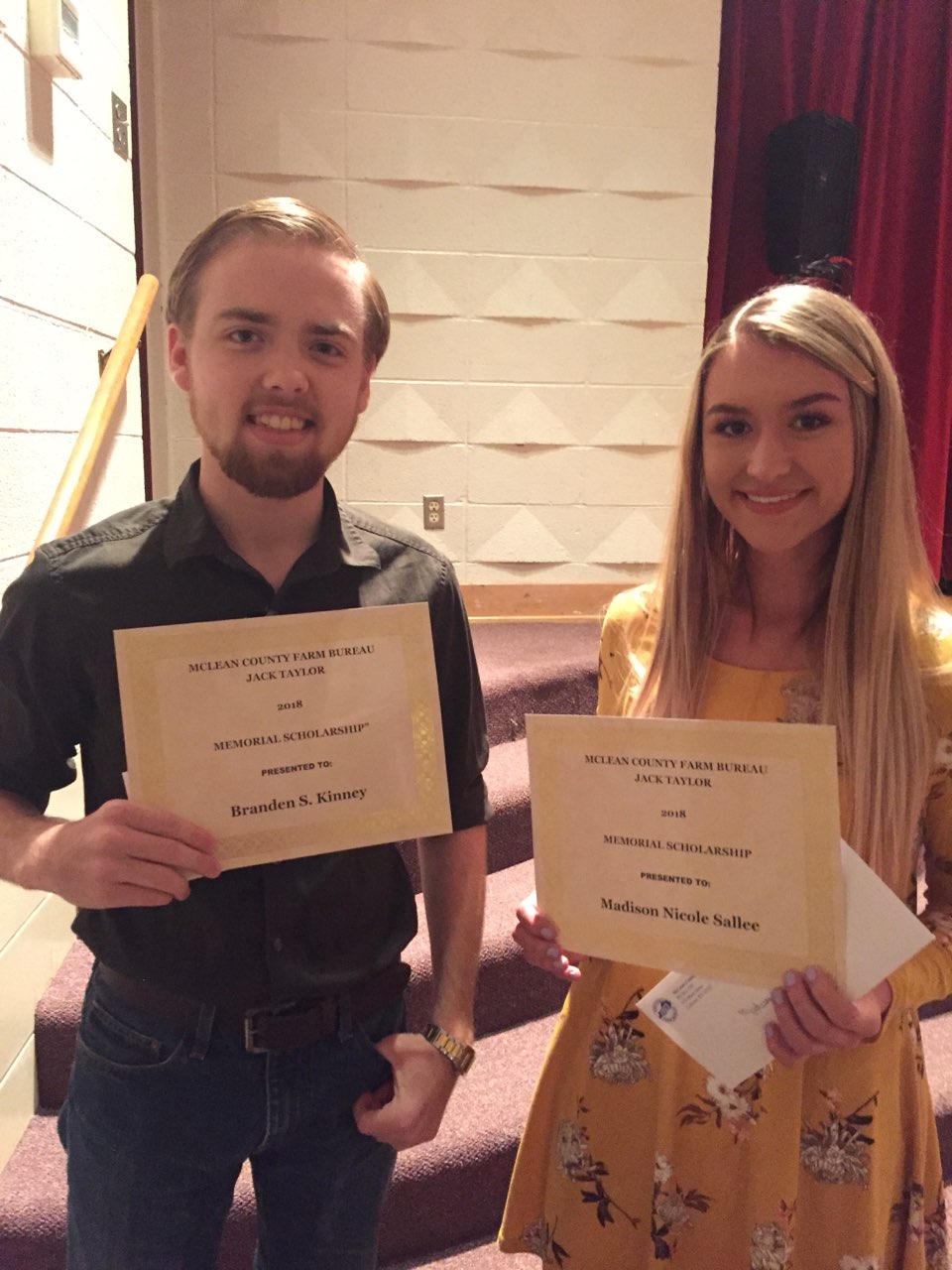 Louisville, KY (July 6, 2018) - – Brandon S. Kinney and Madison Nicole Sallee, both seniors at McLean County High School, are the recipients of scholarships from McLean County Farm Bureau. In partnership with County Farm Bureaus, the Kentucky Farm Bureau Education Foundation awarded $465,400 this year to deserving students from across the Commonwealth.
Brandon S. Kinney was awarded a $1,000 scholarship. After graduating from high school, Kinney plans to attend Owensboro Community College or Western Kentucky University to pursue a degree in criminal justice. Kinney is the son of Michael and Tracy Kinney of Calhoun, KY.
Madison Nicole Sallee also was awarded a $1,000 scholarship. After graduating from high school, she is heading to Owensboro Community College to pursue a degree in nursing. Sallee is the daughter of Tiffany Sallee of Calhoun, KY.
Farm Bureau scholarships, offered annually, are awarded to recipients who display the greatest levels of academic excellence, involvement in extracurricular activities, leadership abilities and financial need.
KFB Spotlight
September 19, 2021

Commissioner of Agriculture Dr. Ryan Quarles has proclaimed Sept.19-25 as Farm Safety and Health Week in Kentucky to encourage farmers and farm workers to put their health and safety first at all times. The theme for this year's safety week is "Farm Safety Yields Real Results."
September 8, 2021

A recent survey conducted by an organization known as "Kindness.org" listed Kentucky as being the kindest state in the U.S. Now, I'm no rocket scientist, but I have figured that one out; no survey needed.
August 30, 2021

From a reversal of the Waters of the U.S. rule to tax related issues, the agriculture industry is standing firm on its policies and priorities as it faces proposals that could affect the industry in adverse ways.