2015 Ag Literacy Day
During Ag Literacy week Ms. Harris' first grade class celebrated in a variety of ways. They read the AFBF Ag book of the year, "The Apple Orchard Riddle." The class used the Ag Magazine to go with the book. They also had career day where Rick Griebenow from EKU's Farm came and brought a dairy calf for the students to learn about. Griebenow also taught them about the uses of corn. Greg Harris brought a calf to school and taught the students about the types of feed cows eat and how to care for livestock. Each Friday there is an agriculture lesson to help students learn more about one of the largest industries in America. After Spring Break, they will begin the process of having baby chick eggs and caring for them over a few weeks.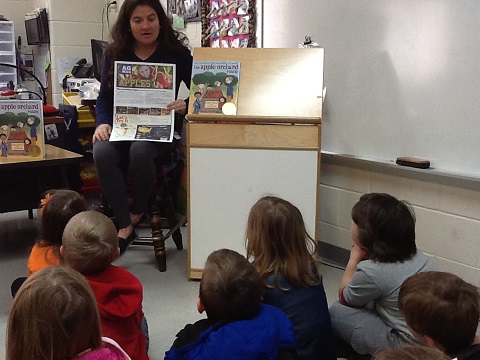 KFB Spotlight
September 21, 2023

Mark Haney announced today that he is stepping away from his role as president of Kentucky Farm Bureau (KFB) in December. Haney is the longest serving president in the organization's history.
September 20, 2023

Commissioner of Agriculture Dr. Ryan Quarles honored Kentucky's farmers and proclaimed Sept.17-23 as Farm Safety and Health Week in Kentucky at a Farmer's Appreciation and Awards Day on the Capitol Lawn Wednesday.
September 18, 2023

Pilot Oak, Kentucky is a very small community in southern Graves County. And while it may seem like a different world there from the hustle and bustle of Washington, D.C., the looming deadline to pass the next Farm Bill draws the two places closer than ever as farm families in this community and thousands of others advocate for programs contained in this legislation.