2015 Ag Literacy Day
During Ag Literacy week Ms. Harris' first grade class celebrated in a variety of ways. They read the AFBF Ag book of the year, "The Apple Orchard Riddle." The class used the Ag Magazine to go with the book. They also had career day where Rick Griebenow from EKU's Farm came and brought a dairy calf for the students to learn about. Griebenow also taught them about the uses of corn. Greg Harris brought a calf to school and taught the students about the types of feed cows eat and how to care for livestock. Each Friday there is an agriculture lesson to help students learn more about one of the largest industries in America. After Spring Break, they will begin the process of having baby chick eggs and caring for them over a few weeks.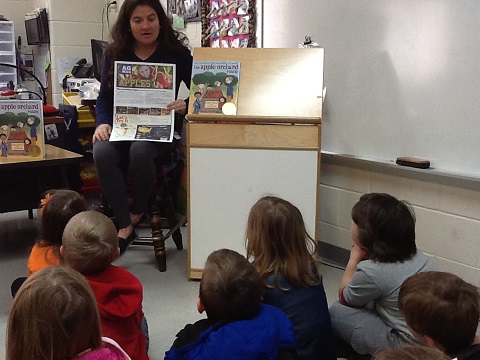 KFB Spotlight
April 12, 2021

As thoughts of spring begin to surface, especially in the agricultural world, among countless farm families, they get excited to plant a new crop or see fruit trees blossom fill the air across the Commonwealth.
April 6, 2021

Kentucky Farm Bureau was founded on the principle of grassroots advocacy, a methodology that has served the organization well for more than 100 years.
April 6, 2021

As we prepare for spring planting and another growing season on the farm, it goes without saying that most of us will be reflecting on the past year and the dark winter we have come through.