2015 Ag Literacy Day
During Ag Literacy week Ms. Harris' first grade class celebrated in a variety of ways. They read the AFBF Ag book of the year, "The Apple Orchard Riddle." The class used the Ag Magazine to go with the book. They also had career day where Rick Griebenow from EKU's Farm came and brought a dairy calf for the students to learn about. Griebenow also taught them about the uses of corn. Greg Harris brought a calf to school and taught the students about the types of feed cows eat and how to care for livestock. Each Friday there is an agriculture lesson to help students learn more about one of the largest industries in America. After Spring Break, they will begin the process of having baby chick eggs and caring for them over a few weeks.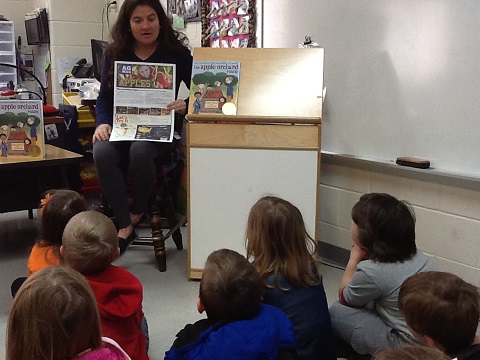 KFB Spotlight
January 13, 2023

Farmer and rancher delegates to the American Farm Bureau Federation's 104th Convention today adopted policies to guide the organization's work in 2023. Key topics ranged from expanding risk management programs and improving dairy pricing transparency to battling hunger.
January 9, 2023

The American Farm Bureau Federation presented awards to state Farm Bureaus at the organization's 104th Convention. The awards recognize excellence in implementation of outstanding member programs and membership achievement in 2022.
January 4, 2023

Candid Conversation presents a discussion about the topical issues related to KFB priorities, the agricultural industry, and rural communities. In this column, Kentucky Department of Fish and Wildlife Resources Commissioner Rich Storm discusses the mission of the department and how it can be of assistance to more than just those who like to hunt and fish.