2015 Ag Literacy Day
During Ag Literacy week Ms. Harris' first grade class celebrated in a variety of ways. They read the AFBF Ag book of the year, "The Apple Orchard Riddle." The class used the Ag Magazine to go with the book. They also had career day where Rick Griebenow from EKU's Farm came and brought a dairy calf for the students to learn about. Griebenow also taught them about the uses of corn. Greg Harris brought a calf to school and taught the students about the types of feed cows eat and how to care for livestock. Each Friday there is an agriculture lesson to help students learn more about one of the largest industries in America. After Spring Break, they will begin the process of having baby chick eggs and caring for them over a few weeks.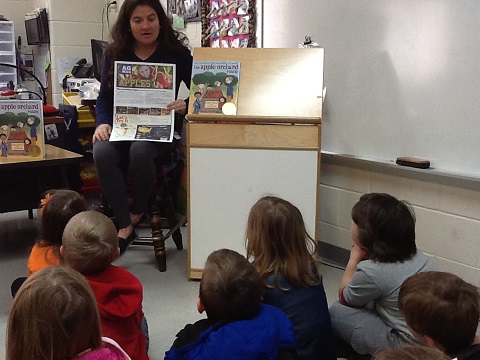 KFB Spotlight
November 11, 2019

Steve Kelley of Carlisle County will be honored as the 2019 Kentucky Farm Bureau (KFB) "Farmer of the Year" during the organization's 100th annual meeting in Louisville in December.
November 7, 2019

A good buddy of mine is an automotive technician and works on some of the newest and most technologically advanced vehicles on the road. During a recent conversation, I mentioned to him how surprised I am at the number of automobiles being manufactured these days without turn signals.
November 7, 2019

Getting to Flat Gap, Kentucky is not the easiest of trips, but well worth it once you arrive. The small eastern Kentucky town is located in the heart of the mountain region of Johnson County as well as in the state's rich coal mining country.