Logan County Farm Bureau wins first place in County Information Awards competition
Logan County Farm Bureau was honored today for its first-place finish in the 2019 Kentucky Farm Bureau (KFB) County Information Awards competition. John Alcott, Information Chair of Logan County Farm Bureau, attended an awards breakfast at the organization's annual meeting in Louisville and was presented with the plaque and cash award given for the variety of effective public relations programs coordinated over the last year.
Daviess County Farm Bureau and Mercer County Farm Bureau finished second and third, respectively.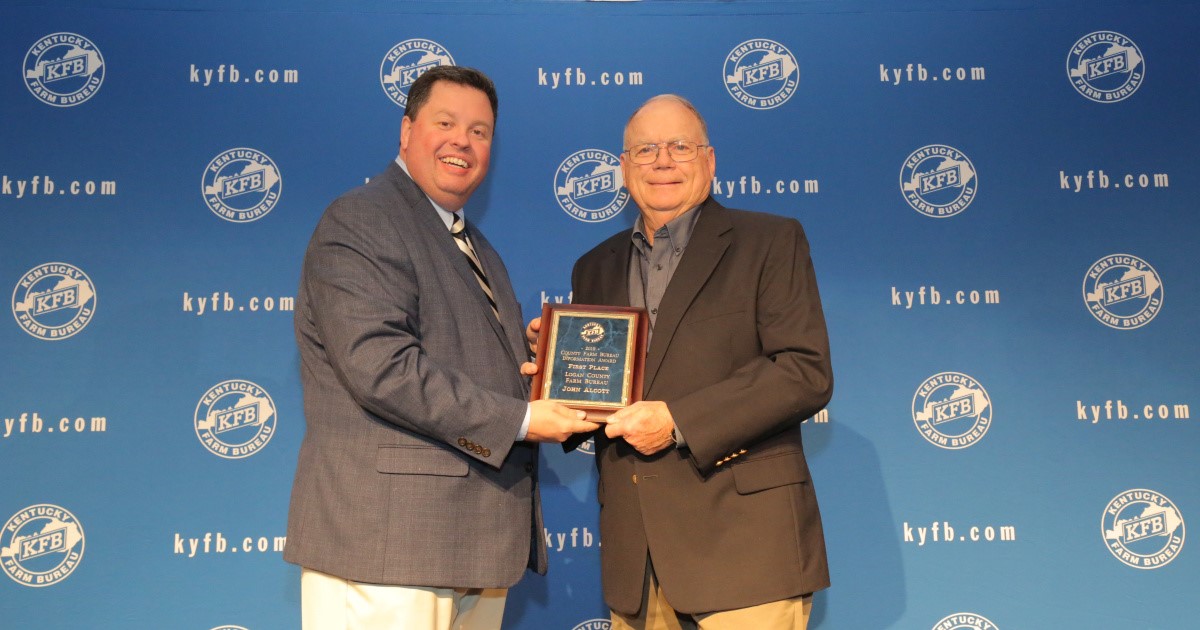 The County Information Awards are presented annually to recognize the best programs for member information and media relations performed at the local level. Criteria for winning entries includes developing a plan for regular communication with the county's membership, securing news stories by local media outlets that emphasize issues important to both Farm Bureau and agriculture, hosting a media appreciation event, keeping website content updated, and promoting community relations programs.
Honorable mentions for the award were given to Farm Bureaus in Allen, Butler, and Harlan Counties for their noteworthy accomplishments in media relations and member information.
Kentucky Farm Bureau, with more than 462,000 member families statewide, is the state's largest general farm organization. Approximately 2,000 members attended KFB's 100th annual meeting in Louisville, December 4 – December 7, to recognize this year's individual and organizational achievements and adopt policy for 2020. To view all the updates released from this year's annual meeting, visit KYFBNewsroom.com.
KFB Spotlight
September 22, 2021

As Kentucky Farm Bureau's Centennial Year came to a close in 2019, the Vision 100 Committee was created at the direction of KFB President Mark Haney. This committee, comprised of KFB volunteer leaders from the local level, as well as staff from both the Federation and the Insurance Company, was convened to help guide strategic planning for the future of the entire organization.
September 19, 2021

Commissioner of Agriculture Dr. Ryan Quarles has proclaimed Sept.19-25 as Farm Safety and Health Week in Kentucky to encourage farmers and farm workers to put their health and safety first at all times. The theme for this year's safety week is "Farm Safety Yields Real Results."
August 30, 2021

From a reversal of the Waters of the U.S. rule to tax related issues, the agriculture industry is standing firm on its policies and priorities as it faces proposals that could affect the industry in adverse ways.