Logan County Farm Bureau wins first place in County Information Awards competition
Logan County Farm Bureau was honored today for its first-place finish in the 2019 Kentucky Farm Bureau (KFB) County Information Awards competition. John Alcott, Information Chair of Logan County Farm Bureau, attended an awards breakfast at the organization's annual meeting in Louisville and was presented with the plaque and cash award given for the variety of effective public relations programs coordinated over the last year.
Daviess County Farm Bureau and Mercer County Farm Bureau finished second and third, respectively.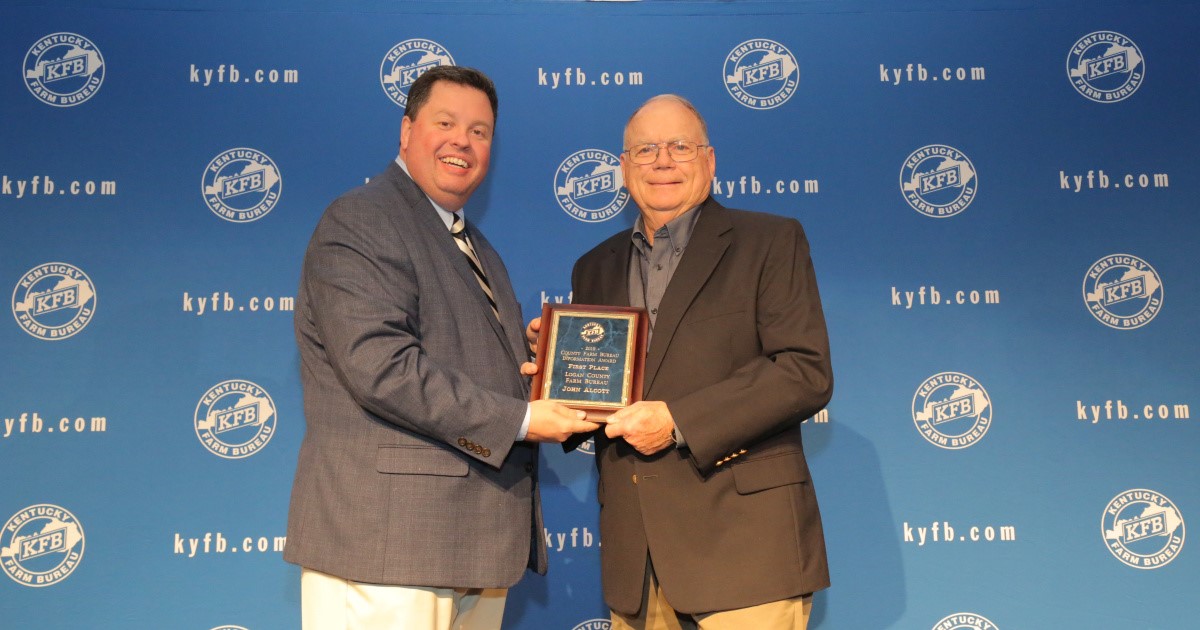 The County Information Awards are presented annually to recognize the best programs for member information and media relations performed at the local level. Criteria for winning entries includes developing a plan for regular communication with the county's membership, securing news stories by local media outlets that emphasize issues important to both Farm Bureau and agriculture, hosting a media appreciation event, keeping website content updated, and promoting community relations programs.
Honorable mentions for the award were given to Farm Bureaus in Allen, Butler, and Harlan Counties for their noteworthy accomplishments in media relations and member information.
Kentucky Farm Bureau, with more than 462,000 member families statewide, is the state's largest general farm organization. Approximately 2,000 members attended KFB's 100th annual meeting in Louisville, December 4 – December 7, to recognize this year's individual and organizational achievements and adopt policy for 2020. To view all the updates released from this year's annual meeting, visit KYFBNewsroom.com.
KFB Spotlight
Statement from Kentucky Farm Bureau President Mark Haney on Defense of Environment and Property Act of 2021

July 29, 2021

"We offer our thanks to Senator Rand Paul for introducing the Defense of Environment and Property Act of 2021 as we look forward to the clarity such legislation would bring to the Waters of the U.S. issue."
July 26, 2021

Three finalists have been named for the 2021 KFB OYFF honor, in recognition of their achievements as part of the farming community. This year's finalists are Jonathan and Jessica Gaskins of Adair County, Mark and Wesley Thomas of Hardin County, and Daniel and Kristan Wright of Jefferson County. The winner will be announced at the Kentucky Farm Bureau Annual Meeting later this year.
July 25, 2021

Effective January 1, 2022, KRS 139.481 requires that farmers have an Agriculture Exemption Number for use on Forms 51A158 and 51A159 to make purchases exempt from sales tax.