Logan County Farm Bureau wins first place in County Information Awards competition
Logan County Farm Bureau was honored today for its first-place finish in the 2019 Kentucky Farm Bureau (KFB) County Information Awards competition. John Alcott, Information Chair of Logan County Farm Bureau, attended an awards breakfast at the organization's annual meeting in Louisville and was presented with the plaque and cash award given for the variety of effective public relations programs coordinated over the last year.
Daviess County Farm Bureau and Mercer County Farm Bureau finished second and third, respectively.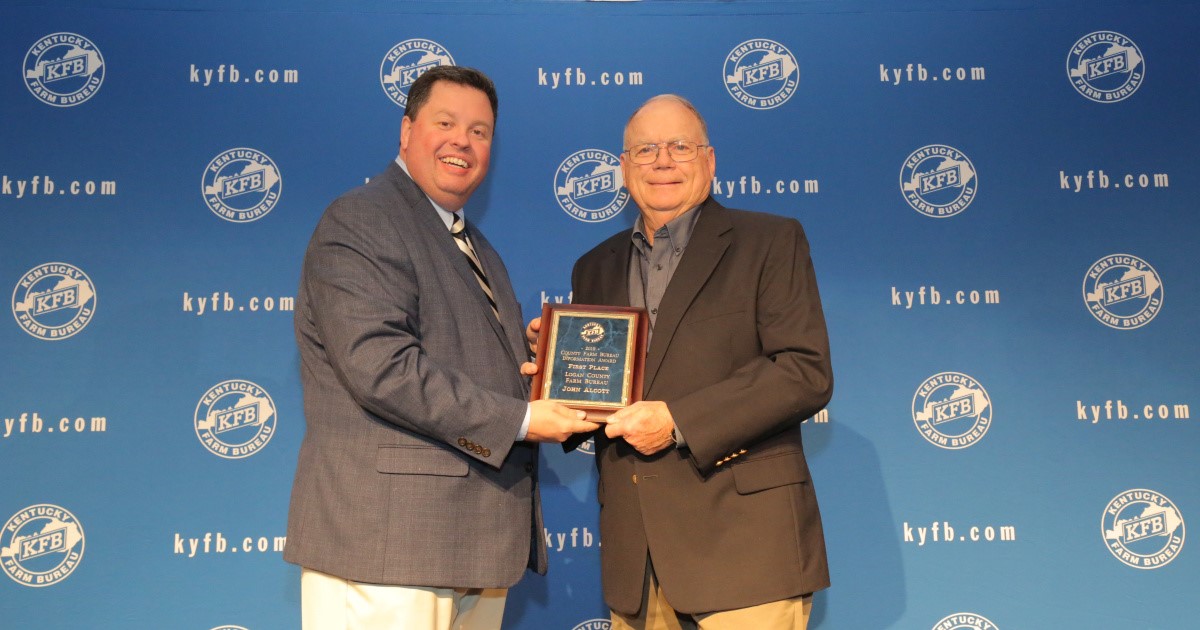 The County Information Awards are presented annually to recognize the best programs for member information and media relations performed at the local level. Criteria for winning entries includes developing a plan for regular communication with the county's membership, securing news stories by local media outlets that emphasize issues important to both Farm Bureau and agriculture, hosting a media appreciation event, keeping website content updated, and promoting community relations programs.
Honorable mentions for the award were given to Farm Bureaus in Allen, Butler, and Harlan Counties for their noteworthy accomplishments in media relations and member information.
Kentucky Farm Bureau, with more than 462,000 member families statewide, is the state's largest general farm organization. Approximately 2,000 members attended KFB's 100th annual meeting in Louisville, December 4 – December 7, to recognize this year's individual and organizational achievements and adopt policy for 2020. To view all the updates released from this year's annual meeting, visit KYFBNewsroom.com.
KFB Spotlight
January 20, 2021

Kentucky Farm Bureau (KFB) has released the names of individuals elected to lead its new initiative, Generation Bridge. Amanda Gajdzik of Shelby County has been elected chair, Tammy White of Union County is vice chair, and Sarah Beth Guffey from Clinton County is secretary of this newly formed committee.
January 18, 2021

Agriculture Commissioner Dr. Ryan Quarles invites Kentucky's youth to participate in the Kentucky Pollinator Stakeholders Art Contest. The contest is designed to educate the public on the benefits of pollinators and encourage behaviors that promote pollinator habitats across Kentucky.
January 13, 2021

Caleb and Leanne Ragland of LaRue County won a top honor during the American Farm Bureau Federation (AFBF) virtual convention today, being named winners of the Young Farmers & Ranchers "Achievement Award."