Logan County Farm Bureau Members Meet with Elected Officials in Frankfort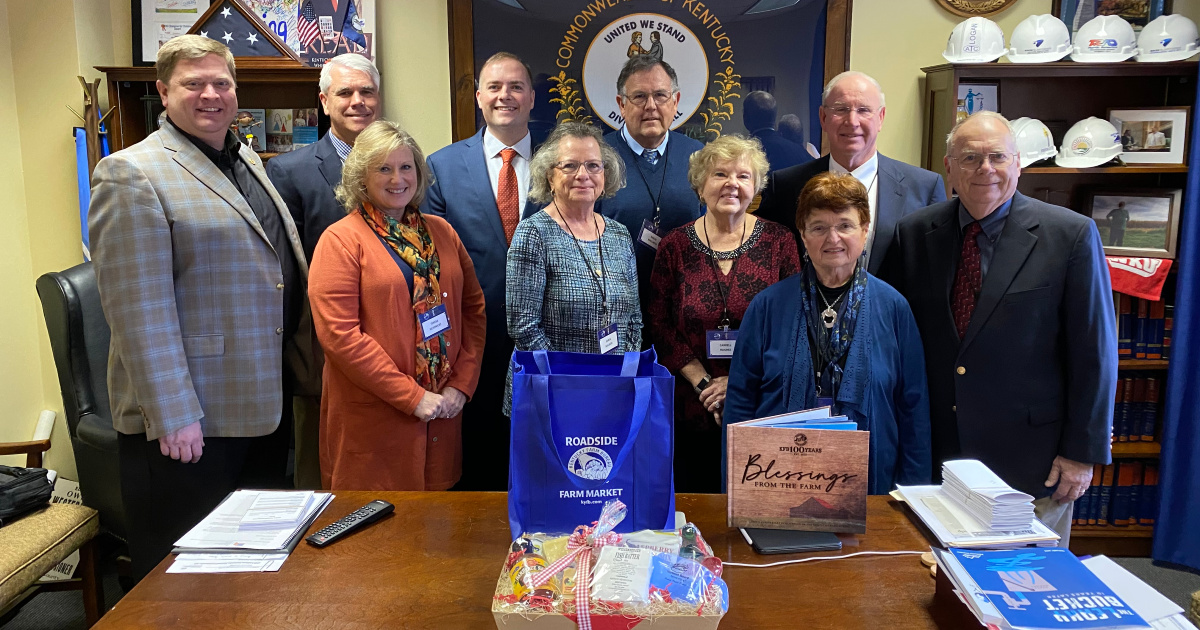 Logan County Farm Bureau members attended the Kentucky Farm Bureau Legislative Drive-In February 5 in Frankfort. This event allowed county Farm Bureau leaders from across the state to meet with state senators and representatives at the state capitol. Legislators were presented a basket of Kentucky grown agricultural products to celebrate the safest most affordable food in the world.
The Logan County delegation met with State Senator Whitney Westerfield and State Representative Jason Petrie in Senator Westerfield's office. Issues of general interest of those present were discussed as well as the policies of Kentucky Farm Bureau. Several pending Senate and House bills were reviewed. Two main issues were discussed: sale tax exemption for over-the-counter drugs for farm animals (SB 117: D. Givens) and internet broadband deployment for "underserved and unserved areas" (HB 362:P.Pratt).
In addition to being well received by our state legislators, the Logan County delegation enjoyed touring the Kentucky State Capitol Building which ranks as one of the top state capitol buildings in the nation.
KFB Spotlight
November 21, 2022

Katie Cecil of Daviess County, a second-generation farmer at Cecil Farms, was named the 2022 Kentucky Farm Bureau (KFB) Generation Bridge Advocate of the Year.
November 14, 2022

The Kentucky Farm Bureau Young Farmer Gold Star award honors a county's Young Farmer Committee for its active participation in Farm Bureau leadership development programs, state competitions, and educational or promotional initiatives.
November 3, 2022

As the harvest season in Kentucky winds down, I understand the challenges many of you have faced, especially our state's corn producers. I have heard yield numbers anywhere from 32 bushels per acre where the drought came at the worst possible time during the growing season, to nearly 200 bushels in spots where the rains were adequate.