Logan County Farm Bureau Members Meet with Elected Officials in Frankfort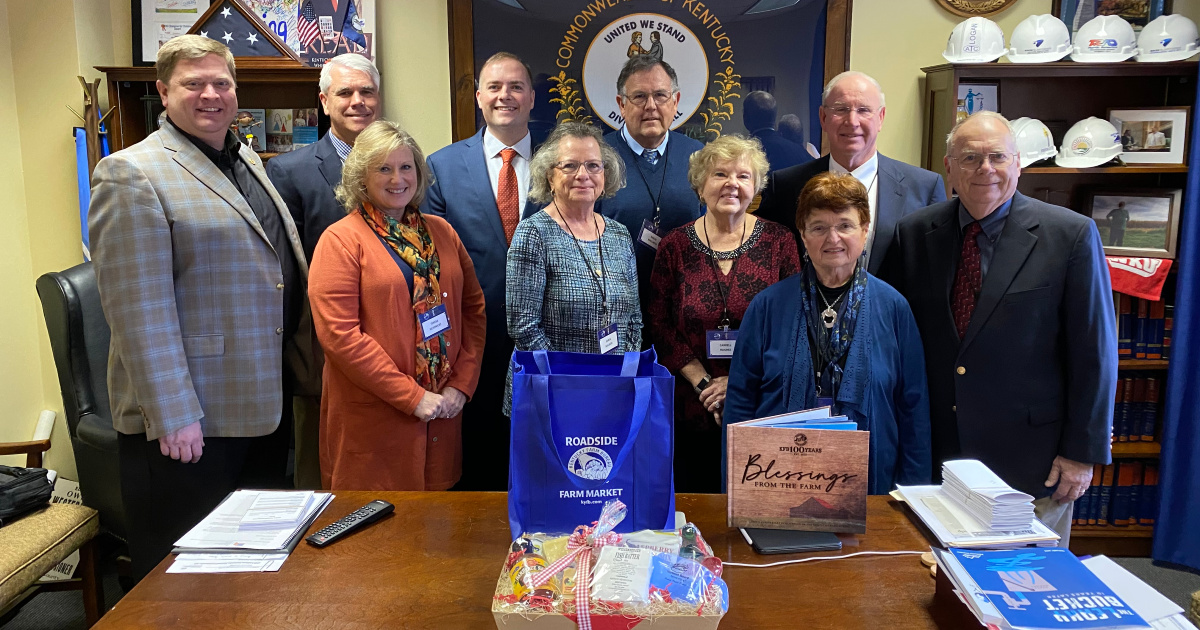 Logan County Farm Bureau members attended the Kentucky Farm Bureau Legislative Drive-In February 5 in Frankfort. This event allowed county Farm Bureau leaders from across the state to meet with state senators and representatives at the state capitol. Legislators were presented a basket of Kentucky grown agricultural products to celebrate the safest most affordable food in the world.
The Logan County delegation met with State Senator Whitney Westerfield and State Representative Jason Petrie in Senator Westerfield's office. Issues of general interest of those present were discussed as well as the policies of Kentucky Farm Bureau. Several pending Senate and House bills were reviewed. Two main issues were discussed: sale tax exemption for over-the-counter drugs for farm animals (SB 117: D. Givens) and internet broadband deployment for "underserved and unserved areas" (HB 362:P.Pratt).
In addition to being well received by our state legislators, the Logan County delegation enjoyed touring the Kentucky State Capitol Building which ranks as one of the top state capitol buildings in the nation.
KFB Spotlight
August 12, 2022

Anyone who has ever planted that first seed of a crop knows, as dedicated farm families, we are always at the mercy of Mother Nature.
August 12, 2022

Whether it is the use of GPS to map fields or check soil conditions, the advanced yield monitoring equipment that tells us valuable crop yield information in real-time, or even the weather radar access we have to watch changing conditions directly from the field.
August 10, 2022

I have tried to be an optimistic person most of my life even when challenging times are present and the world seems to be disconnected.