Logan County Farm Bureau Members Meet with Elected Officials in Frankfort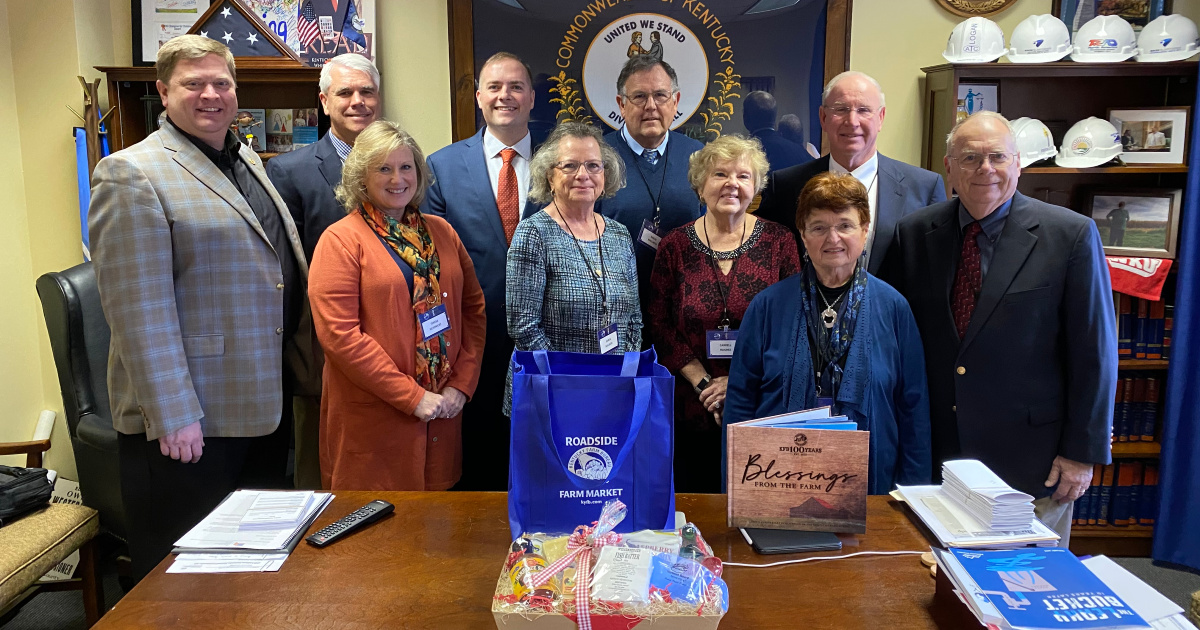 Logan County Farm Bureau members attended the Kentucky Farm Bureau Legislative Drive-In February 5 in Frankfort. This event allowed county Farm Bureau leaders from across the state to meet with state senators and representatives at the state capitol. Legislators were presented a basket of Kentucky grown agricultural products to celebrate the safest most affordable food in the world.
The Logan County delegation met with State Senator Whitney Westerfield and State Representative Jason Petrie in Senator Westerfield's office. Issues of general interest of those present were discussed as well as the policies of Kentucky Farm Bureau. Several pending Senate and House bills were reviewed. Two main issues were discussed: sale tax exemption for over-the-counter drugs for farm animals (SB 117: D. Givens) and internet broadband deployment for "underserved and unserved areas" (HB 362:P.Pratt).
In addition to being well received by our state legislators, the Logan County delegation enjoyed touring the Kentucky State Capitol Building which ranks as one of the top state capitol buildings in the nation.
KFB Spotlight
February 16, 2021

The backbone of Kentucky's agriculture industry is the existence of family-owned production farms and supporting businesses located in every region of the state. Often small operations, these entities make up the majority of the ag industry in the Commonwealth, therefore representing a significant portion of the state's overall economic development structure.
February 5, 2021

One of the greatest honors of serving as Commissioner of Agriculture is the opportunity to travel around the state, put the tailgate down on a farm truck, and have a conversation with a farmer about how the year looks.
January 29, 2021

When income flows directly from consumers to farmers, everyone benefits. Consumers have access to the freshest food, farmers can ask a premium price for their product because there is no middle-man, and local economies benefit in the form of jobs and local purchases. For farmers who are thinking about this for the first time or have been doing direct sales for years, the Agriculture Direct Marketing Summit, Feb. 16-18, offers tips to improve the direct sales process.