Logan County Farm Bureau hosted its 2019 Annual Meeting
Logan County Farm Bureau held its annual meeting Saturday, September 7, at the Logan County Extension Office with approximately 195 in attendance. Upon arrival FB members saw a beautifully blue restored 1919 Model T Ford Pickup at the front door, chosen to commemorate Kentucky Farm Bureau's 100 anniversary this year. Logan County FFA prepared and served a grilled steak sandwich dinner. Following the invocation by Russell Poore, the Pledge of Allegiance was led by Logan County FFA President Hayley Hallman.
Logan County Farm Bureau President Jay Campbell presided over the meeting. Russell Poore introduced special guests, including Logan County Judge Executive Logan Chick; Circuit Court Clerk Mary Jo Orange; Logan County Attorney Joe Ross; Logan County Clerk Scottie Harper; District Judge Ken Williams; Kentucky Farm Bureau 2nd Vice President Sharon Furches; KFB Women's Chair Vickie Bryant; KFB State Director and Barren County Farm Bureau President Jay Coleman; KFB State Director and Green County Farm Bureau President Larry Clark; Monroe County Farm Bureau President Scott Davis and Dwight Greenwell who brought the KYFB 1919 Model T Ford to the annual meeting.
Jay Campbell introduced the 2019 Leadership in AG and Logan County Farm Bureau Scholarship winners Rachel Taylor and Jenna Robertson.
The 2019 Outstanding Youth and Variety Show judges were Cynthia Rowland, Frank Rowland and James Bailey from Barren County.
Farm Bureau Area 4 Program Director, Joe Rogan introduced the Outstanding Youth contestants and the Variety Show contestants. The female Outstanding Youth winner was Ashlyn Tracy and the 1st runner up was Lindsey Brinkley. The male winner was Crandal Barrow and the 1st runner up was Noah Rust. The Variety Show winner was Carson Kash. The 1st and 2nd runners up were Madeline Reno and Lindsey Brinkley.
Thomas Poole introduced the 2019 Institute For Agriculture Leadership (IFAL) participant Ethan Robey who gave a report on this year's program.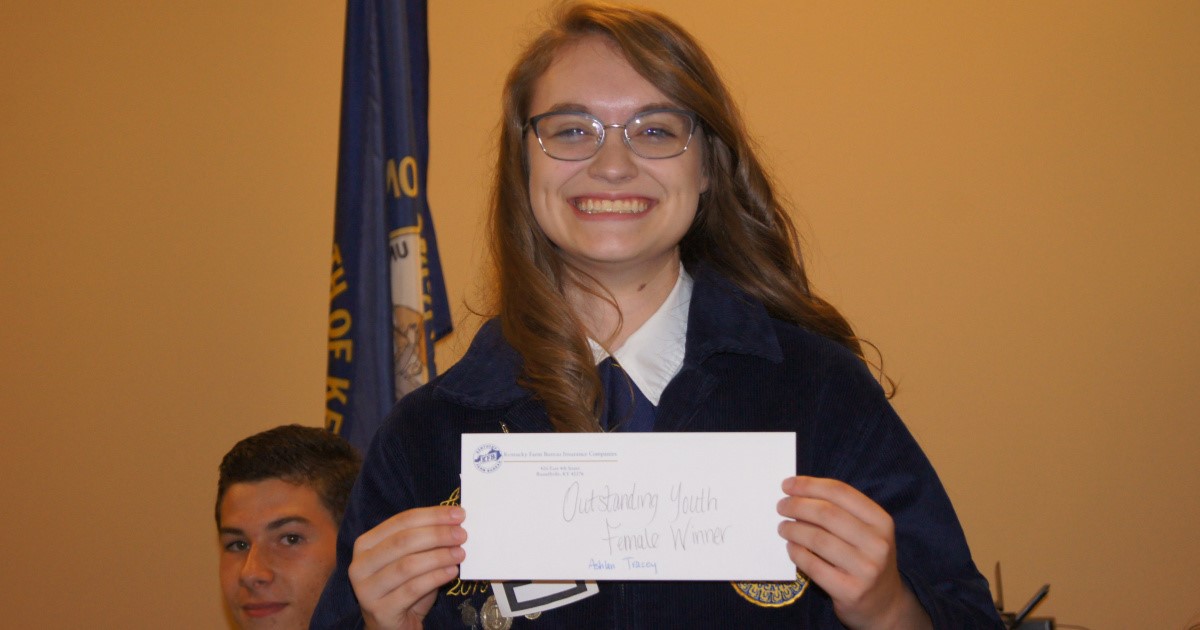 The following resolutions were approved to be submitted to KFB for policy development:
We support writing specific policy on Hemp production and adding this commodity to KYFB policy.
We support the current legislation on labeling meat and meat products in the grocery store. Cell based meat must be labeled as "Cell Based Meat".
We support the protection of farmers on agriculture commodity pricing during the tariff negotiations with our trading partners.
We support the State Young Farmer Education Program and the UK Extension Education Program to assist beginning farmers.
The following resolution was approved to be submitted to the American Farm Bureau for policy development:
We support the American Farm Bureau effort to assist in preventing opioid abuse and mental health/wellness.
Frances Brown presented the Nominating Committee Report. The following officers were elected for 2020: President, Doug Milliken; 1st Vice President, Frances Brown; 2nd Vice President, Grant Hildabrand; Treasurer, Albert Brown; Women's Chairman, Jennifer Ferris; Women's Co-Chairman, Karen Milliken; Young Farmer's Chairman, Wesley Estes.
Directors elected for a two year term were: Bobby Dawson, Richard Moore, Gary Jenkins, Jennifer Ferris, Daniel Johnson, Grant Hildabrand, Dwight Grise, Russell Poore, Daniel Gaston, Doug Milliken, Wesley Estes, Karen Milliken and Morgan Hunt.
One new director was elected for a two year term: Gary Hendricks. The Logan County FFA President, Hayley Hallman, was elected for a one year term.
Directors with one year left to serve are: John Alcott, Frances Brown, Ray Hughes, Carrell Hughes, Albert Brown, Patsy Poore, Thomas Poole, Jerry Hughes, Jeremy Robertson, Tabitha Robertson, Jay Campbell and Paul Gripshover.
Jay Campbell presented Chris Robey and Bradley Brown with a Distinguished Service to Agriculture award. He also presented Mike Baugh and John Alcott with a Distinguished Service to Logan County Farm Bureau award. Jay awarded Adam Wright the Young Farmer Family award. The 2019 Farm of The Year award went to Wright Farms: Joe Bailey and Bobbye Wright, Barry and Carol Ann Wright and Adam and Sarah Wright.
The 1919 restored Model T Ford Pickup is scheduled to appear in the Logan County Tobacco & Heritage Festival parade Sat. Oct. 12th. The equipment farmers use in production agriculture has come a long way since 1919.
The FB Scholarship fund received $404. in donations for next year's scholarships.
The KYFB State Annual Meeting will be held at the Galt House in Louisville Dec. 3rd-7th, 2019.
KFB Spotlight
December 3, 2022

Pulaski County farmer Mark Haney was re-elected Kentucky Farm Bureau President on the concluding day of the organization's 103rd annual meeting. Also re-elected were Webster County's Eddie Melton as First Vice President and Sharon Furches of Calloway County as Second Vice President.
December 2, 2022

Jenna Coles of Logan County and Matthew Estes of Barren County were awarded top honors in the Kentucky Farm Bureau 2022 Outstanding Farm Bureau Youth contest.
December 2, 2022

Ben Prevette of Hopkins County won first place in the final round of Kentucky Farm Bureau's (KFB) Discussion Meet, a debate-styled competition for young farmers that relies on an individual's skill in reasoning and logical discussion of issues.