Logan County Farm Bureau and FFA Celebrate Food Check-Out Day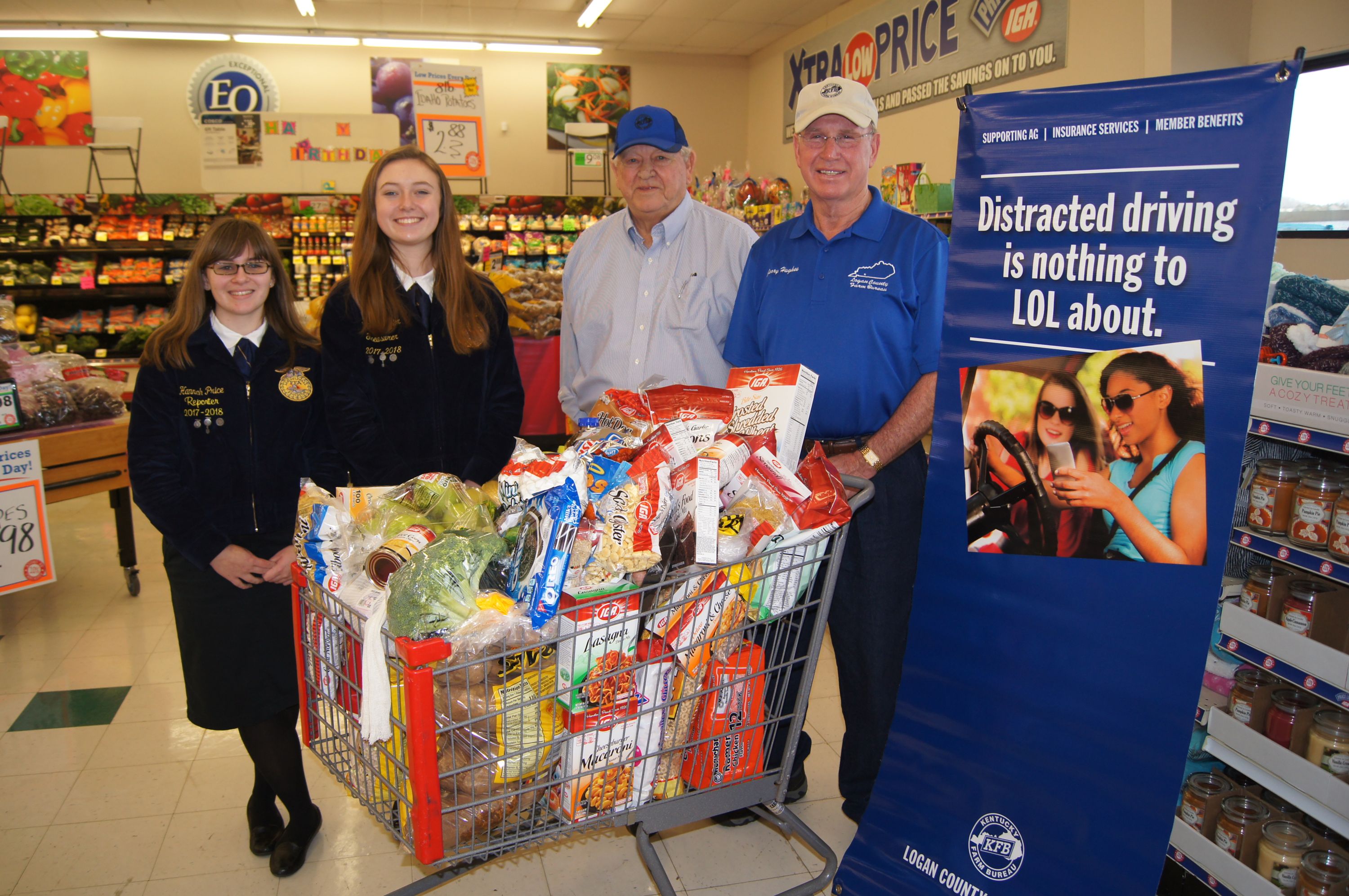 The Logan County Farm Bureau Federation, with assistance from members of the Logan County FFA Chapter, conducted a "Food Check-out Day" on Feb 23rd at the Russellville Priceless IGA grocery store and the Lewisburg Hometown IGA grocery store. At each location, participants guessed the value of a typical basket of groceries. A $50 first place prize and $25 second place prize of a gift certificate for groceries were given to the winners at both locations.
Farm Bureau members Russell Poore and Jerry Hughes worked at the Priceless IGA location. They were assisted by Logan County FFA officers Hanna Price 2018-19 secretary and Rachel Taylor 2018-19 vice president. Brandon McGhee won first place and Jo Ann Swears won second place.
The Food Check-out at the Lewisburg Hometown IGA was staffed by Farm Bureau members Gary Jenkins and Tina Dawson. They were assisted by Logan County FFA officers Zach Milam 2018-19 president and Jessalyn Robey 2017-18 president. The first place winner was Zack Johnson and Barbara Benton won second place.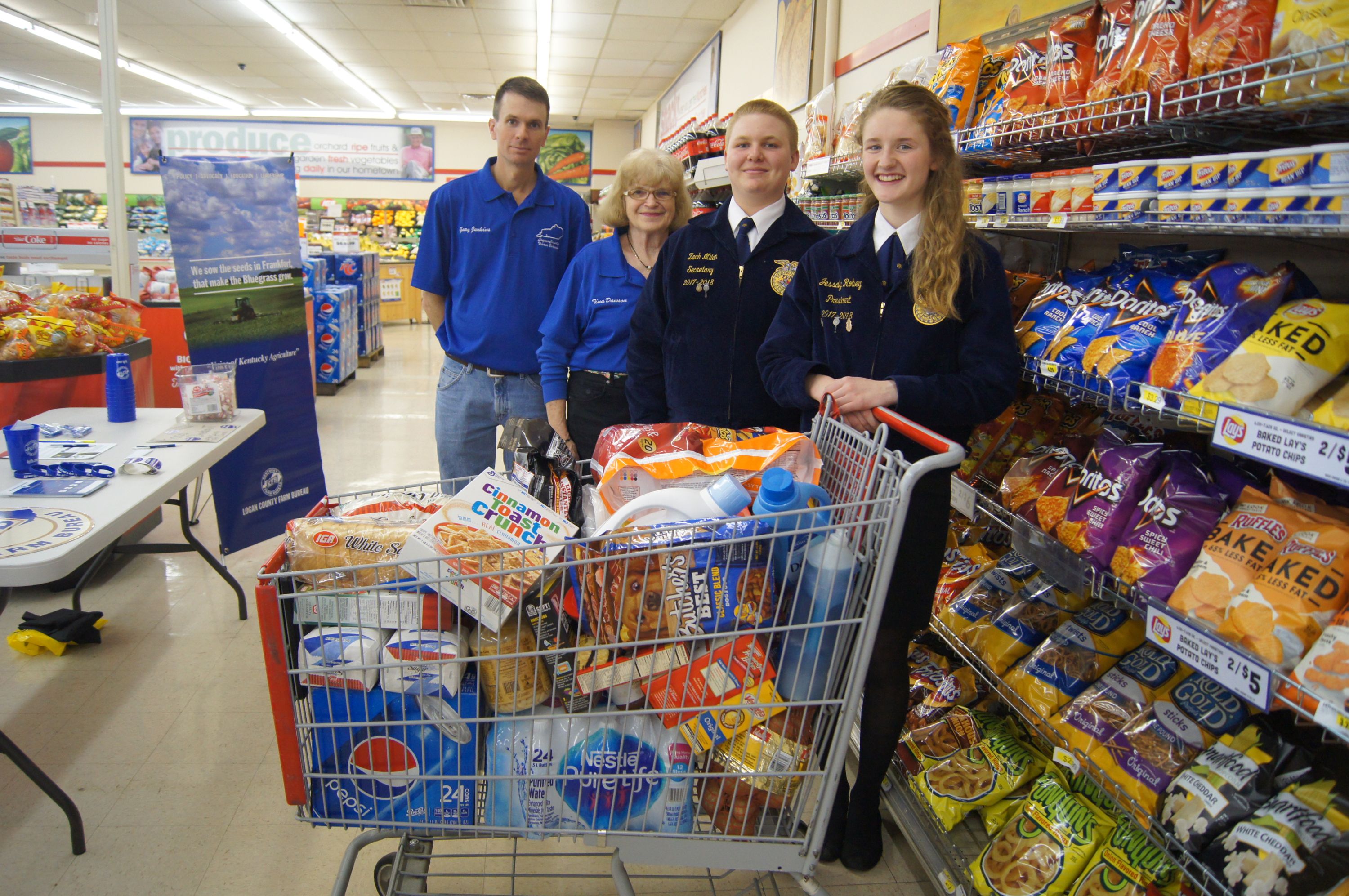 Shoppers in the U.S. spend only about 7% of their disposable income on food each year. Those costs remain far lower than any other country in the world thanks to many of the agricultural efficiencies utilized in America. Today the average U.S. farmer produces enough food and fiber to provide for about 154 people – a significant jump from the average of 19 people per farmer back in 1940.
These food check-out events were conducted to give recognition to the American farmers for providing us with affordable food. As a result of the hard work of our farmers, we have more money to spend on other things which boosts our economy and quality of life.
KFB Spotlight
November 7, 2018

Three finalists have been named for the 2018 Kentucky Farm Bureau OYFF honor, in recognition of their achievements as part of the farming community. The finalists are Nicholas and Bethany Hardesty of Meade County, Wesley and Alicia Logsdon of Pulaski County, and Drew and Liz White of Union County. The winner will be announced at the Kentucky Farm Bureau Annual Meeting at the end of November.
November 7, 2018

Kentucky Farm Bureau (KFB) leaders and commodity executives from across the state gathered for a legislative preview meeting on November 7, 2018 at the KFB headquarters in Louisville, Kentucky. The group of more than 30 individuals representing agriculture commodity groups came together to discuss several ag-related topics and the many legislative needs and concerns of farmers and rural communities throughout the Commonwealth.
October 18, 2018

Large parts of the South were devastated by the wind, rain and floods of Hurricanes Florence and Michael. Learn more about how you can help farmers in need.