Logan County Farm Bureau and FFA Celebrate Food Check-Out Day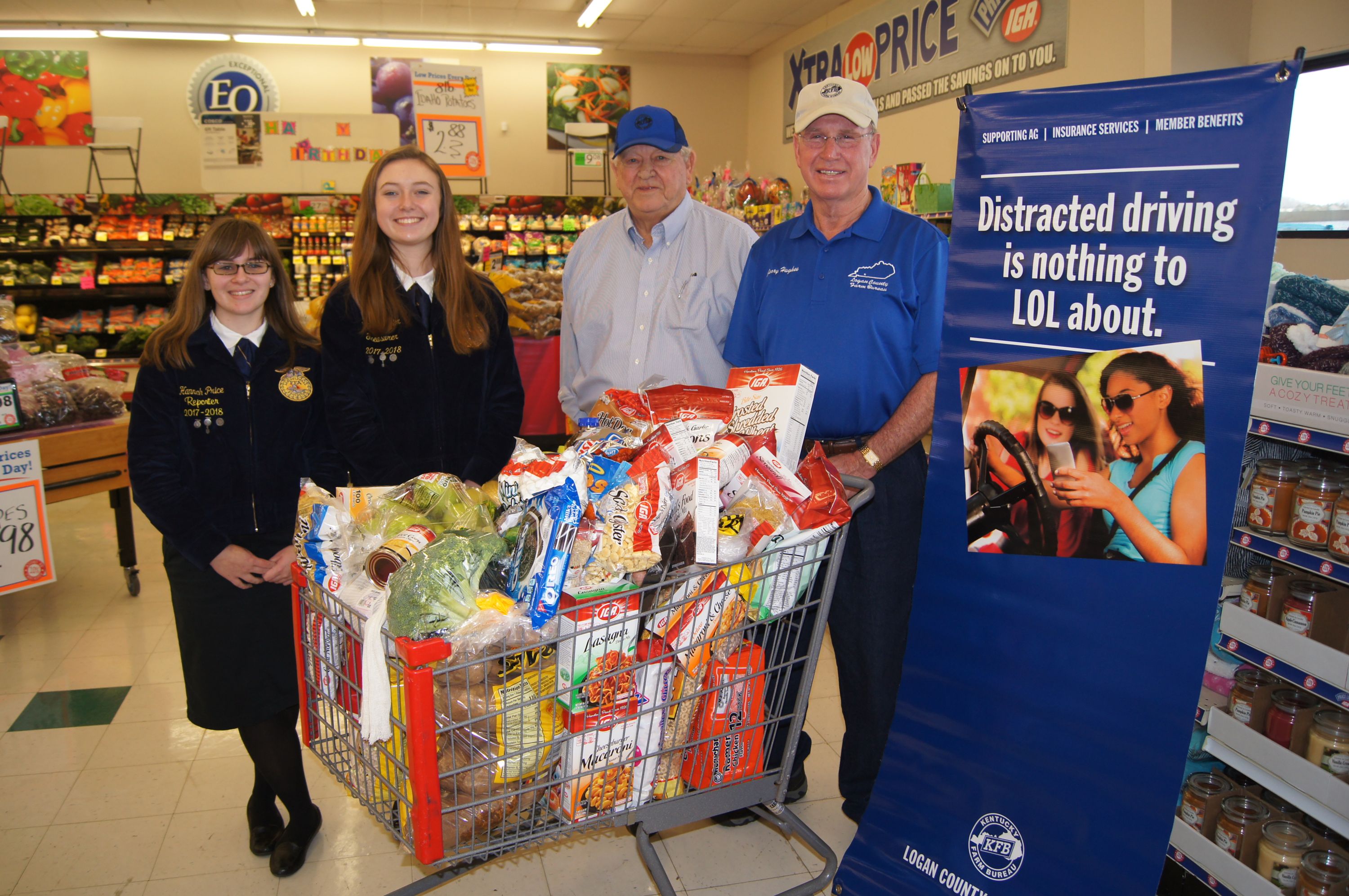 The Logan County Farm Bureau Federation, with assistance from members of the Logan County FFA Chapter, conducted a "Food Check-out Day" on Feb 23rd at the Russellville Priceless IGA grocery store and the Lewisburg Hometown IGA grocery store. At each location, participants guessed the value of a typical basket of groceries. A $50 first place prize and $25 second place prize of a gift certificate for groceries were given to the winners at both locations.
Farm Bureau members Russell Poore and Jerry Hughes worked at the Priceless IGA location. They were assisted by Logan County FFA officers Hanna Price 2018-19 secretary and Rachel Taylor 2018-19 vice president. Brandon McGhee won first place and Jo Ann Swears won second place.
The Food Check-out at the Lewisburg Hometown IGA was staffed by Farm Bureau members Gary Jenkins and Tina Dawson. They were assisted by Logan County FFA officers Zach Milam 2018-19 president and Jessalyn Robey 2017-18 president. The first place winner was Zack Johnson and Barbara Benton won second place.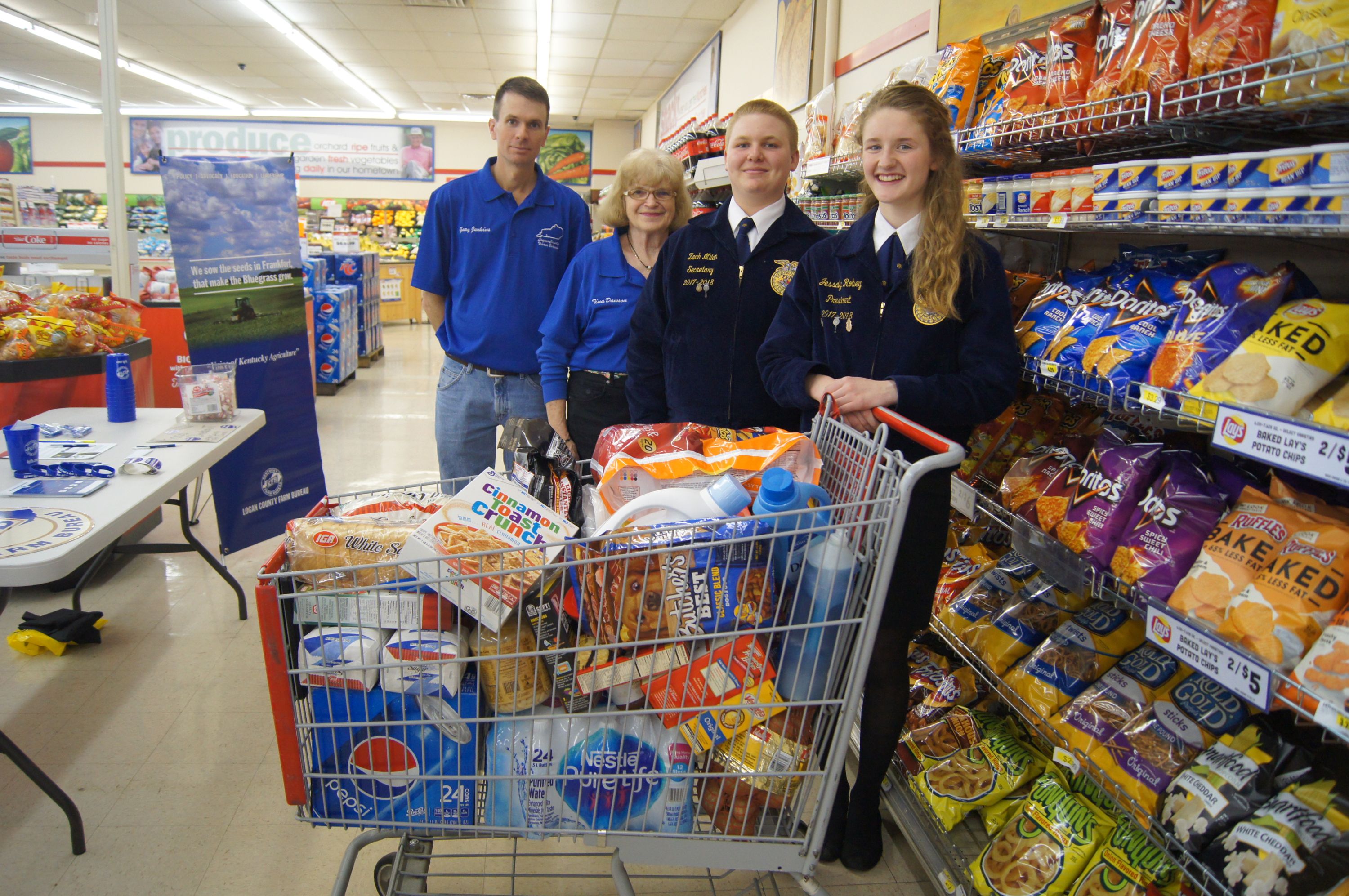 Shoppers in the U.S. spend only about 7% of their disposable income on food each year. Those costs remain far lower than any other country in the world thanks to many of the agricultural efficiencies utilized in America. Today the average U.S. farmer produces enough food and fiber to provide for about 154 people – a significant jump from the average of 19 people per farmer back in 1940.
These food check-out events were conducted to give recognition to the American farmers for providing us with affordable food. As a result of the hard work of our farmers, we have more money to spend on other things which boosts our economy and quality of life.
KFB Spotlight
May 12, 2020

Agriculture Commissioner Dr. Ryan Quarles has announced Feeding Kentucky has purchased 10,080 pounds of Kentucky Proud pork sausage from the iconic Purnell's "Old Folks" headquartered in Simpsonville, Kentucky. The purchase is funded by a historic donation from Kentucky Farm Bureau Mutual Insurance Company to Feeding Kentucky as part of the Kentucky Hunger Initiative last month.
May 6, 2020

KFB Candid Conversation presents discussions about issues facing the agricultural industry and rural communities in a question and answer format. In this column, UK Associate Extension Pofessor Kenny Burdine discusses the current state of the cattle industry and his role on a national team which came together to discuss the impact of COVID-19 on the sector.
May 6, 2020

It is no secret that tobacco production has been on the decline for several years and for a number of reasons, including waning consumer use of tobacco products. As more and more tobacco users turn away from its usage, one Kentucky company is looking at this very traditional crop for use in a very non-traditional way – as a possible means to combat the COVID-19 virus.