Hendricks Farms awarded Farm of the Year Award
Logan County Farm Bureau President Jay Campbell presented Hendricks Farms, the Farm of the Year Award for outstanding work in agriculture and conservation.
Young Farmer of Excellence awards for 2018 were presented to Jason Hendricks, Adam Hendricks and Harry Hendricks. Hendricks farms primarily raise corn, wheat and soybeans. These awards were presented at the November board meeting of the Logan County Farm Bureau Federation.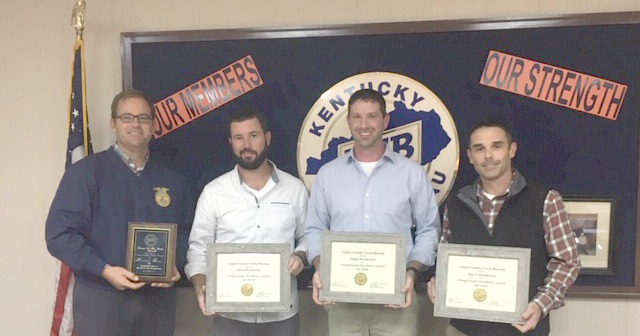 KFB Spotlight
Zach Heibert of Hardin County Named 2022 Kentucky Farm Bureau Excellence in Agriculture Award Recipient

September 29, 2022

Kentucky Farm Bureau (KFB) announced today that Zach Heibert of Hardin County is the 2022 KFB Excellence in Agriculture award recipient.
August 25, 2022

The 58th Kentucky Farm Bureau (KFB) Country Ham Breakfast brought in an impressive $5 million for charity organizations.
August 12, 2022

Anyone who has ever planted that first seed of a crop knows, as dedicated farm families, we are always at the mercy of Mother Nature.