Hendricks Farms awarded Farm of the Year Award
Logan County Farm Bureau President Jay Campbell presented Hendricks Farms, the Farm of the Year Award for outstanding work in agriculture and conservation.
Young Farmer of Excellence awards for 2018 were presented to Jason Hendricks, Adam Hendricks and Harry Hendricks. Hendricks farms primarily raise corn, wheat and soybeans. These awards were presented at the November board meeting of the Logan County Farm Bureau Federation.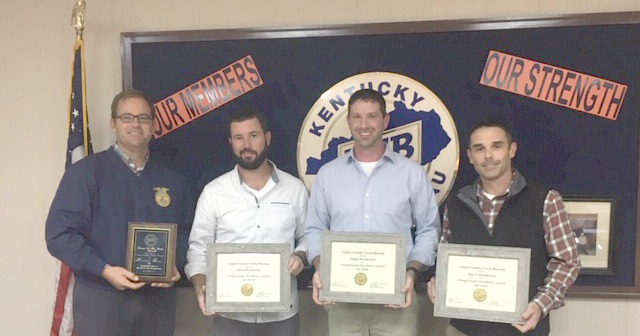 KFB Spotlight
December 13, 2018

Kentucky is 'home to more than 75,000 farms. They produce everything from soybeans and poultry to horses and corn. Those families are looking to us for help and stability. And when President Trump signs our Farm Bill into law, more stability is just what they will get.'
December 13, 2018

December 12, 2018 - Today the House of Representatives passed a five-year Farm Bill. Congressman Comer, along with 368 other congressional colleagues, voted in support of the bill. The Agriculture Improvement Act (H.R. 2) includes many incremental wins for rural America. It fully protects crop insurance, makes significant improvements to rural broadband, and implements key changes to the Supplemental Nutrition Assistance Program (SNAP).
December 12, 2018

I can't tell you how pleased I am we have passage of the 2018 Farm Bill. As I have said before, this bill is the single most important piece of legislation connected to agriculture we have, and with its passage comes the certainty farm families need to move forward with their operations, in a very challenging ag economy.