Firefighters Train on How to Extract a Victim Trapped in a Grain Bin Using the Turtle Tube Rescue Sleeve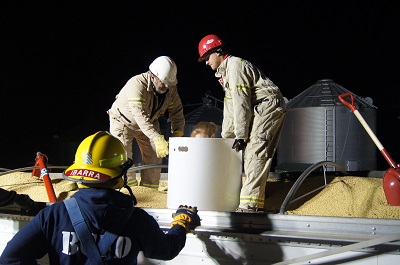 The Lewisburg Rural Fire Department hosted a fire fighting training exercise at Lonny Epley's farm near Lewisburg. Firefighters trained on how to extricate a victim trapped in a grain bin using a Turtle Tube Rescue Sleeve designed for this purpose. This was a joint training exercise involving over fifty firefighters from Logan County and surrounding areas. The Logan County Farm Bureau Federation donated the rescue sleeve to the Lewisburg Rural Fire Department for use by surrounding fire departments when and if needed. It will be located at the Epley Station Fire Substation. The Olmstead Fire department has a similar device called a Resque Tube. Dale Dobson, Safety Administrator from the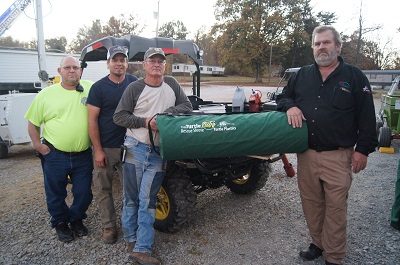 Kentucky Department of Agriculture conducted a training exercise with the firefighters concerning the unique difficulty of how to extract a victim trapped in a grain bin in loose grain. Dobson demonstrated techniques and necessary equipment that is needed to complete the task without further injuring the victim. The firefighters took turns working in loose soybeans with a simulated rescue in a grain truck in order that all could see how it is done.
Reliance AG, Hopkinsville Elevator and the Logan County Cattlemen's club which grilled ribeye steak sandwiches for the participants, helped sponsor this event. The following fire departments and organizations were involved with this training exercise: Lewisburg Rural Fire Department, Lewisburg City Fire Department, Adairville Fire Department, Olmstead Fire Department, Russellville City Fire Department, Russellville Rural Fire Department, Auburn City Fire Department, Butler County Second District Fire Department, Bowling Green City Fire Department, Logan County Search and Rescue and a PHI Life Flight Helicopter from Greenville. This was a good event with over seventy people in attendance.
KFB Spotlight
Stress on the Farm and in Rural America: Acknowledging its existence can be a good first step in combating this issue

June 25, 2019

As much as farm families love what they do, there is a tremendous amount of stress that can come along with any farming operation, big or small; in good economic times or financial downturns.
June 25, 2019

The Merriam-Webster dictionary defines the word "entrepreneur" as being, "one who organizes, manages, and assumes the risks of a business or enterprise." With that said, the likely image of an entrepreneur is not necessarily that of a teenager. However, Ben Williams and Taylor Cook did not get that memo. In fact, these two teens have been thinking about running a business of their own for quite some time.
May 17, 2019

In addition to being resourceful, hard-working and persistent, our nation's farmers have been very patient. We have endured continued drops in net farm income, a host of natural disasters, and some of the most volatile commodity markets experienced in decades.