Firefighters Train on How to Extract a Victim Trapped in a Grain Bin Using the Turtle Tube Rescue Sleeve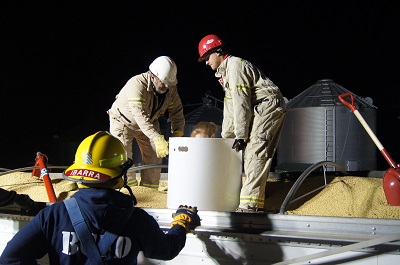 The Lewisburg Rural Fire Department hosted a fire fighting training exercise at Lonny Epley's farm near Lewisburg. Firefighters trained on how to extricate a victim trapped in a grain bin using a Turtle Tube Rescue Sleeve designed for this purpose. This was a joint training exercise involving over fifty firefighters from Logan County and surrounding areas. The Logan County Farm Bureau Federation donated the rescue sleeve to the Lewisburg Rural Fire Department for use by surrounding fire departments when and if needed. It will be located at the Epley Station Fire Substation. The Olmstead Fire department has a similar device called a Resque Tube. Dale Dobson, Safety Administrator from the Kentucky Department of Agriculture conducted a training exercise with the firefighters concerning the unique difficulty of how to extract a victim trapped in a grain bin in loose grain. Dobson demonstrated techniques and necessary equipment that is needed to complete the task without further injuring the victim. The firefighters took turns working in loose soybeans with a simulated rescue in a grain truck in order that all could see how it is done.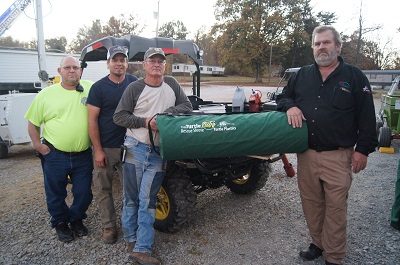 Reliance AG, Hopkinsville Elevator and the Logan County Cattlemen's club which grilled ribeye steak sandwiches for the participants, helped sponsor this event. The following fire departments and organizations were involved with this training exercise: Lewisburg Rural Fire Department, Lewisburg City Fire Department, Adairville Fire Department, Olmstead Fire Department, Russellville City Fire Department, Russellville Rural Fire Department, Auburn City Fire Department, Butler County Second District Fire Department, Bowling Green City Fire Department, Logan County Search and Rescue and a PHI Life Flight Helicopter from Greenville. This was a good event with over seventy people in attendance.
KFB Spotlight
November 19, 2018

There is something that can be said about tradition when it comes to farming. Danny Cunningham, the 2018 Kentucky Farm Bureau Farmer of the Year knows all about that kind of tradition. He lives about a half a mile from where he was born and raised, in the small Calloway County community of Penny. There he began his farming experience that continues today.
November 15, 2018

The American Farm Bureau Federation's 33rd annual survey of classic items found on the Thanksgiving Day dinner table indicates the average cost of this year's feast for 10 is $48.90, or less than $5.00 per person. This is a 22-cent decrease from last year's average of $49.12.

"Since 2015, the average cost of Thanksgiving dinner has declined steadily and is now at the lowest level since 2010," said AFBF Chief Economist Dr. John Newton.
November 7, 2018

Three finalists have been named for the 2018 Kentucky Farm Bureau OYFF honor, in recognition of their achievements as part of the farming community. The finalists are Nicholas and Bethany Hardesty of Meade County, Wesley and Alicia Logsdon of Pulaski County, and Drew and Liz White of Union County. The winner will be announced at the Kentucky Farm Bureau Annual Meeting at the end of November.