2016 Food Checkout Day in Logan County
Retail food prices in Kentucky dropped 7.5% in 2015 according to the most recent Kentucky Farm Bureau Marketbasket Survey. The survey is taken quarterly and denotes the average total cost of 40 basic grocery items.
While economists are slow to credit lower food prices with lower commodity prices, KFB Commodity Division Director Joe Cain said it is conceivable to think the two are connected.
"Just as we have seen the decline in oil prices bring prices down at the gas pump, at some point lower commodity prices should show up at the grocery store," he said. "That's good news for consumers but unfortunately that means our farmers are seeing lower revenues."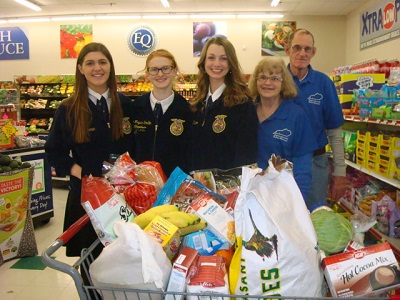 February 19th was a day to honor farmers for providing us with the most affordable food in the world. The average American earns enough income to pay for their annual food supply in about seven weeks. By comparison, the average American works until around mid-April to pay for their annual taxes.
U.S. consumers spend about 10% of their disposable income on food. This compares to 14% for Japan, 32% for China and 41% of disposable income for the consumers of Kenya.
The Logan County Farm Bureau Federation with assistance from members of the Logan County FFA Chapter conducted a "Food Check-out Day" Feb 19th at the Russellville Priceless IGA and the Russellville Piggly Wiggly grocery stores. At each location participants guessed the value of a typical basket of groceries. A $50 first place prize and $25 second place prize of a gift certificate for groceries were given to the winners at both locations.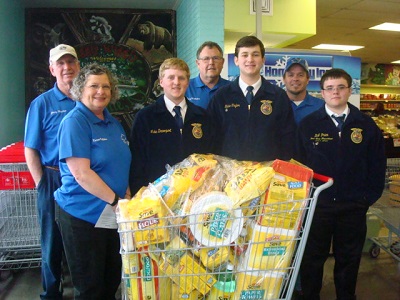 Farm Bureau members Bobby & Tina Dawson Worked at the Russellville Priceless IGA location. They were assisted by Logan County FFA members Paige Brown, junior secretary; Ann-Meguiar Bouldin, chaplain; and Claire Wilson, junior reporter. There were 60 participants with Karen Sears winning first place and Judy Robinson winning second place.
The Food Check-Out Day at the Piggly Wiggly location was staffed by Farm Bureau members Jerry Hughes, Doug & Karen Milliken, and Jeremy Robertson, president. They were assisted by FFA members Luke Davenport, chapter improvement committee chairman; Blake Taylor, junior vice president; and D.J. Price, 3rd vice president.
These food check-out events were conducted to give recognition to the American farmers for providing us with affordable food. As a result, we have more money to spend on other things which boosts our whole economy and quality of life.
KFB Spotlight
May 9, 2023

As farm families across the state continue with spring planting, I'm reminded of how far we have come over the years in this process, from an agricultural technology standpoint, while never losing sight of the reasons we plant a crop.
May 9, 2023

Improving water quality has been a long-term goal of the state's agricultural sector well in advance of the many climate issues currently making headlines.
May 9, 2023

As humans, it's very easy to draw conclusions about something by sight alone. But we don't all see things—or in my case, places—in the same way. What I might think is beautiful, another may see just the opposite, and vice versa.