2015 State Annual Meeting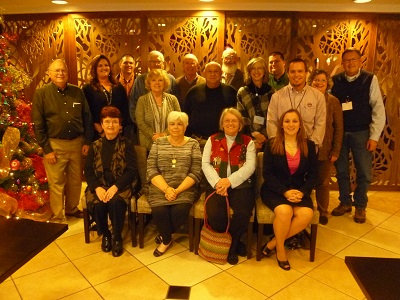 Several members of the Logan County Farm Bureau Federation attended the state annual meeting of Kentucky Farm Bureau held at the Galt House in Louisville this past December. This was the 96th Annual Meeting.
Logan County was recognized with several awards at the 2015 Annual Convention. Carrell Hughes received a Gold Star Award of Exellence for Logan County FB women's committee, the top women's committee in district 4 and the top women's committee in the state. Jay Campbell received for Trent Martin a Gold Star Award of Excellence for Logan County's young farmer program. Jeremy Robertson, president, received an award for Logan County's outstanding membership and program achievement and was the top county in the 4th FB District: Allen, Barren, Green, Logan, Metcalf, Monroe, Simpson and Warren Counties. John Alcott received Honorable Mention for Media Relations and Member Information.
KFB Spotlight
March 21, 2019

As a cattle producer, I am thankful to the General Assembly for passing House Bill 311 which will ensure lab-grown protein products are properly labeled for consumers. I would also like to thank Representative Michael Meredith for sponsoring this important bill.
March 21, 2019

Having just returned from the annual Congressional Tour in Washington, D.C., I'm always amazed and encouraged at the level of participation we have for this trip and other advocacy opportunities.
March 21, 2019

As I was growing up, we always had a few milk cows. To buy milk at the grocery store was laughable, we had our own! Most families grew their own food, as everyone had a garden.