2015 State Annual Meeting
Several members of the Logan County Farm Bureau Federation attended the state annual meeting of Kentucky Farm Bureau held at the Galt House in Louisville this past December. This was the 96th Annual Meeting.
Logan County was recognized with several awards at the 2015 Annual Convention. Carrell Hughes received a Gold Star Award of Exellence for Logan County FB women's committee, the top women's committee in district 4 and the top women's committee in the state. Jay Campbell received for Trent Martin a Gold Star Award of Excellence for Logan County's young farmer program. Jeremy Robertson, president, received an award for Logan County's outstanding membership and program achievement and was the top county in the 4th FB District: Allen, Barren, Green, Logan, Metcalf, Monroe, Simpson and Warren Counties. John Alcott received Honorable Mention for Media Relations and Member Information.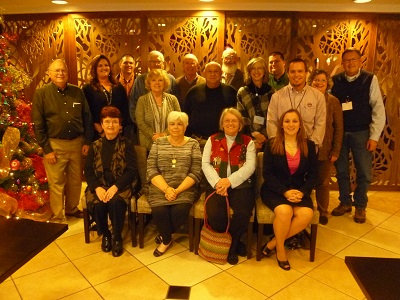 KFB Spotlight
January 20, 2021

Kentucky Farm Bureau (KFB) has released the names of individuals elected to lead its new initiative, Generation Bridge. Amanda Gajdzik of Shelby County has been elected chair, Tammy White of Union County is vice chair, and Sarah Beth Guffey from Clinton County is secretary of this newly formed committee.
January 18, 2021

Agriculture Commissioner Dr. Ryan Quarles invites Kentucky's youth to participate in the Kentucky Pollinator Stakeholders Art Contest. The contest is designed to educate the public on the benefits of pollinators and encourage behaviors that promote pollinator habitats across Kentucky.
January 13, 2021

Caleb and Leanne Ragland of LaRue County won a top honor during the American Farm Bureau Federation (AFBF) virtual convention today, being named winners of the Young Farmers & Ranchers "Achievement Award."