2015 State Annual Meeting
Several members of the Logan County Farm Bureau Federation attended the state annual meeting of Kentucky Farm Bureau held at the Galt House in Louisville this past December. This was the 96th Annual Meeting.
Logan County was recognized with several awards at the 2015 Annual Convention. Carrell Hughes received a Gold Star Award of Exellence for Logan County FB women's committee, the top women's committee in district 4 and the top women's committee in the state. Jay Campbell received for Trent Martin a Gold Star Award of Excellence for Logan County's young farmer program. Jeremy Robertson, president, received an award for Logan County's outstanding membership and program achievement and was the top county in the 4th FB District: Allen, Barren, Green, Logan, Metcalf, Monroe, Simpson and Warren Counties. John Alcott received Honorable Mention for Media Relations and Member Information.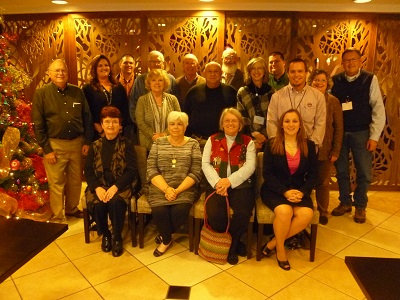 KFB Spotlight
September 21, 2020

The North American International Livestock Exposition (NAILE) was approved through the Kentucky Healthy at Work initiative to host a modified show this year. NAILE is the largest all-breed, purebred livestock exposition in the world and runs Nov. 3-19, 2020 at the Kentucky Exposition Center.
September 14, 2020

Unless you haven't been watching television or listening to the radio for the past several months, you have undoubtedly seen or heard the many political ads that are currently filling the airwaves, not to mention all the print ads in newspapers and magazines, and the many social media posts related to the upcoming election.
September 14, 2020

I'm blessed to have grown up on our family farm in Clark County. It taught me the benefits of hard work as I learned through hands-on activities that took place every day. I discovered how to grow crops, care for animals, and to be a good steward of the land. It was a classroom like no other and my parents set an example that I carry with me daily.