2015 State Annual Meeting
Several members of the Logan County Farm Bureau Federation attended the state annual meeting of Kentucky Farm Bureau held at the Galt House in Louisville this past December. This was the 96th Annual Meeting.
Logan County was recognized with several awards at the 2015 Annual Convention. Carrell Hughes received a Gold Star Award of Exellence for Logan County FB women's committee, the top women's committee in district 4 and the top women's committee in the state. Jay Campbell received for Trent Martin a Gold Star Award of Excellence for Logan County's young farmer program. Jeremy Robertson, president, received an award for Logan County's outstanding membership and program achievement and was the top county in the 4th FB District: Allen, Barren, Green, Logan, Metcalf, Monroe, Simpson and Warren Counties. John Alcott received Honorable Mention for Media Relations and Member Information.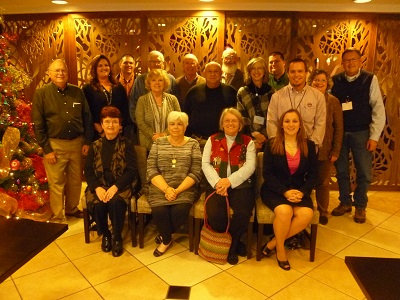 KFB Spotlight
November 21, 2022

Katie Cecil of Daviess County, a second-generation farmer at Cecil Farms, was named the 2022 Kentucky Farm Bureau (KFB) Generation Bridge Advocate of the Year.
November 14, 2022

The Kentucky Farm Bureau Young Farmer Gold Star award honors a county's Young Farmer Committee for its active participation in Farm Bureau leadership development programs, state competitions, and educational or promotional initiatives.
November 3, 2022

As the harvest season in Kentucky winds down, I understand the challenges many of you have faced, especially our state's corn producers. I have heard yield numbers anywhere from 32 bushels per acre where the drought came at the worst possible time during the growing season, to nearly 200 bushels in spots where the rains were adequate.