2015 Outstanding Farm Family
Mr. and Mrs. Jay Campbell and family were recently recognized as the 2015 Logan County outstanding young farm family by the Logan County Farm Bureau. Jay has taught Agriculture Education for 9 years at Logan County High School. Growing up on the family farm near Adairville, where they raised corn, soybeans, wheat, beef cattle and tobacco. They also harvested and marketed wheat straw in the summer to help pay tuition at WKU. Jay studied Agriculture in Ecuador, Germany, Austria, Italy and shadowed Dr. Jenks Britt consulting dairy operations in Queretaro, Mexico.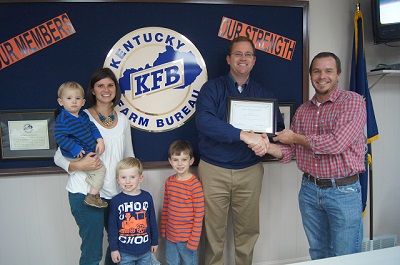 After starting teaching, Jay continued to work on the farm and has started marketing Campbell's Choice Cuts which consist of sides of beef locally raised and marketed to the community. Jay and Trisha's agri-business "Campbell's Choice Cuts" has continued to grow since 2010 with very high interest in their locally raised beef.
Trisha received her Nurse Practitioners degree from WKU and is currently working in the medical field. Trisha also enjoys time on the farm working alongside Jay and teaching their sons about agriculture. After receiving the award Jay said: "We feel very blessed, grateful and honored to receive this award. We look forward to raising our sons Jaynes (5) Blayne (4) and Lathan (19 months) in this wonderful community."
Applications for Outstanding Young Farm Family can be picked up at the Logan County Farm Bureau office. Starting in 2016, the local winner will be paid 200 dollars for their time and work filling out the forms.
KFB Spotlight
May 9, 2023

As farm families across the state continue with spring planting, I'm reminded of how far we have come over the years in this process, from an agricultural technology standpoint, while never losing sight of the reasons we plant a crop.
May 9, 2023

Improving water quality has been a long-term goal of the state's agricultural sector well in advance of the many climate issues currently making headlines.
May 9, 2023

As humans, it's very easy to draw conclusions about something by sight alone. But we don't all see things—or in my case, places—in the same way. What I might think is beautiful, another may see just the opposite, and vice versa.