2015 Food Checkout Day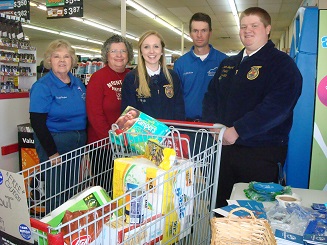 February 27th was a day to honor farmers for providing us with the most affordable food in the world. The average American earns enough income to pay for their annual food supply in about seven weeks. By comparison, the average American works until around mid-April to pay for their annual taxes.
U.S. consumers spend about 10% of their disposable annual income on food. This compares to 14% for Japan, 32% for China and 38% of disposable income for the consumers of the Philippines.
The Logan County Farm Bureau Federation with assistance from members of the Logan County FFA Chapter conducted a "Food Check-out Day" Feb. 27th at the Russellville Priceless IGA and the Lewisburg IGA grocery store. At each location participants guessed the value of a typical basket of groceries. A $50 first place prize and $25 second place prize of a gift certificate for groceries were given to the winners at both locations.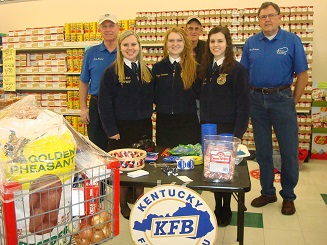 Farm Bureau members Jerry Hughes, Bobby Dawson and Doug Milliken worked at the Russellville Priceless IGA location. They were assisted by Logan County FFA members Morgan Hunt, president elect; Jenna Simmons, reporter elect; and Shelby Blythe, secretary elect. There were 84 participants with Keri Hostetler winning first place and Sheri Hershberger winning second place.
The Food Check-out at the Lewisburg IGA was staffed by Farm Bureau members Carrell Hughes, women's chairman; Karen Milliken; and Gary Jenkins. They were assisted by FFA members Abby Arnold, treasurer elect and Kenton Howard, vice president elect. There were 34 participants with Cindy Stark winning first place and Pat Lyons winning second place.
These food check-out events were conducted to give recognition to the American farmers for providing us with affordable food. As a result, we have more money to spend on other things which boosts our whole economy and quality of life.
KFB Spotlight
September 21, 2020

The North American International Livestock Exposition (NAILE) was approved through the Kentucky Healthy at Work initiative to host a modified show this year. NAILE is the largest all-breed, purebred livestock exposition in the world and runs Nov. 3-19, 2020 at the Kentucky Exposition Center.
September 14, 2020

Unless you haven't been watching television or listening to the radio for the past several months, you have undoubtedly seen or heard the many political ads that are currently filling the airwaves, not to mention all the print ads in newspapers and magazines, and the many social media posts related to the upcoming election.
September 14, 2020

I'm blessed to have grown up on our family farm in Clark County. It taught me the benefits of hard work as I learned through hands-on activities that took place every day. I discovered how to grow crops, care for animals, and to be a good steward of the land. It was a classroom like no other and my parents set an example that I carry with me daily.