2015 Food Checkout Day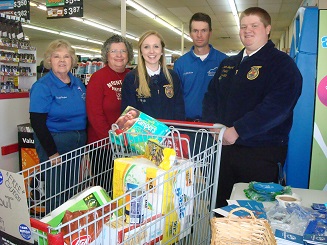 February 27th was a day to honor farmers for providing us with the most affordable food in the world. The average American earns enough income to pay for their annual food supply in about seven weeks. By comparison, the average American works until around mid-April to pay for their annual taxes.
U.S. consumers spend about 10% of their disposable annual income on food. This compares to 14% for Japan, 32% for China and 38% of disposable income for the consumers of the Philippines.
The Logan County Farm Bureau Federation with assistance from members of the Logan County FFA Chapter conducted a "Food Check-out Day" Feb. 27th at the Russellville Priceless IGA and the Lewisburg IGA grocery store. At each location participants guessed the value of a typical basket of groceries. A $50 first place prize and $25 second place prize of a gift certificate for groceries were given to the winners at both locations.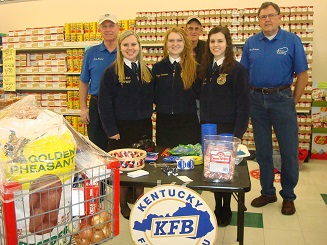 Farm Bureau members Jerry Hughes, Bobby Dawson and Doug Milliken worked at the Russellville Priceless IGA location. They were assisted by Logan County FFA members Morgan Hunt, president elect; Jenna Simmons, reporter elect; and Shelby Blythe, secretary elect. There were 84 participants with Keri Hostetler winning first place and Sheri Hershberger winning second place.
The Food Check-out at the Lewisburg IGA was staffed by Farm Bureau members Carrell Hughes, women's chairman; Karen Milliken; and Gary Jenkins. They were assisted by FFA members Abby Arnold, treasurer elect and Kenton Howard, vice president elect. There were 34 participants with Cindy Stark winning first place and Pat Lyons winning second place.
These food check-out events were conducted to give recognition to the American farmers for providing us with affordable food. As a result, we have more money to spend on other things which boosts our whole economy and quality of life.
KFB Spotlight
November 19, 2018

There is something that can be said about tradition when it comes to farming. Danny Cunningham, the 2018 Kentucky Farm Bureau Farmer of the Year knows all about that kind of tradition. He lives about a half a mile from where he was born and raised, in the small Calloway County community of Penny. There he began his farming experience that continues today.
November 15, 2018

The American Farm Bureau Federation's 33rd annual survey of classic items found on the Thanksgiving Day dinner table indicates the average cost of this year's feast for 10 is $48.90, or less than $5.00 per person. This is a 22-cent decrease from last year's average of $49.12.

"Since 2015, the average cost of Thanksgiving dinner has declined steadily and is now at the lowest level since 2010," said AFBF Chief Economist Dr. John Newton.
November 7, 2018

Three finalists have been named for the 2018 Kentucky Farm Bureau OYFF honor, in recognition of their achievements as part of the farming community. The finalists are Nicholas and Bethany Hardesty of Meade County, Wesley and Alicia Logsdon of Pulaski County, and Drew and Liz White of Union County. The winner will be announced at the Kentucky Farm Bureau Annual Meeting at the end of November.