Women's Leadership Conference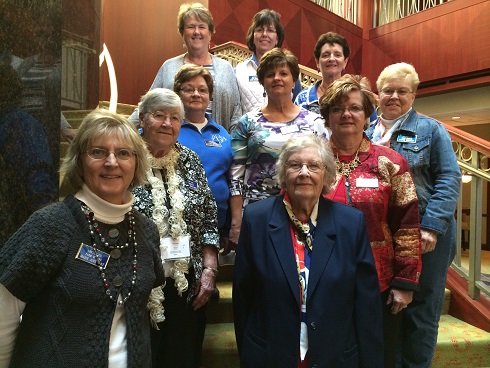 Ten members of the Lincoln County Farm Bureau Women's Committee attended the Women's Leadership Conference on March 27-28, 2015 in Covington, Kentucky. The members were: Thelma Blair, Mary Ann May, Jeanette Bailey, Allene Burton, Joyce Hester, Phyllis Long, Teresa Campbell, Cathy Pleasants, Linda Gooch and Melinda Pence. The theme of the conference was People, Purpose, Progress. Some of the guest speakers included the reigning Miss Kentucky, Ramsey Carpenter, Warren Beeler from Kentucky Department of Agriculture, LaDonna Gatlin, and Jason Koger. Mr. Koger's keyote presentation was on Inspiring Hope for Tomorrow. He was a victim of an accident with downed power lines and had to have his hands amputated. The tours included the Creation Museum and Jungle Jim's International Market. We received a Legislative and Congressional Update and information on Member Services. The breakout workshops include 1) Personal Safety – Self Defense 2) Ag Literacy: Our Future Depends on it 3) What's Cookin' in D.C. 4) Farm Safety: It's important Not to Forget. Members said it was the best State Conference we have had.
KFB Spotlight
November 15, 2018

The American Farm Bureau Federation's 33rd annual survey of classic items found on the Thanksgiving Day dinner table indicates the average cost of this year's feast for 10 is $48.90, or less than $5.00 per person. This is a 22-cent decrease from last year's average of $49.12.

"Since 2015, the average cost of Thanksgiving dinner has declined steadily and is now at the lowest level since 2010," said AFBF Chief Economist Dr. John Newton.
November 7, 2018

Three finalists have been named for the 2018 Kentucky Farm Bureau OYFF honor, in recognition of their achievements as part of the farming community. The finalists are Nicholas and Bethany Hardesty of Meade County, Wesley and Alicia Logsdon of Pulaski County, and Drew and Liz White of Union County. The winner will be announced at the Kentucky Farm Bureau Annual Meeting at the end of November.
November 7, 2018

Kentucky Farm Bureau (KFB) leaders and commodity executives from across the state gathered for a legislative preview meeting on November 7, 2018 at the KFB headquarters in Louisville, Kentucky. The group of more than 30 individuals representing agriculture commodity groups came together to discuss several ag-related topics and the many legislative needs and concerns of farmers and rural communities throughout the Commonwealth.