Women's Leadership Conference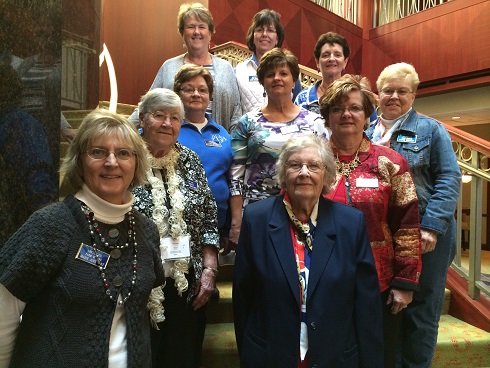 Ten members of the Lincoln County Farm Bureau Women's Committee attended the Women's Leadership Conference on March 27-28, 2015 in Covington, Kentucky. The members were: Thelma Blair, Mary Ann May, Jeanette Bailey, Allene Burton, Joyce Hester, Phyllis Long, Teresa Campbell, Cathy Pleasants, Linda Gooch and Melinda Pence. The theme of the conference was People, Purpose, Progress. Some of the guest speakers included the reigning Miss Kentucky, Ramsey Carpenter, Warren Beeler from Kentucky Department of Agriculture, LaDonna Gatlin, and Jason Koger. Mr. Koger's keyote presentation was on Inspiring Hope for Tomorrow. He was a victim of an accident with downed power lines and had to have his hands amputated. The tours included the Creation Museum and Jungle Jim's International Market. We received a Legislative and Congressional Update and information on Member Services. The breakout workshops include 1) Personal Safety – Self Defense 2) Ag Literacy: Our Future Depends on it 3) What's Cookin' in D.C. 4) Farm Safety: It's important Not to Forget. Members said it was the best State Conference we have had.
KFB Spotlight
April 12, 2021

As thoughts of spring begin to surface, especially in the agricultural world, among countless farm families, they get excited to plant a new crop or see fruit trees blossom fill the air across the Commonwealth.
April 6, 2021

Kentucky Farm Bureau was founded on the principle of grassroots advocacy, a methodology that has served the organization well for more than 100 years.
April 6, 2021

As we prepare for spring planting and another growing season on the farm, it goes without saying that most of us will be reflecting on the past year and the dark winter we have come through.