Women's Leadership Conference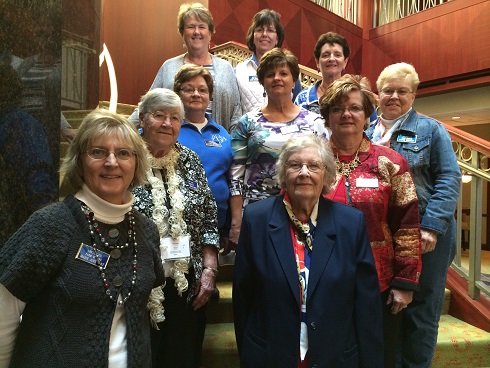 Ten members of the Lincoln County Farm Bureau Women's Committee attended the Women's Leadership Conference on March 27-28, 2015 in Covington, Kentucky. The members were: Thelma Blair, Mary Ann May, Jeanette Bailey, Allene Burton, Joyce Hester, Phyllis Long, Teresa Campbell, Cathy Pleasants, Linda Gooch and Melinda Pence. The theme of the conference was People, Purpose, Progress. Some of the guest speakers included the reigning Miss Kentucky, Ramsey Carpenter, Warren Beeler from Kentucky Department of Agriculture, LaDonna Gatlin, and Jason Koger. Mr. Koger's keyote presentation was on Inspiring Hope for Tomorrow. He was a victim of an accident with downed power lines and had to have his hands amputated. The tours included the Creation Museum and Jungle Jim's International Market. We received a Legislative and Congressional Update and information on Member Services. The breakout workshops include 1) Personal Safety – Self Defense 2) Ag Literacy: Our Future Depends on it 3) What's Cookin' in D.C. 4) Farm Safety: It's important Not to Forget. Members said it was the best State Conference we have had.
KFB Spotlight
February 21, 2019

As we move forward in our advocacy efforts related to water resource issues, I want to point out that the revised Waters of the US (WOTUS) rule has been posted on the Federal Register. I can't tell you how important it is to have our voices heard regarding this matter, and how vital it has been for our farmers and ranchers to get this revised rule.
February 14, 2019

Mark Twain once said, "If you don't like the weather in New England, just wait a minute, it'll change." Since he first spoke those words, many other regions and states across the country have adopted that saying, including Kentucky, where it seems to be truer during this winter season than ever before.
February 14, 2019

For some reason the changing of the seasons has always fascinated me. Watching the colors of the earth change from summer to fall to winter and on to spring, is such an amazing gift the good Lord has given us.