Women's Leadership Conference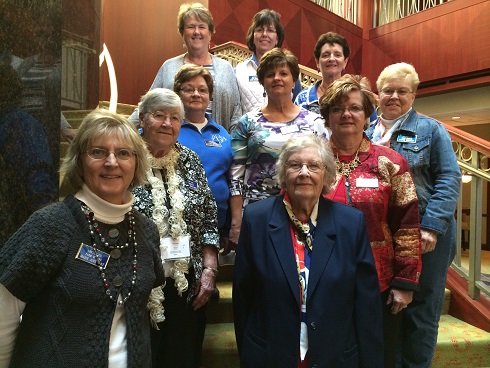 Ten members of the Lincoln County Farm Bureau Women's Committee attended the Women's Leadership Conference on March 27-28, 2015 in Covington, Kentucky. The members were: Thelma Blair, Mary Ann May, Jeanette Bailey, Allene Burton, Joyce Hester, Phyllis Long, Teresa Campbell, Cathy Pleasants, Linda Gooch and Melinda Pence. The theme of the conference was People, Purpose, Progress. Some of the guest speakers included the reigning Miss Kentucky, Ramsey Carpenter, Warren Beeler from Kentucky Department of Agriculture, LaDonna Gatlin, and Jason Koger. Mr. Koger's keyote presentation was on Inspiring Hope for Tomorrow. He was a victim of an accident with downed power lines and had to have his hands amputated. The tours included the Creation Museum and Jungle Jim's International Market. We received a Legislative and Congressional Update and information on Member Services. The breakout workshops include 1) Personal Safety – Self Defense 2) Ag Literacy: Our Future Depends on it 3) What's Cookin' in D.C. 4) Farm Safety: It's important Not to Forget. Members said it was the best State Conference we have had.
KFB Spotlight
September 21, 2020

The North American International Livestock Exposition (NAILE) was approved through the Kentucky Healthy at Work initiative to host a modified show this year. NAILE is the largest all-breed, purebred livestock exposition in the world and runs Nov. 3-19, 2020 at the Kentucky Exposition Center.
September 14, 2020

Unless you haven't been watching television or listening to the radio for the past several months, you have undoubtedly seen or heard the many political ads that are currently filling the airwaves, not to mention all the print ads in newspapers and magazines, and the many social media posts related to the upcoming election.
September 14, 2020

I'm blessed to have grown up on our family farm in Clark County. It taught me the benefits of hard work as I learned through hands-on activities that took place every day. I discovered how to grow crops, care for animals, and to be a good steward of the land. It was a classroom like no other and my parents set an example that I carry with me daily.