Women's Leadership Conference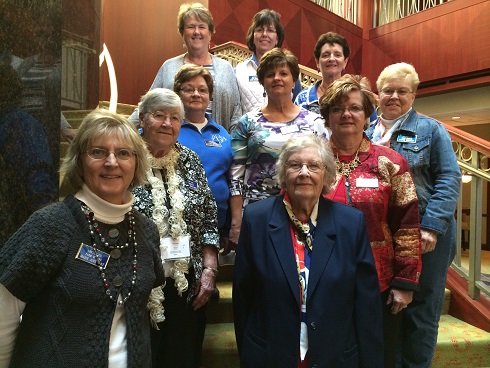 Ten members of the Lincoln County Farm Bureau Women's Committee attended the Women's Leadership Conference on March 27-28, 2015 in Covington, Kentucky. The members were: Thelma Blair, Mary Ann May, Jeanette Bailey, Allene Burton, Joyce Hester, Phyllis Long, Teresa Campbell, Cathy Pleasants, Linda Gooch and Melinda Pence. The theme of the conference was People, Purpose, Progress. Some of the guest speakers included the reigning Miss Kentucky, Ramsey Carpenter, Warren Beeler from Kentucky Department of Agriculture, LaDonna Gatlin, and Jason Koger. Mr. Koger's keyote presentation was on Inspiring Hope for Tomorrow. He was a victim of an accident with downed power lines and had to have his hands amputated. The tours included the Creation Museum and Jungle Jim's International Market. We received a Legislative and Congressional Update and information on Member Services. The breakout workshops include 1) Personal Safety – Self Defense 2) Ag Literacy: Our Future Depends on it 3) What's Cookin' in D.C. 4) Farm Safety: It's important Not to Forget. Members said it was the best State Conference we have had.
KFB Spotlight
January 18, 2021

Agriculture Commissioner Dr. Ryan Quarles invites Kentucky's youth to participate in the Kentucky Pollinator Stakeholders Art Contest. The contest is designed to educate the public on the benefits of pollinators and encourage behaviors that promote pollinator habitats across Kentucky.
January 13, 2021

Caleb and Leanne Ragland of LaRue County won a top honor during the American Farm Bureau Federation (AFBF) virtual convention today, being named winners of the Young Farmers & Ranchers "Achievement Award."
January 11, 2021

The American Farm Bureau's Virtual Convention kicked off with an opening address by AFBF President Zippy Duvall from his farm in Georgia.