Lincoln County Farm Bureau Women Attend FUSION Conference
On February 13-15, 2015, four members of the Lincoln County Farm Bureau Women's Committee attended the National FUSION Conference in Nashville, TN at Opryland Hotel sponsored by Farm Bureau. The women attending were Melinda Pence, Joyce Hester, Phyllis Long, and Thelma Blair. The Farmers United: Skills, Inspiration, Outreach and Networking (FUSION) Conference brought together leaders from three program areas: Promotion & Education, Women's Leadership and Young Farmers & Ranchers from across the nation. There were 1300 attendees with approximately 300 of them being from various state Women's Leadership committees. The track objectives were advocacy, business, collegiate, communication, education, leadership, rural development, and technology.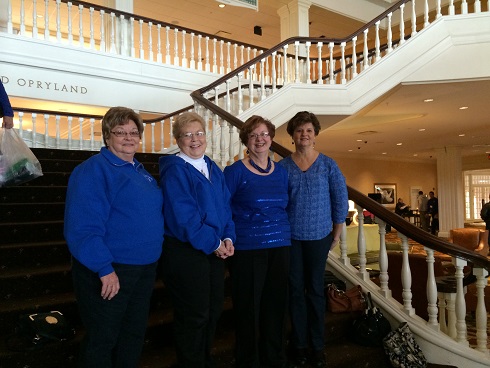 KFB Spotlight
November 19, 2021

Cathy Weaver, University of Kentucky Extension Agent for 4-H Youth Development in Jessamine County, is the recipient of the 2021 Kentucky Farm Bureau (KFB) Farm Public Relations Award.
November 19, 2021

Enjoying Thanksgiving dinner with family and friends is a priority for many Americans, but paying attention to how the meal will impact the budget is also important. Farm Bureau's 36th annual survey indicates the average cost of this year's classic Thanksgiving feast for 10 is $53.31 or less than $6.00 per person. This is a $6.41 or 14% increase from last year's average of $46.90.
November 18, 2021

Kentucky Farm Bureau (KFB) announced today that Suzanne Cecil White of Daviess County is the 2021 Farm Woman of the Year. She will be recognized during the KFB Annual Meeting at the Galt House in Louisville, Kentucky next month.